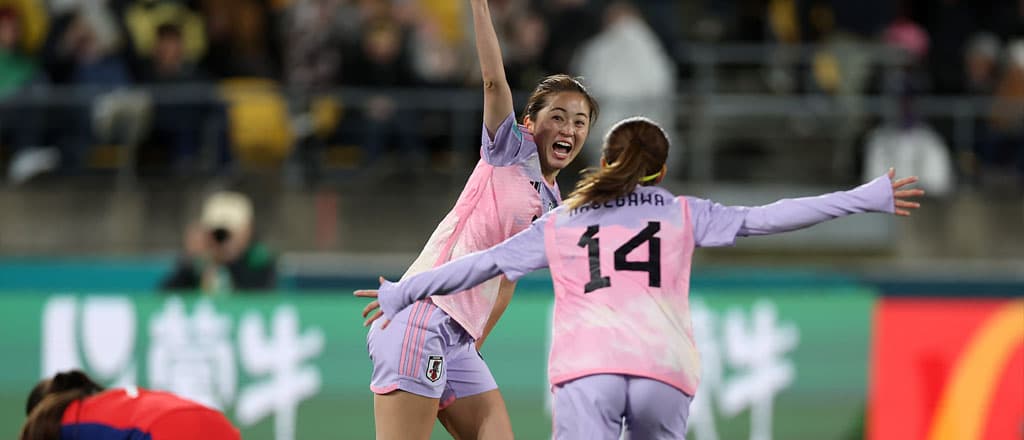 The 2023 Women's World Cup is underway! Hosted in Australia and New Zealand, the tournament features 32 of the best footballing nations in the world seeking glory. For every match day, Canada Sports Betting will break down the matches ahead, providing the key odds and storylines you need to make a play, courtesy of our friends at bet365.
Due to the unique schedule of the tournament, we'll be looking one day forward at a time. Today we'll be covering August 11th's lone fixture in quarter-final action. This game features Japan and Sweden, with a 3:30 a.m. ET kickoff.
While you wait for the next match day, also consider checking out our main Women's World Cup page, with all of the latest full-tournament odds, our favourite picks, guides on how to make bets for the tournament, and more!
3:30 a.m. Headliner: Japan vs. Sweden
Japan Win in Full Time
+125
Sweden Win in Full Time
+225
Draw After Full Time
+230
Over/Under
2.5 goals (over +135, under -175)
Time/Date
Friday, August 11, 3:30 p.m. ET
TV
Broadcast: TSN
Stream: TSN GO App
Odds courtesy of bet365. Games that go to Extra Time count as draws.
Two highly-ranked, undefeated nations square off in what could be one of the most fun games in the knockout stage.
On one side, we have third-ranked Sweden, who shocked the world on Sunday in one of the few ways a third-ranked, undefeated team could. That is to say, No. 3 in the world took out No. 1, as the Swedes sent the United States packing earlier than they've ever been before in the tournament, playing them to a 0-0 draw before eliminating them in penalties, with one of their goals crossing the line by a literal millimetre.
If we're being honest, it wasn't their most dominant game, and some might argue that they were the benefactors of a continued inability to execute from the Americans throughout the tournament. Sweden were out-attempted 22-9, outshot 11-1, and out-possessed 58%-42% across the 120 minutes of play. One could argue just as much, though, that Sweden recognized the situation at hand and knew that their best opportunity would come if they sat back and didn't risk giving USA more open means of attack.
Besides, they'd earned some doubt benefit via a dominant group stage, where they were an absolute buzz saw in Group G, winning 2-1 over South Africa, 5-0 over Italy, and 2-0 over Argentina, controlling momentum as much as goals. One might wonder if they try to take a more aggressive approach now that they're the heavy hitters in the long-view, with Japan being closer to Italy in the World Rankings than the United States.
At the same time, they probably won't want to take Japan too lightly, as they've played well beyond their ranking in this tournament. So much so, in fact, that they're the favourites in this match, and in four games have seen their odds to win the tournament shoot up from +2500 to a third-shortest +500, putting them right near the top with England, Spain, and France.
Japan earned everyone's attention with a loud, loud group stage, opening up with a 5-0 thrashing of Zambia, followed by a well-controlled 2-0 win against Costa Rica and, to really get people's attention, a 4-0 rout against Spain to secure the group. This totaled up to the most goals for any nation in the group stage, made them one of the only three teams to not concede (Jamaica, Switzerland the others), and as you can probably guess, they led the whole group stage in goal differential, with their +11 being three higher than the next team.
In the Round of 16, they faced Norway, in a game where they scored twice and Norway scored twice. Thankfully, the first of Norway's goals was into their own net, meaning that Japan's possession-dominant efforts resulted in a 3-1 win that they had full control of after Risa Shimizu scored at the 50-minute mark.
So that's how those two teams got here. But how will they fare against each other? Over at bet365, the lean is towards a Japan victory, though the scoreline with the shortest odds through 90 minutes is a 1-1 draw at +500, with 0-0 having the third-shortest odds at +650. Needless to say, the expectation here is that this will be decided with extra time. 1-0 scores for Japan and Sweden come in at +550 and +750 respectively.
For goalscorers, Japan has the bulk of the top options with Mina Tanaka (2 goals on 1.7 Expected Goals) and Riko Ueki (2 goals on 2.6 xG) leading the way with +500 odds to score the first or last goal, and +187 odds to score anytime. Hinata Miyazawa, who leads Japan with 5 goals on 2.4 xG, sits at +800 odds for the first/last goal (boosted from +750) and +300 odds for an anytime tally.
Over on Sweden's end, Stina Blackstenius (1 goal on 1.2 xG) leads the way with +650 first/last odds and +250 anytime odds. Fridolina Rolfo (2 goals on 1.4 xG) sits just behind with +800 first/last odds and +300 anytime odds. Amanda Ilestedt remains Sweden's goal and xG leader with 4 goals on 2.2 xG, and she sits at a distant +2800 first/last and +1200 for an anytime goal – that might be one to consider if you think Sweden strikes in this match.
There are a few interesting boosted Same Game Parlays available as well. If you believe that Japan's offence will be pouring on the opportunity, a parlay with Miyazawa and Tanaka each exceeding 1.5 shots on target in a Japan win is boosted to +1000, from +850. For Sweden, Blackstenius and Rolfo each exceeding 0.5 shots on target and the team scoring more than one goal is available at +550, up from +500.