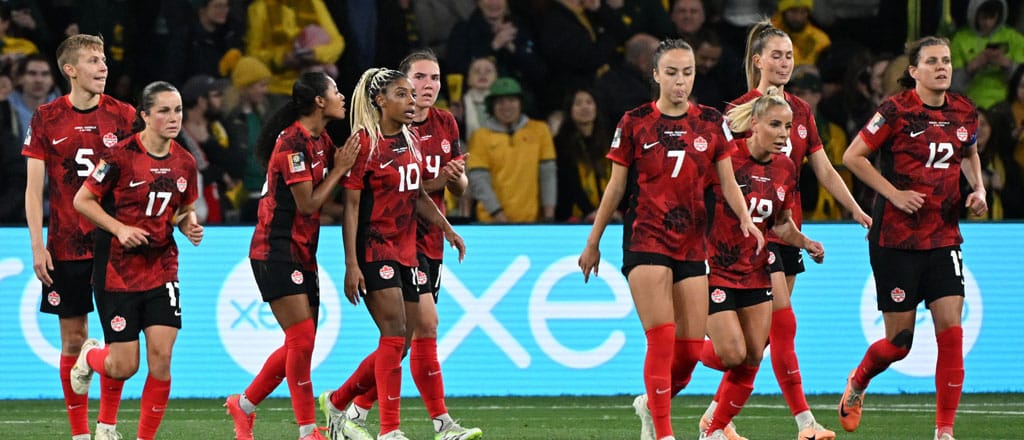 Fans from coast to coast, depending on your time zone, either got up early (6 a.m. ET on the east coast) or stayed up late (3:00 a.m. on the west coast) to watch the Canadian women's national soccer team try to punch their ticket into the knockout stage of the 2023 FIFA Women's World Cup.
A draw would likely have been enough, but a win was the goal. All they had in their way were the co-host Australians – a good team, no doubt, but one who they had the recent edge on in head-to-head games.
What happened instead was heartbreak. Hayley Raso opened the scoring for the Matildas in the ninth minute, and they never looked back from there, dominating Canada in a crushing 4-0 defeat that has a nation shell-shocked. The loss was Canada's biggest margin of defeat since an identical score against France in 2011, and their third-biggest margin of defeat ever amongst the 30 World Cup games the national team has played in since 1995.
While Canada's Women's World Cup run is over, be sure to stick with us for continued coverage! We'll be updating with the latest betting lines and storylines before every match day until the end of the tournament.
Failure To Meet Expectations
The early bow-out carries extra salt in its wound given the level of hype going into the tournament. Before the first matches kicked off, Canada was +200 to win Group B and -500 to advance to the knockout stage (at bet365), second-highest behind the Australians. But this was with the expectation that superstar Sam Kerr would play for Australia, which hasn't materialized just yet, meaning that there was even more wiggle room than what originally met the eye for them – not that they took advantage of that. Those who took Canada at +333 to not advance are either laughing to the bank or at least happy with their emotional hedge.
As well, Canada came in with the 11th-shortest odds to win the tournament at +3300, so not getting to the Round of 16 is already disappointment enough from the perspective of raw odds. But it goes beyond the numbers, too. Most pure soccer experts and fans seemed to feel similar about Canada to the books – fringe contender, could win their group, will almost assuredly advance – and yet what we kept hearing from players and staff was about how the world was underestimating them, how the team was being overlooked despite their 2021 gold medal performance at the Olympics, and how they were going to prove the critics wrong in this tournament. Those words, combined with proving them wrong in the opposite direction, create further insult to injury.
The group, whether it was just positive thinking or legitimate overconfidence, thought they were better than credited for and proceeded to disappoint at every corner. The warning signs came early in a 0-0 loss to Nigeria, despite a red card from their opponents and a penalty chance for Christine Sinclair, which was stopped by the keeper. An early Olympico by Katie McCabe of Ireland in the second game really pushed concern, though a fortunate own goal set Canada up for a refreshingly good second half in the second game. But that half, in which Adriana Leon scored Canada's only earned goal across 13 shots on target in the tournament, was the only quality we got to see in the tournament. Today's game was a swift humbling from whistle to whistle, as if the team simply didn't belong.
What Went Wrong?
There are a lot of things to consider in in the debrief and autopsy of this group as we figure out just exactly how this went as wrong as it did. One thing that felt pretty obvious was that the team did not carry much of their Olympic confidence, or capability. The counter-attack that previously led them to Olympic gold felt practically non-existent in the tournament, with their build up slow and their offensive decision making poorly executed. Kailen Sheridan had a solid tournament in goal, but not having Canadian legend Stephanie Labbé between the posts was still a downgrade felt at times. The defence in front of her was often disorganized, leading to scrambles like the ones we kept seeing turn into goals on Monday.
The team's lingering labour dispute with Canada Soccer surely hasn't helped either, both from a point of distraction and a point of uninvested finances, perhaps made most obvious by the fact that the team had no matches scheduled between their friendly against France in April and the tournament itself. While an interim agreement was reached midway through the tournament, it still doesn't meet the hope for equal pay for the women's and men's national teams, and getting even to this stage now doesn't undo the stunting of training camps leading into the tournament. Avoiding this sort of situation where resources end up limited ahead of a major tournament should've been a priority, but to Canada Soccer, it didn't seem to be the case.
Lastly, the talent level just didn't seem to be there in stretches, particularly when it came to the attacking end. Christine Sinclair will go down as one of the greatest Canadian athletes of all time. But even beyond the saved penalty kick against Nigeria, she did show signs of being a 40-year-old soccer player in a global tournament and struggled to generate much on her own, attempting just two shots in three games, while the Canadians continued to move the ball to her regardless. Jordyn Huitema was eager to create opportunities, but couldn't covert and landed just four of her 12 attempts on target. Leon's goal was her only shot on target with four that missed the net. Attacking quality was not on the side of Canada in this tournament, and that's why they walk away with only one real goal.
What Now?
Many different suggestions for how Canada moves on from this will be put on the table. Perhaps the biggest issue to address is the aforementioned labour dispute between the national team and Soccer Canada and how to move forward with a better plan. Sinclair dismissed the idea that Canada Soccer is to blame for today's loss, instead putting it on the team and their inability to "get it done," but acknowledged the battle for more support as meaningful.
A major thing that Sinclair also focused on when speaking to the media was the need for continued growth for the national program at large, which is undeniably true. Getting a domestic professional league off the ground – "Project 8" is building towards launching in 2024 – will be key to giving players somewhere to continue to hone their skills if moving to the NWSL in the United States or playing in Europe isn't an option for them, and will also help with lifting up the floor of the depth chart, give another another rung of the ladder for younger players to aspire to, and help increase general visibility for the game in Canada. Paired with the CPL on the men's side, having a domestic professional system will be of long-term benefit to the national pipeline.
More emphasis on youth programs and on technical ability within them will also be key in the long run – Canada has developed great athletes in recent years, but as nations that preach a more technical game begin to invest more in their women's programs, areas where Canada were once ahead are now ones where they've been caught up to and exceeded.
Long term succession plans for core players need to be considered as well – again, with all the love for Sinclair, despite her slightly open phrasing around whether or not this is her last World Cup, there cannot be a reliance on the possibility of her being fit to play still at 44. The 35-year-old Sophie Schmidt acknowledged that this was the last go at it for her, and that's a big loss for the midfield. Allysha Chapman will be 38 in 2027, Leon and Cloe Lacasse will be 34. There are some good young pieces in this group – Julia Grosso still being 22 comes to mind – and players like Sheridan, Ashley Lawrence, Quinn, and Kadeisha Buchanan should still be able to play at a high level for the next cycle. But the wheels of progress need to keep turning, with a focus on younger talent, as teams who are catching up to the Canadian program only get better and younger themselves.
It's easy to look at these past few weeks and declare them disappointing but an abnormality – given recent history, you'd probably be right – but the competitive advantages Canada once had in terms of investment, a generational striker to lead them, and a golden era core to support them are starting to either come apart or get caught up to. A collapse can be bounced back from, a settling into long-term mediocrity can't, so the focus on sorting present issues and creating future growth should be immediate and aggressive, to start building momentum for what's to come between now and the next big opportunity.
Who's Left?
Here are the odds for the major powerhouses still in contention at the World Cup. For more odds, check in with our Women's World Cup page, or our continuing daily coverage!