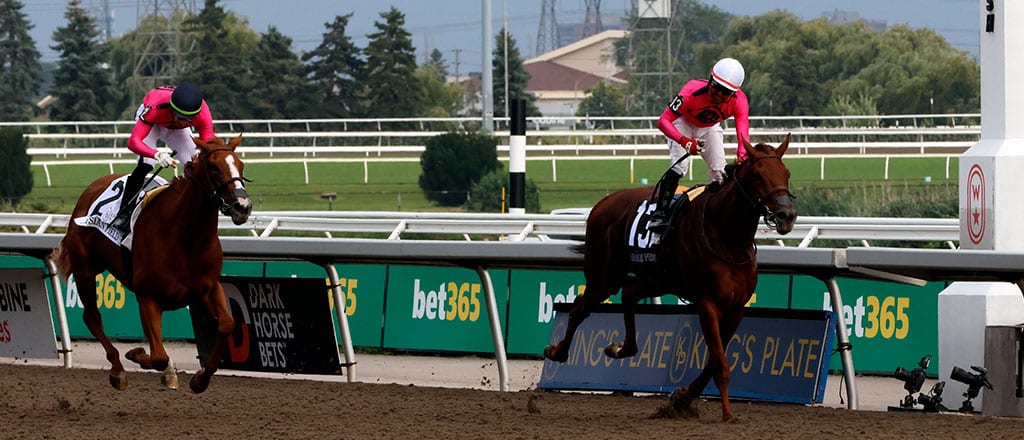 Fans of Horse Racing will have their eyes glued to Woodbine Racetrack on Sunday, as the Canadian Triple Crown wraps up for 2023. The month of October kicks off with the 132nd running of the Breeder's Stakes, carrying on a tradition started in 1889 and acting as the third and final jewel in the proverbial crown.
There will be no sweep this year, as August's Kings Plate and September's Prince of Wales Stakes were split between Paramount Prince and Velocitor respectively. Paramount Prince will have the chance to make it a pair, though, as the three-year-old will return to Woodbine for their first race on the turf track.
Patrick Husbands, who is Paramount Prince's jockey, is looking for his sixth career win at the Breeder's Stakes. Husbands is also the last jockey to win the Canadian Triple Crown, having won all three jewels with Wando in 2003. Other noteworthy horses include Elysian Field, who finished second in the King's Plate, Touch n' Ride, who is the brother of Neepawa, who won the 2018 Breeders Stakes. 2021 champion British Royalty also has a brother in this race, fittingly named British Artillery.
The Stakes headline a pair of big grass/turf racing weekends at Woodbine, with the Canadian International, E.P. Taylor Stakes, and Nearctic Stakes all taking place next Sunday as part of the Canadian International.
Post
Horse (Jockey, Trainer)
Post
Horse (Jockey, Trainer)
1
Kaukokaipuu
(R. Walcott, T. Holder)
8
Sammy Stone
(R. Munger, C. Phillips)
2
British Artillery
(O. Moreno, B. Minshall)
9
Midnight in Malibu
(L. Contreras, S. Attard)
3
Simcoe
(C. Husbands, K. Vassilieva)
10
Philip My Dear
(J. Stein, K. Attard)
4
Hemlo Gold
(E. Flores, E. Elder)
11
Touch 'n Ride
(K. Kimura, L. Giliforte)
5
Tibruon
(L. Salles, K. Attard)
12
Tiburon
(L. Salles, K. Attard)
6
Tito's Calling
(E. Wilson, M. De Paulo)
13
Twowaycrossing
(K. Nicholls, R. Attfield)
7
Paramount Prince
(P. Husbands, M. Casse)
14
Wickenheiser
(R. Hernandez, K. Attard)
Also Eligible: Enjoythesilent, Legal Catch, Over and Ollie, Greystone
For now, the 1.5-mile race will take the bulk of the attention, as the Stakes will take place at approximately 5:42 p.m. ET. It will be the ninth race of the day, with posting beginning at 1:15 p.m. For those who wish to watch live, TSN will be jumping into the festivities at 5:00 p.m.
Bettors who won't make it to the racetrack will enjoy being able to take part in the action using bet365, who signed a groundbreaking partnership with Woodbine this summer and launched their markets in August.