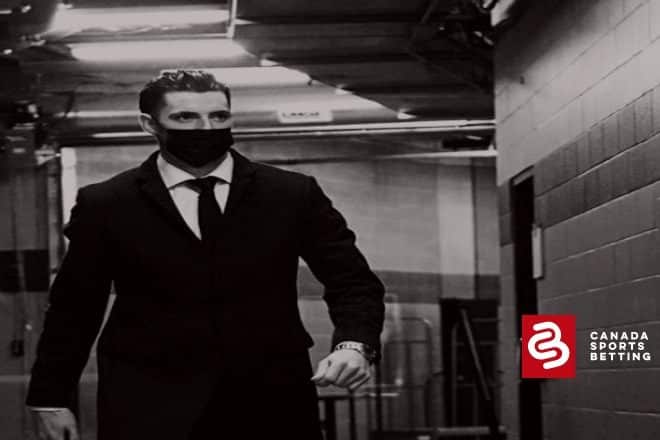 Some history was made this winter, and sportsbook Bet99 is the one getting things done here. In case you missed it, it was announced in December that Bet99 will sponsor Senators' helmets for the rest of the 2021-2022 season. This is something that's never been done before, with Bet99 indeed becoming the first betting company to be featured on helmets. Who in the world saw this coming?
Ottawa Senators made history by going with Bet99 as a sponsor
This is of course big news not just for Canada, but the NHL as a whole, as the Ottawa Senators made history by going with Bet99 as a sponsor for their helmets. We had yet to see this go down for the sport, but the Senators indeed were able to cross the line and get things rocking here. You know what this means, right? It could potentially open the door for other NHL teams to follow suit and work with betting companies.
With the Senators making this announcement in early December, it had a mixed response from fans. Several were excited, as they've been checking out the different NHL betting odds and placing wagers on the team ever since the new season got underway. On the other side of things, however, many didn't feel overly pumped that Bet99 would be advertising on the team's helmet. There hasn't been too much backlash, though.
With that said, it's also important to remember that the decals for the helmets are only for Ottawa's home games. There had been some confusion among the fanbase that this would be for both home and away games, but the Bet99 logo will not be present on the helmets for road contests. These decals made their debuts for a matchup against the Colorado Avalanche, and they'll be present for the rest of the home games in 2022.
For Senators fans, they're hoping that the team can try and turn the season around, as it's been a rough start for the Eastern Conference side. As things stand, Ottawa is in second to last place of the Atlantic Division. Ottawa is only in front of the Montreal Canadiens in the Atlantic. It's been disappointing, but the team is hopeful that a strong second half is coming. Fans can check out our best NHL betting sites to place wagers on Ottawa.
Other sportsbooks continue to make noise all over Canada
It's important to remember that other sportsbooks continue to make noise all over Canada, with things really getting exciting across the board. With the popularity of the NHL, companies like FanDuel, DraftKings, BetMGM and more have made their presence known up north. With Bet99 making this splash with the helmet decals, this has opened the door for other marketing opportunities to get done too.
It's not just in the NHL, though, as the Canadian Football League and soccer's Canadian Premier League is also ready to make some deals as well. While the NHL is no question king of sports in Canada, there's simply no denying that the CFL is also becoming a major player in the sports world as well. That's because the league has been able to bring in so many different stars from the USA to go play there.
While it's common for most of the best players to make their way to the NFL, there's still loads of talent, especially from the top college football ranks, that sign contracts and suit up for different CFL squads. This of course will open the door for more and more marketing deals to be struck. Could we see more helmets and jerseys feature betting companies sooner than later?
Ottawa's season has been filled with adversity
It goes without saying, but Ottawa's season has been filled with adversity and plenty of it. Due to COVID complications, Ottawa went 14 days without playing a game. They had a full-on outbreak in the locker room, which resulted in the team being off the ice for quite some time. Fortunately, they were able to get healthy and return to action.
Now, the Senators will indeed look to close the 2021-22 season strong. With their recent win over Calgary, a game they were major underdogs for, it has provided a bit of confidence for the players. They'll need to keep that mental game strong in order to keep pulling off some upsets and get this team to record some much-needed victories.