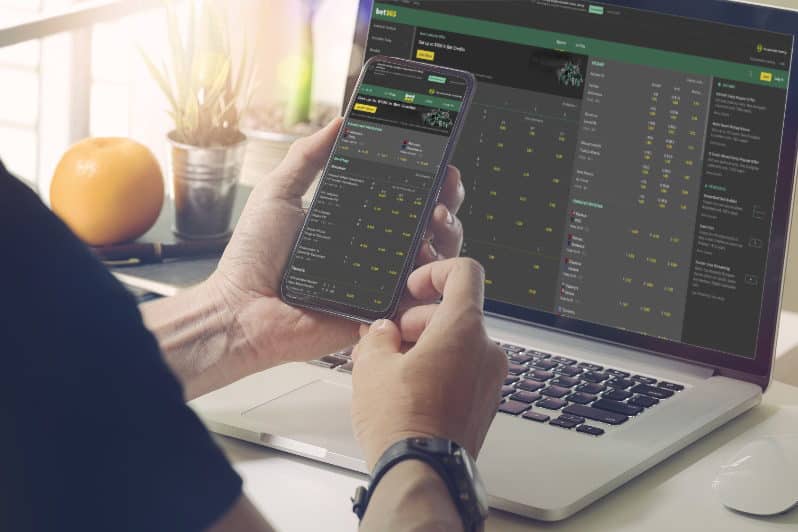 With the online gambling market expected to grow by over $100 billion in the next five years, Bet365 is positioned to become one of the market leaders. The UK-based company is recording significant growths in recent years and had already taken over the UK in just over ten years since it was created in 2000. Both Bet365 and the online gambling market will keep growing for many reasons.
It's a bull market for Bet365 and the online gambling world as reports are estimating a continued rise in revenue up until 2024. Despite economic turbulence brought about by both the COVID-19 pandemic and automation, online betting has grown in both revenue and customer acquisition for a variety of reasons.
Both online gambling and Bet365 are quietly booming
Depending on where you look, various projections have online gambling growing by hundreds of billions. Take for example Business Wire's projection that the market is expected to grow by $114.2 billion USD from 2020 to 2024 and Bet365 will have a significant market share here.
PLAY ONLINE NOW
The growth of the online gambling market can be attributed to many things from the loss of traditional jobs to the constant development of online betting technology to the continued legalization in major markets like the United States.
The Bet365 group operates under three segments: sports, in-play (live betting), and casino. The company has long been one of the biggest online gambling brands in the industry and is based out of the United Kingdom (UK).
The UK has been one of gambling's meccas thanks to its well-regulated jurisdiction. This is a significant reason why Bet365 has long been considered one of the most reputable online betting brands. Even as new gambling regulations are pushing many sportsbooks out of the country, Bet365 would just keep chugging on.
Bet365 has gone from being found in a small portable cabin within a parking lot in 2000 to the top online sports betting site in the UK and one of the rising brands in the world. Much of this is thanks to the work of Denise Coates, founder and CEO of the company.
Coates pushed Bet365 to grow and improve each year. They have one of the biggest sports betting platforms, are innovators in the live betting space, and are also constantly growing their casino with new games and developers joining every year.
PLAY ONLINE NOW
Bet365 made almost £3 billion in revenue in a 12-month period ending in March 2019 according to Gambling Insider. This included a 12% increase in operating profits, an 18% increase in mobile sports revenues, and a 23% increase in active customers. The £3 billion also indicates a 10% year-on-year growth for the company.
In short, Bet365 is making a killing. And they're not stopping any time soon as they continue to expand into more territories such as North America, APAC (Asia Pacific), and the rest of Europe.
The company still retains its headquarters in Stok-on-Trent but has operating hubs in Gibraltar, Malta, Bulgaria, and Australia. Bet365 now employs well over 4,000 employees as part of their global operations.
Bet365 is a great bet to be one of the market leaders if not THE market leader in online betting.
Why is online gambling rapidly growing despite economic turmoil?
Despite a global economic recession and the delay or cancellation of several sports leagues, online gambling barely took a bump as it continues to accelerate like a theme park ride.
As a matter of fact, the global lockdowns brought forth by the COVID-19 pandemic has probably increased online gambling. Online gambling is much easier to access now. We've come a long way from bricks-and-mortar casinos located miles away from neighborhoods or having to phone in to place sports wagers.
Now, mobile apps like Bet365's are cutting edge and easier to use than desktop versions.
This ease of access plus a variety of other reasons: the thrill of winning, escaping from the real world, and finding a potential source of income are just some reasons why folks are trying their hand at gambling.
People losing their jobs or having their hours cut is leading to them distracting themselves from the constant stream of bad news from the media. Some are being "creative" in finding ways to make an income.
Plenty of the casino games like their slot games have substantial payout rates with slots offering up to a 97% payout ratio including jackpots that can make average folk into overnight millionaires.
Online sports betting has also become increasingly popular thanks to books offering more markets including eSports and virtual sports. The rise of prop betting has also led to substantial profits from people.
Bet365 poised for further growth because of forward-thinking
A big reason for Bet365's success has been its ability to form partnerships in the right places such as Playtech. Regarded as one of the most prolific casino game-designers, Playtech has launched over 700 premium branded titles including DC Entertainment tie-ins like Justice League and Superman.
Bet365's partnership with Playtech is in America, in New Jersey, the first state to legalize casinos and sports betting. This puts Bet365 ahead of several competitors and places them at a prime spot to lead the market with innovative casino games.
Other than that, Bet365's in-play platform continues to be lauded. They were one of the first brands to popularize live streaming for live betting.
Bet365 will continue pushing forward as the industry keeps growing. They've grown tremendously in just over a decade when the market wasn't as ripe. Now, with the online gambling market quietly blowing up, Bet365 is set to be propelled into new heights.