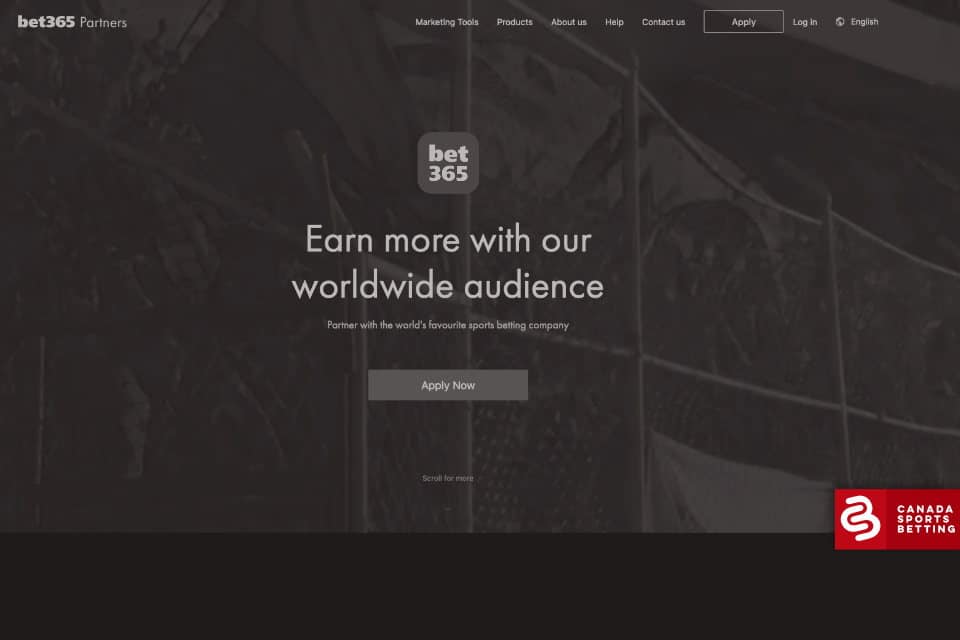 After plenty of hard work, Bet365 is finally relaunching its affiliate program under the new moniker – Bet365 Partners.
As many who bet know, Bet365 is one of the leaders in online sports betting and online casinos. To reach such lofty levels in the industry – continuous innovation is necessary. While adapting to meet changing industry trends in sports bettors and casino players, it is not the only way to continue building a world-renowned brand, which is why Bet365 is relaunching its affiliate program under the name Bet365 Partners.
What is Bet365 Partners?
Bet365 is a rebranded and updated version of the online sportsbook's old affiliate program – Bet365 Affiliates. The goal of the rebrand is to provide a better service for partners, with access to more information and analytics (as well as other tools) to maximize the productivity between the partner and the Bet365 sportsbook.
Why is the Rebranding Important for Bet365 and its Partners?
When Bet365 launched their original affiliate program – Bet365 and the world of online sports betting and casinos were in a much different place. The industry was still in the infancy stages, with a smaller selection of online betting sites and a more significant focus on specific geographical regions.
Fast forward to 2021. Online sports betting and casinos are now one of the largest entertainment industries in the world – with Bet365 ranking as the most visited online sportsbook in the world. A global perspective on betting has shifted Bet365's focus and operations to over 60 countries (where they currently have over 63 million customers).
With geographical differences splintering the effectiveness of a single-approach data, Bet365 needed to relaunch this program. Now that it has launched, we can see what the new partnership is about and why Bet365 put a great deal of effort into modernizing its old affiliate program.
What are some of the new Aspects of the Bet365 Partners Program?
Obviously, a name change is not nearly as significant as what goes behind the change. It is all about what the new product offers and why it is better than the previous version that companies, investors, partners, and everyone else generally care about the most. Below are some of the changes to the Bet365 affiliate program.
Best New Features of the Bet365 Partners Program
Geographical data to help improve affiliate marketing
Customizable dashboards for partners
More analytical data, including visual data tools
Real-time statistics to help optimize affiliate strategies as quickly as possible
Greater and more updated information on an affiliate's (or partner) account
Tools to navigate local and national rules
More help to fight problem gambling
These, along with more features and improved communication, help make the rebranded program score highly with Bet365's partners (as some partners state, the old program was starting to lag behind what was available from other online sportsbooks). The program is available for existing partners and will also be offered to new partners interested in teaming up with Bet365.
Does the Rebranded Program Benefit Bettors?
On the surface, many would believe the new Bet365 Partners program only benefits the partner. But in reality, the new program also helps sports bettors and casino players at Bet365.
Affiliates are the source of much of the information you will find on Bet365. Whether it is news on the website, betting lines and predictions, and the launch of new casino games – affiliates are the primary source of all of this for Bet365.
With a better system, especially on geo-specific trends and user statistics, the information partners get from Bet365 is now more relevant and targeted. They can then reach out to sports bettors and casino players more accurately and keep people more interested in returning to Bet365.
Why Bettors Choose Bet365?
Bet365 is firmly established as one of the most popular online sportsbooks in Canada and globally. They have built one of the most extensive and best-betting experiences. They continually pour more resources into the product  to provide the best experience possible. If you have yet to try Bet365, you can join through the welcome bonus link below.
What is Next for Bet365?
It is not easy to speculate what comes next for the world's largest online sportsbook. Expanding its reach into more countries is possible – as most (but not all) online sportsbooks look to grow in regions where they do not operate, and the competition is not that significant.
They have started to do this in the United States – where more states are legalizing sports betting, opening the door for operators to enter new markets. Bet365 recently did this by signing a deal with Century Casinos to operate in Colorado.
They could look to acquire other sportsbooks, although they have not done this in nearly 15 years.
In all honestly, who knows what is next for Bet365. The resources poured into the rebranded partnership program are likely their focus right now. They will want to continue to build strong relationships with partners that last and last and benefit both parties for a long time.