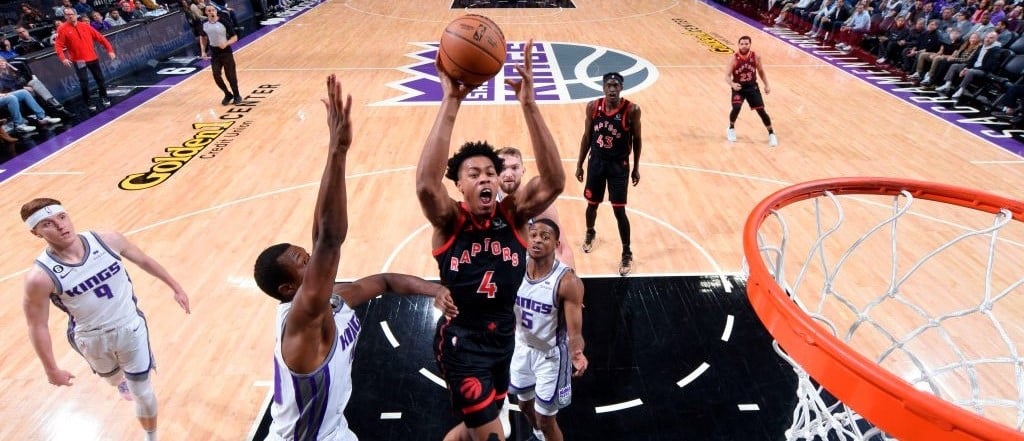 Last April, Ontario's iGaming regulators revealed that Ontarians wagered $35.5 billion and the market produced $1.4 billion in total gaming revenue from iCasino, online sports betting, and online poker in the first year, but now more details have been made public about how the new market performed in its first year, and how it's expected to grow over the next decade.
On Wednesday, iGaming Ontario, in conjunction with Deloitte, published a 34-page document that takes a deep dive into the market's inaugural year and estimates how the new legal sector of the economy will grow in the future.
Deloitte estimates that the new regulated iGaming market's total economic contribution was $1.58 billion to Ontario's GDP from April 4, 2022, to April 3, 2023. Roughly $906 million of that contribution came in the form of labour income from the industry and over 12,000 full-time equivalent jobs were sustained across the province.
The market produced a significant amount of revenue for various levels of governments. Deloitte estimates that $238 million was generated for the federal government, $469 million for the provincial government, and $54 million went to municipal governments in the past year.
"Today's report reveals that the newly regulated iGaming market in Ontario is delivering real benefits to every resident of Ontario, whether they play or not," said Chair of iGaming Ontario, Dave Forestell, in a press release. "The iGaming industry's potential to be a real economic driver in Ontario and, together, we can help realize that goal of leading the world's best gaming market right here at home."
The new research also found that employees in the iGaming sector are paid rather handsomely and are averaging $103,000 a year in compensation, which is 41% higher than the average job income in Ontario. Employees in the sector are generally skilled in the science, technology, engineering, and mathematics fields.
Deloitte's research is based off a 20% iGaming tax on earnings that's paid by private operators to the province of Ontario, including additional taxes on products and production.
Ontario's regulated iGaming market has grown to include 45 licensed iGaming operators and 76 online gaming sites. These figures do not include any iGaming revenue being generated by the Ontario Lottery and Gaming Corporation, which boasts the PROLINE + sportsbook as well as an array of iCasino and lottery products.
Future projections
It's important to note that Ontario's iGaming market grew significantly throughout the first year. Only 18 operators launched in the first three months of operation. That number jumped to 24 operators in the second quarter, and then to 36 in Q3 before a total of 45 went live to close out the year.
The Alcohol and Gaming Commission of Ontario set a deadline for grey market operators to become compliant and join the regulated market last Halloween. This resulted in a small surge of operators joining the market around that time, such as Pinnacle and Bet99.
Looking forward, Deloitte's report estimates that the industry has the potential to grow to support up to 22,000 full-time equivalent jobs, $4.7 billion in GDP, and over $2.1 billion in government revenue annually by 2031-32. The chart below, provided by iGaming Ontario, illustrates the projected government revenue from regulated iGaming over the next decade.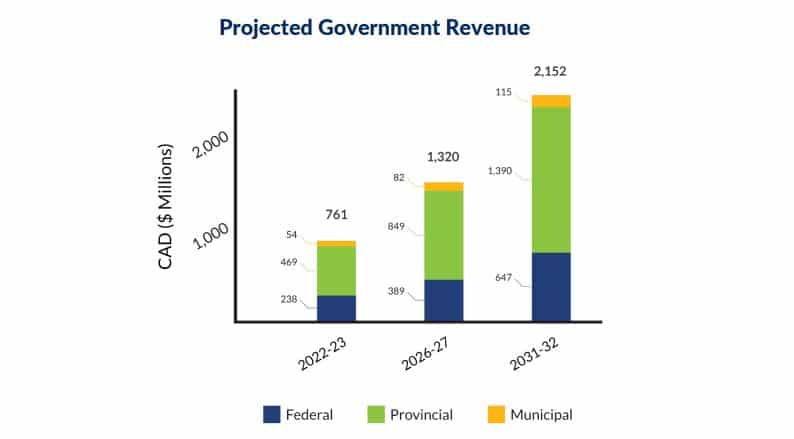 Will other provinces follow suit?
The timing of the release of the research report is no coincidence as the entire industry congregates in Toronto this week for the Canadian Gaming Summit. Over 2,000 industry professionals, many of whom are coming from out of province or country, are expected to attend the event. Government officials and provincial lottery corporation executives from outside of Ontario have RSVP'd to the Summit and they'll be evaluating whether or not an open iGaming model could work in their various jurisdictions.
Recently, several private operators have formed a coalition in an attempt to bring regulated iGaming to the province of Quebec. The Alberta Gaming, Liquor and Cannabis Commission has also expressed interest in embracing a limited number (two initially) of private operators into its jurisdiction, but the provincial regulator has been silent since announcing those plans well over a year ago. And last December, the Canadian Gaming Association hosted the first Gaming Leaders Forum, a CGA members-only event at the Grand Villa Casino Hotel & Conference Centre, in Burnaby, British Columbia. The day-long forum focused on the province's gaming market and what the future may hold.
Canada Sports Betting has learned that several provincial governments are closely monitoring the new industry in Ontario and are at least interested, in some capacity, at the possibility of expanding their respective markets, too.
There are lessons to be learned by observing Ontario's industry rollout from afar, particularly surrounding the issue of gambling advertisements. Ontario's regulators have recently proposed to tighten their restrictions on advertising and are currently reviewing feedback from industry stakeholders. Several organizations, particularly in the mental health field, are calling for immediate action to limit the amount of gambling advertisements in mainstream media.
Any province wishing to embrace private operators in the online gambling space will have the luxury of using Ontario's iGaming framework as an initial guide. But outside provincial regulators will also have the opportunity to make any tweaks they deem necessary to any legal framework to avoid friction and maximize potential revenue streams.
You can view the full 34-page document from Deloitte below: