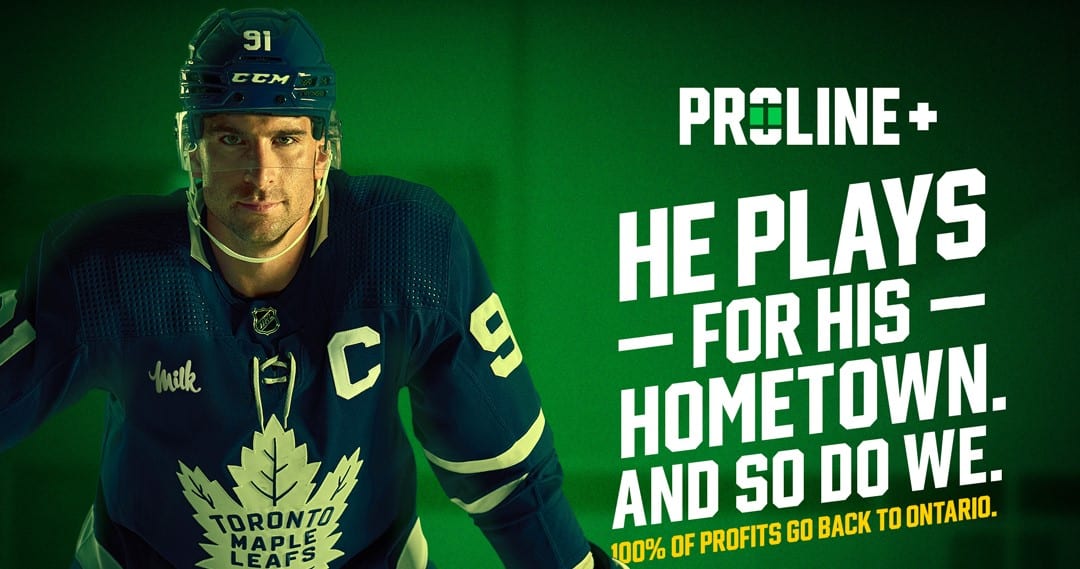 The Ontario Lottery and Gaming Corporation announced Toronto Maple Leafs captain John Tavares as its new PROLINE brand ambassador on Wednesday.
Tavares – who was born in Mississauga, Ontario, and signed with the Maple Leafs as a free agent in the summer of 2018 – is the first major professional sports league athlete to sign with OLG.
As part of the partnership, he'll engage fans at public appearances, promotional events, and on social media in support of PROLINE.
"If you grew up in Ontario and are a sports fan like me, then you know that OLG's PROLINE products are synonymous with responsible sports betting and gaming entertainment," said Tavares in the press release. "I am thrilled to be the brand ambassador for OLG and PROLINE because of its long-standing connection to sports in Ontario – I am sure I have played in arenas built in part with funds from OLG – and its overall commitment to reinvesting in the province, which benefits all Ontarians."
OLG has been busy inking strategic partnerships in the past year to become the official sportsbook of the big four professional leagues: NHL, NBA, NFL, and MLB. PROLINE's retail and online sports betting platforms were the only legal way to bet on sports in Ontario until the launch of Ontario's regulated sports betting market on April 4. PROLINE has been available to Ontarians since the early 1990s, and its sports betting offerings have drastically improved since the launch of PROLINE +, OLG's online sports betting platform.
"As a lifelong sports fan, bringing on someone of John Tavares' calibre is very exciting," said Dave Pridmore, OLG's chief gaming officer. "Having John as our PROLINE brand ambassador is a great fit given his deep connection to Ontario and his leadership on and off the ice. John was born and raised in the province, captains the legendary Maple Leafs and started his own foundation to give back. OLG's social purpose is also to give back, as 100% of OLG's profits are reinvested in the province to improve the quality of life for all Ontarians."
Tavares the latest NHL player to partner with a sportsbook
Tavares now joins his teammate, Auston Matthews, and Edmonton Oilers superstar Connor McDavid as active NHL players to partner with a sportsbook.
In February, Matthews became the brand ambassador for Bet99, which was operating as a gray market sportsbook in Ontario at the time. The deal was for three years and was believed to be worth seven figures, according to Rogers Sportsnet's Elliotte Friedman.
Matthews was initially signed to promote Bet99's free-to-play products, but the operator then joined Ontario's regulated market on Halloween.
Canadian UFC great Georges St-Pierre is another Bet99 ambassador, and the operator is also partnered with the CFL's Montreal Alouettes and Canadian soccer club CF Montreal.
Two months after Bet99 announced Matthews as its brand ambassador, BetMGM partnered with McDavid.
The 25-year-old Canadian hockey phenom was the first active athlete from the four major professional sports leagues to become a brand ambassador for the sportsbook. He's now being featured in BetMGM's marketing campaigns, promotions, social media posts, and fan events.
BetMGM boasts a start-studded roster of brand ambassadors that includes fellow Canadian hockey icon Wayne Gretzky, Kevin Garnett, Marshawn Lynch, and Jamie Foxx, among others.
"I am very excited to partner with BetMGM as they continue to shape the future of sports betting," McDavid said after inking the deal. "It's also a real honour to be on the same BetMGM team with star athletes like Wayne Gretzky and Kevin Garnett, both of whom I admire very much."
McDavid has an impressive endorsement portfolio, which includes deals with CCM hockey equipment, Adidas, Rogers Communications, and CIBC. He also has equity deals with sports nutrition company BioSteel and mobile streaming app Buzzer.
---
---