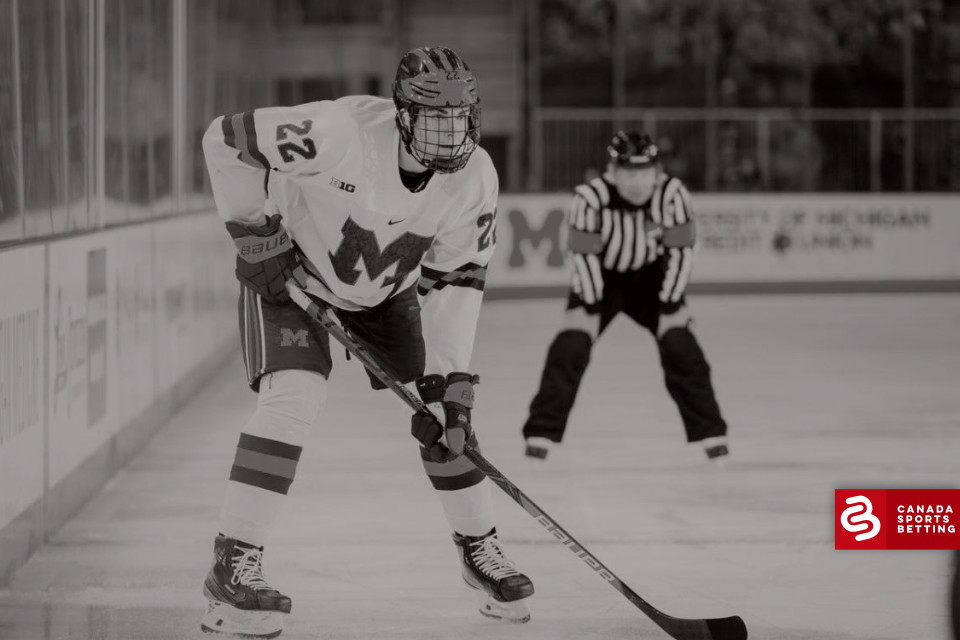 While the 2021 NHL entry draft isn't viewed as being as deep as the 2020 class, as with Alexis Lafreniere last season, there appears to be a consensus No. 1 – Michigan's Owen Power. The Wolverines freshman defenceman didn't look out of place playing with the men at the IIHF world championship, winning a gold medal skating for Canada, playing in the top defensive pairing. Power is almost certainly going to the Buffalo Sabres.
2021 NHL Draft Information
Owen Power is overwhelmingly expected to go No. 1 overall in the 2021 NHL entry draft
Michigan defenceman Power is given 1.13 odds of being selected during the first 1.5 picks of the draft
Over/under odds on several players for the first round of the July 23 NHL entry draft are available
Who's got the power? Once the Buffalo Sabres make the first selection in the 2021 NHL entry draft, for one of the rare times in recent history, it will be them. The Sabres will most certainly be selecting Michigan defenceman Owen Power with the first overall pick of the draft.
The 6-foot-6 rearguard has established himself as the class of 2021 when it comes to the NHL draft. Along with a standout freshman NCAA season for the Wolverines, Power separated himself from the pack by playing a starring role for Canada's gold-medal team at the IIHF World Championship.
Among a series of over/under props being offered on several of the top players in the 2021 NHL entry draft, Power is an overwhelming 1.13 betting choice to go at pick 1.5 or earlier. In other words, he's the heavy favourite to be No. 1.
However, after Power, it's a real crapshoot as far as which players will be taken next. That's good news for bettors, who could be set up to cash in some significant wagers if they can correctly assess where players are slotting into the 2021 NHL draft order.
Let's look at where bettors should be playing some of these players to be picked.
Owen Power
Buffalo will be picking in the top 10 for the ninth successive season. They've picked second overall twice in that span and this will be the second first overall selection by the Sabres in four years.
If Buffalo opts not to take Power, it will rank among the most foolish decisions by a team that's gained a reputation for foolish decisions.
Matthew Beniers
Power's Michigan teammate, centre Beniers also played at the worlds, only he suited up for Team USA. Almost every mock draft has him slotted in at No. 2. He slides to No. 3 on rare occasions.
Top #2021NHLDraft prospect, Matthew Beniers put together an impressive draft year, putting up 12 goals and 17 assists in 37 games across the NCAA, WJC-20 and WC! pic.twitter.com/iXh1n8tKJK— InStat Hockey (@InStatHockey) July 7, 2021
A steady two-way forward, Beniers might not be an elite star but is a lock to be an NHLer for a long time.
Dylan Guenther
Every draft, there's a player who climbs higher than expected. There's also a top-rated player who slides well below his projected selection time. The latter player in this draft could very well be Guenther.
While he's a dynamic offensive player, Guenther is seen going as high as No. 3 and as low as No. 10.
William Eklund
Eklund could very well be that player who goes much higher than expected on draft day. He's been steadily climbing the rankings in the opinion of hockey people. Some believe Eklund has real star power and could go in the top three picks.
During the 2021 season, Eklund posted one of the top 18-year-old seasons in Swedish Hockey League history and was named the loop's rookie of the year.
Luke Hughes
The third member of the family who's expected to go in the first round of the NHL entry draft, Luke should soon join brothers Jack and Quinn in the NHL.
He presents a bit of a dilemma for the New Jersey Devils, who pick fourth overall. The Devils need help on the back end and Hughes is a defenceman. If he's there at four and the Devils pass on Hughes, how to they explain that to older brother Jack, selected first overall by New Jersey in 2019?
Where to Bet On The 2021 NHL Entry Draft?
There are a number of leading online betting sites that will provide bettors with the chance to place a wager on the 2021 NHL Entry Draft odds. The best bet you can make is to shop around in advance and seek out the right deal before joining one of these sportsbooks. Check out ComeOn Sports and 10Bet as examples.
The signup bonus offers that are in place at all of these recommended sites will prove advantageous to the bettor. And since you'll get a good deal wherever you go, why not check out several sites and find the ideal fit for your needs?
Do you want a risk-free first bet as a signup bonus? Perhaps you find a no-deposit bonus to be enticing. Or maybe you simply like the feel of cold, hard cash in your account and you want to go for a matching first deposit bonus. Whatever option you choose, you're already a winner.
Remember that new players and returning customers are eligible for better bonuses when they deposit using Bitcoin. As well, take advantage of the betting advice offered at these sites to help newcomers acclimatize to sports betting.
See below the top sportsbooks.