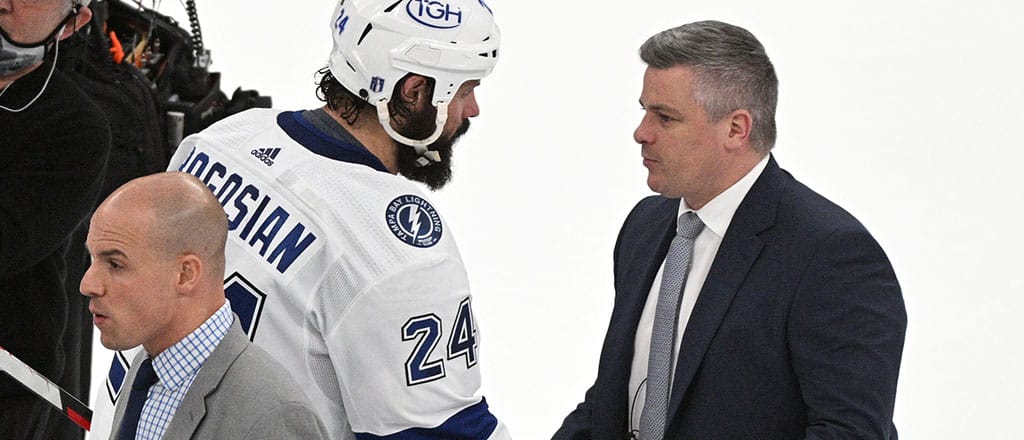 Last Monday, NHL training camps began to open, and with that came the beginning of content season for the 32 local beats. Reporters had more access to players and staff again, fans were re-converging on their favourite platforms to consume, and boy, if you want a market with a lot of chatty beat reporters and even more intrigued eyeballs, look no further than the centre of the universe, also known as Toronto, home of the Maple Leafs.
This led to a few things, the first one quite relevant to our own niches here at Canada Sports Betting. PostMedia writer Michael Traikos opened up the morning by posting an image of some betting odds. These came from a black market vendor without the proverbial CSB Seal of Approval, and presumably were forwarded to him by their PR team – a common practice in sports media – so we won't relay the exact details. But the lines that they wanted the world to see involved the "First NHL Coach to be fired or resign" prop for 2022/23, and at the top of this list was Leafs head coach Sheldon Keefe, putting his odds at about +650.
Keefe wasn't the only person who's hourglass was flipped over last week, though. On Wednesday during Toronto's "Media Day", GM Kyle Dubas confirmed that he did not sign a contract extension this summer and will prove himself through the last year of his deal before his future is decided, leading to early speculation that he could be on the hot seat as well. The eyes then shifted onto Auston Matthews, with many reporters wanting to know what his thoughts were towards signing a contract extension before he finally shut down the conversation for the time being, saying that he "really like[s] playing in the city of Toronto" and "consider[s] it home now", and that he can't talk about an extension at the moment.
While this stirred the pot even further for those who immediately compared it to non-commitments from recent superstars who have moved teams, like Columbus forward Johnny Gaudreau via Calgary and Leafs captain John Tavares via the New York Islanders, it's also very much correct.
Matthews is legally not in a position to sign a contract extension with the Maple Leafs until July 2023, in which the last year of his current deal formally begins. Initial talk that the team should look into moving the reigning Hart Trophy and Rocket Richard Trophy winner if an extension isn't immediately put on the table felt almost in direct conflict with the Nathan MacKinnon extension that inspired the conversation to begin with, as the Colorado Avalanche superstar waited two and a half months to sign his deal. We've also seen superstars go right down to the wire – Leafs fans will remember Steven Stamkos sitting in the MLSE board room with four days remaining on his Tampa Bay Lightning contact in 2016, only to extend there 48 hours later and eventually find himself lifting the Stanley Cup for them in two of the last three seasons.
While there is no guarantee Matthews sticks around at the end of these next two seasons, worrying about it now is not rooted in reality, and really, that's the common trend with a lot of the discourse hovering over the team at the moment.
Let's to back to that Keefe prop bet, and then head to Sports Interaction, one of our favourite books here at CSB. Currently, those +650 odds of Keefe being the first coach fired are higher than any team's Stanley Cup odds besides the defending champion Avs (+404). Funny enough, the Leafs themselves sit at the second-highest odds at SI and at many other top books, and also hold that spot for the Presidents Trophy, which is awarded to the team with the best regular season record. Even the book that is carrying that prop has Toronto at similar odds to the regulated books.
Being a high-point regular season team requires a strong record, and the regular season has been far from the knock on Keefe, who has led the Leafs to a Top-3 record in the NHL since his hiring. For Toronto to fire Keefe for regular season related, on-ice reasons, the team would likely have to go on a substantial, alarming losing streak. For him to be the first fired, it would have to come almost immediately. All of that seems in conflict with also giving them strong odds to be the top regular season team in the league, and reeks of shock value.
Similar goes to speculation around Dubas. While it's not impossible that the first-time general manager isn't renewed at the end of the year, a point made by Sportsnet's Elliotte Friedman on his 32 Thoughts podcast during the week made a lot of sense. That is that Maple Leaf Sports & Entertainment is being more cautious about extending contracts after the whopping eight-year commitment they made to Keefe's predecessor, Mike Babcock – which was and will likely remain for some time as the biggest in NHL history – will be nearly two-thirds paid after his dismissal, to the tune of tens of millions of dollars of surplus money. MLSE similarly brought Toronto Raptors president Masai Ujiri down to the wire – to the point of public frustration – and his track record was much more significant than Dubas' is so far. With that in mind, it would make sense that the team wants to be sure
The caveat to all of this is that the outcome of this year could impact the future for all three of these gentlemen. While someone more probability-savvy would likely be willing to keep trying with the Maple Leafs' current group if their season ended in a similar way to last year, a close seven-game series against the dynastic Lightning where Toronto outshot and even outscored their opponents, we're talking about a results-based industry and one where fan morale will eventually sway the balance sheets. Another first-round playoff loss would, whether deserved or not, almost assuredly lead to the gutting of the Maple Leafs staff and maybe a significant overhaul of the team by whoever replaces them. This is a city that's built up it's expectations for good reason over the past several years, and been let down every single time – be it by strategy, effort, personnel, sheer luck, or some combination of the four. If the overhaul isn't to Matthews' liking, it's possible that his allegiances shift late in the process, similar to what led to Tavares coming into town four years ago.
Making sense of this situation is complicated. On one end, there is no rational reason to buy into any of the conversation about Keefe, Dubas, or Matthews for at least the next few months, if not longer. The test for the staff is unlikely to mean anything until spring, given that their fates will be less about their actual performance and more about public demand following the playoffs. For Matthews, it literally can't mean anything for a year. Ideally, the temperature on all of these conversations cools down a bit so focus can be put towards the tasks at hand, rather than having your top minds stressed out about theoretical. At the same time, it speaks to the gravity and importance of this year – as irrational as deciding long-term process by short-term knockouts is, it's what the paying customers tune in for, and it's what everyone who eventually makes the league dreams about. Rationality isn't always the point, and understanding that is sometimes the rational call. So while no one should be sweating bullets about change just yet, having a baseline of what's at stake has it's value. All of these questions can go away with success and time, and all three are capable of delivering – now it's time to see if they can.