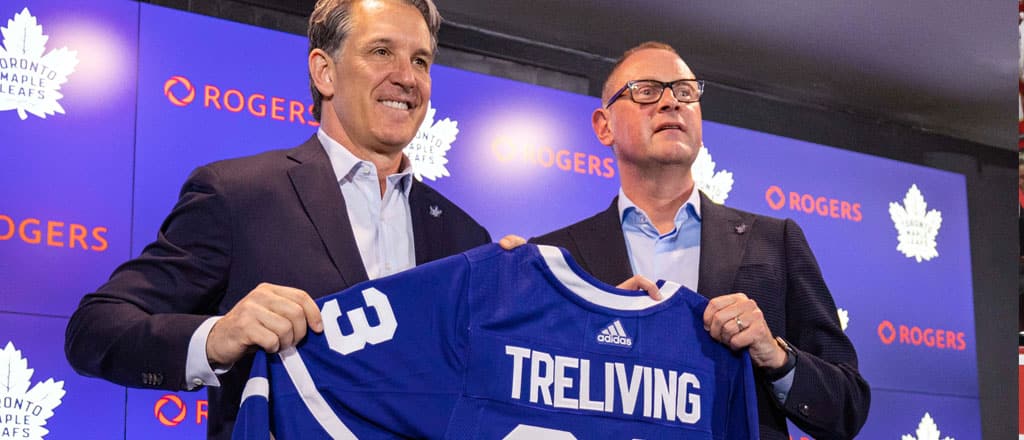 So things have changed a little bit in Toronto since we had our post-mortem a few weeks ago. The locker room cleanout day press conference of Kyle Dubas' that guided the compass of that conversation? In hindsight, rather than the start of his summer, it was the beginning of the end, Dubas being fired a few months ahead of the end of his contract just a few days later.
The saga of the last few weeks, one where no one between the MLSE boardroom, Dubas, and Leafs President Brendan Shanahan is fully a hero or villain, is a complicated one and one that perhaps best left to its own story for another day. What matters today is that Dubas has moved on – coincidentally making his jump to the Pittsburgh Penguins' President role official this afternoon as well – while Brad Treliving comes in to be the Maple Leafs' 18th general manager in franchise history.
Treliving's introduction as the chosen candidate is one that has admittedly raised some eyebrows. Suddenly, tea leaves left in the public eye as far back as last December make a lot more sense, his connections to the boardroom through his businessman father Jim feel a tad bit curious, as does a relatively short search for candidates following what was supposedly a sudden replacement.
It's a weird change of the guard – one where no one with the Leafs is publicly saying the change was made due to performance, and one where a change of managers for the biggest hockey team on the planet came in oddly swift, seemingly bare-bones fashion, with a replacement zeroed in on almost immediately and with little debate. Even the betting markets were pretty confident in Treliving being the heir apparent, having him as the favourite candidate for pretty much the entire process.
Yet, even if we were to find out down the line that the wheels were in motion on this move before Dubas was let go, perhaps maybe even before or shortly after Treliving stepped down from his last perch, there is truth to the idea that this isn't a freefall outcome for the Maple Leafs.
Treliving, to his credit, was among the higher tiers of candidates available to Toronto once it had decided to move on from Dubas. The 53-year old native of Penticton, B.C., resigned from the Calgary Flames in mid-April, opting to not not renew his contract with the team he had managed for the previous nine years. While exact details probably won't get nailed down unless someone writes a memoir, the undercurrents point to a power struggle of sorts between himself, Flames ownership, and head coach Darryl Sutter that had brewed for quite some time prior.
In his time in Calgary, Treliving was well-respected for the way he managed and interacted with people inside out and out of the organization. The Flames weren't always at the top of the NHL standings, but often had encouraging metrics under the hood. The team had flashes of regular season success, but typically found itself out in the first or very early second round. Under Treliving, the Flames invested in applying data to their hockey operations process, strengthened their minor league pipeline, and always felt like a group with a chance.
Sounds familiar, right? In a lot of ways, Treliving's time in Calgary mirrors the time Dubas spent in Toronto, even beginning in 2014 (albeit, with Treliving as head and Dubas's first four seasons coming as assistant). Treliving's teams were overall not as in-and-out competitive, but the overlap is uncanny to say the least. Certainly, if you're someone who felt that Dubas' departure was a potential freefall scenario for the Maple Leafs, the Treliving hire, even with the background behind it, feels like a welcome emergency parachute.
Unless your criticism of Dubas' tenure simply came down to him being "new-school," these similarities might even make those who wanted to move on from him nervous, and those who didn't relieved. All things considered, a change like this makes it more likely that the Leafs do not make significant changes this summer.
After all, it's easy to point to Treliving's adaptive strategy from last summer when Johnny Gaudreau left for Columbus and Matthew Tkachuk requested a move out of the organization and say that Treliving is a guy who can get things done. Even with his replacement trio of Jonathan Huberdeau, MacKenzie Weegar and Nazem Kadri having down years this season, the swing for replacement star power cannot be denied.
At the same time, it's easier to make big moves when they're thrust upon you, when you have familiarity with your pieces, and your back is against the wall. When you're new to the job, when the players appear interested in staying, and when Shanahan seems to back the idea of keeping Auston Matthews, Mitch Marner, William Nylander, and John Tavares? You now have a GM who likely wants time to get to know what they have, and no real incentive to rush into a move. The same goes with head coach Sheldon Keefe, who is seen by many as being tied to the hip with Dubas but has also operated away from him in gaps along the ladder.
With this all in mind, the potential to "run things back" actually increases with new management. While Dubas may have moved himself towards doing something to disrupt the flow, for better or worse, for himself, or for further job security, there is less incentive for Treliving to do the same. The changes will likely come at the fringes once more. Treliving hinted at this in his initial media availability, stressing his enjoyment of the team that was already in place, his interest in extending Matthews, and his lack of need to rush into any sort of situation.
The way I'd see it is this: If you're wondering about the marionettes handlers at the top, you're probably a little unnerved by the last few weeks. If you're someone who wants to trust the process, you're likely upset about the change but feel a weird sense of relief today. If you're someone who wants to throw a grenade at the Jenga tower, you've likely gone from cartwheels to something between catharsis because the old boss is gone, to concerned that the new boss is pretty similar. For me, I see this as a mixed bag, and have serious reservations as to whether this helps the team short and long term, but recognize that there is still something to work with here. Over the next few weeks, we'll continue to dive in and address what the state of the Leafs looks like from here, as Treliving gets settled in.