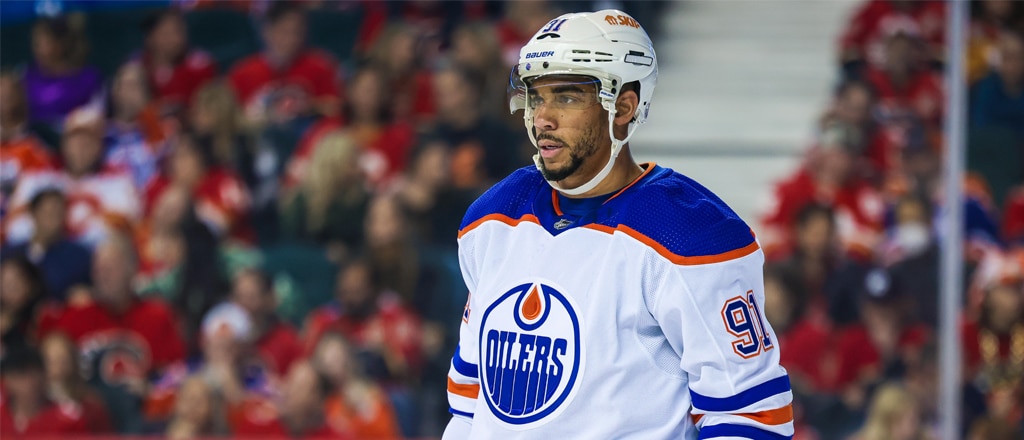 We're back for another week of HNIC Coast To Coast, breaking down all of your favourite Canadian National Hockey League teams as the weekend nears – especially those playing their matchups on the iconic Hockey Night In Canada broadcast on Saturday night. Unlike the last two weeks, there's no schedule theme in our game lineup, but there is a lot of great action! This Saturday features five games across all seven Canadian teams, with both headliners being Canada-on-Canada matchups. Let's dive in, shall we?
7:00 p.m. ET HNIC Headliner: Vancouver Canucks @ Toronto Maple Leafs
Two teams on two very different courses are meeting up for this weekend's early headliner. Defending home ice are the Toronto Maple Leafs, who have somewhat cooled down the hot stove with a strong week. A commanding victory against the Philadelphia Flyers was followed up with well-executed wins against the Boston Bruins and Carolina Hurricanes, the latter of which being a surprise given the back-to-back nature of the scheduling with travel in between. An overtime loss to the Vegas Golden Knights left a sour taste to some by virtue of how it ended, but however you slice it, going 3-0-1 in the course of a week against four teams with top-5 records by point percentage at the time of playing is a way to reinstill some confidence.
Less inspiring are their fortunes between the pipes. With Matt Murray already hurt, Ilya Samsonov injured his knee while conceding Boston's lone goal in the Saturday game. While he did finish the period, Samsonov is now considered week-to-week. Thankfully for Toronto, it looks like Murray is getting close to returning from his abductor injury, and AHL tweener Erik Kallgren was pretty decent in his sudden pole vault to the top table, stopping 52 of 57 over the two games and change, giving the Leafs just enough to get points in those games.
Vancouver, on the other hand, continues to go through a lot as everyone from management to ownership gets to see the fruits of their relatively plan-less labour come to fruition. While the week could have gone worse on a pure wins/losses spread (1-1-1 is still a marked improvement at the moment), a collapse from 3-0 in a totally unstructured Saturday game against Nashville, a 6-4 win where the team only played one decent period against Ottawa on Wednesday, and a 5-2 loss where they seemed unable to keep up with the Montreal Canadiens, things still aren't feeling too hot. Thatcher Demko is still having an uncharacteristically awful start here, Jim Rutherford and Bruce Boudreau seem to be trading thinly-veiled barbs through the media about how the coaching approach is being decided, and through 14 games, Vancouver has allowed four or more goals a whopping 11 times – including three of its four wins.
With that said, a game like this feels exactly like the type where the troops could rally together to face a common enemy, and Toronto's biggest flaw in recent times has been how it plays down to minnows. Truthfully, this is the sort of night where you can't rule just about anything out.
10:00 p.m. ET HNIC Headliner: Winnipeg Jets @ Calgary Flames
A really under-the-radar thing going on in Canadian hockey right now is the mess that's unfolding in Calgary over the past few weeks. We talked about it a little in our previous Coast To Coast when the losing streak was at three, and at that point it felt more like a hurdle than a roadblock. Since then, though, the Flames have lost four more in a row – two to the New Jersey Devils, one to the New York Islanders, and one to the Bruins. An optimistic way of looking at this is that this week's batch of teams have all been strong to start the year, with New Jersey atop the Metropolitan Division (11-3-0), Boston atop the Atlantic (12-2-0), and the Islanders surprising many with a strong start of their own (9-6-0). Further to the point, all four of those losses were either by one goal, or by two with an empty netter. One can easily argue that this is a team coming out on the wrong end of coin flips at the moment, against good teams, and that this should turn around soon. All the same, it's still seven losses in a row for the Flames, and their opponent, in their attempt to not make it eight, isn't much easier at the moment.
We talked about Winnipeg not being as good as its record in the last issue, but until that stops, it's going to remain intimidating. Right now, it doesn't look like that momentum plans on stopping – the Jets won both of their games this week against Chicago and Dallas, giving up just one goal in the process and improving their point streak to 6-0-1 in their last seven. Connor Hellebucyk is having a start so important to his team that you have to start wondering about him being a rare goalie Hart Trophy (MVP) candidate if he can maintain it. At minimum, he's establishing himself once more as one of the league's best, and it's going to be hard for the Flames to crack him on Saturday, even with home ice advantage. There's a good chance we're looking at a low-scoring affair here.
Afternoon Matchup (1:00 p.m. ET): Philadelphia Flyers @ Ottawa Senators
Saturday's earliest matchup features a rematch from the week before. Last Saturday, the Flyers and Senators faced off in Ottawa and the end result was a tightly-fought, 2-1 win for the Flyers. Basically, what John Tortorella wants to see out of his team – offensive deficiencies covered up by stingy, if probably unsustainable team defence.
The good news for the Senators is that the Flyers are coming into this grudge match off of a 5-2 loss, and four losses in their last six games. The bad news? Well, where do I start? For one, the 5-2 loss was against the Columbus Blue Jackets, in Columbus, so Tortorella (who previously coached the Blue Jackets) is probably going to be working overtime on a game plan to get his ship righted in time for the next game, given that he was so frustrated with the defeat that he left the arena without doing media availability on Thursday. Secondly, one of the two wins in this slump is that aforementioned victory against the Senators. Most importantly, Ottawa's slump is much worse, and goes beyond last Saturday's game – an overtime loss to the Devils on Thursday now puts it at seven L's in a row, with just the most recent one earning it as much as a sympathy point. The Sens have allowed 30 goals over this span, and while their top five forwards (Brady Tkachuk, Drake Batherson, Claude Giroux, Tim Stutzle, and Alex DeBrincat) continue to produce, it's not looking great for the rest of the team.
If there's a silver lining, it's the fact that their forward core has the firepower to break through a "bend, not break" offence, especially proven by the fact they peppered Carter Hart with a respectable 34 shots last week. They'll also have a bit of addition by subtraction happening with Nikita Zaitsev likely not drawing in, as he cleared waivers on Thursday and is expected to head to Belleville for some fine-tuning and confidence boosting. But it's looking really rough out there – I'm starting to wonder a little if DJ Smith ends up the first NHL head coach out the door this year if this streak continues for much longer.
Afternoon Matchup (4:00 p.m. ET): Edmonton Oilers @ Florida Panthers
This past week hasn't been too kind to the Oilers, particularly in goal. I really don't want to keep harping on Jack Campbell, but last Saturday saw him give up six goals to the Dallas Stars, and while he briefly looked better against the Tampa Bay Lightning on Tuesday, a 7-2 thumping from the Carolina Hurricanes puts him right back on the hot seat with a .873 save percentage through 10 games. Given the calendar year now sits him at .889 through 43 games, my doubts are well into the serious stage – yours probably should be the same if you're involving him in any of your fantasy or betting decisions this weekend and beyond. His struggles haven't been Edmonton's only issue, though – most notably, a very scary incident involving Evander Kane came out of its win in Tampa. After a collision with Philippe Myers, Kane went to the ground and had his wrist tangled up with Patrick Maroon's skate, which created a very deep and dangerous cut. (Normally, I embed lots of video in these posts – I'll link this one instead so you can opt to watch it at your own discretion).
Kane got to the hospital in stable condition, despite the rapid blood loss. He was released from hospital on Wednesday and is expected to miss up to four months recovering. Kane, who has put up 27 goals and 52 points with the Oilers since joining them midway through last season, is going to be a big loss for. He's not Connor McDavid or Leon Draisaitl, but he's still a very significant offensive asset to the high-flying team. Granted, maybe McDavid doesn't need his goals, as he now sits at an obnoxious 15 in 15 to open the year, but depth is depth and losing a key piece until after the trade deadline is huge.
For now, the Oilers' concerns are focused towards the team ahead of them, in the Florida Panthers. After a slow start, the defending Presidents Trophy winners have won three of their last four games, including a convincing shutout against the Hurricanes. They're also 4-0-1 at home this year, and host this matchup. While the Cats play in the opposite conference and rarely see Edmonton, Head Coach Paul Maurice saw plenty of the Oilers in the past few seasons and will likely game plan accordingly, and part of that will be unleashing Matthew Tkachuk, the serial pest of many recent Battles of Alberta and the Panthers' points leader, onto his opponents. Tkachuk has missed the last two games serving a suspension for poking Jonathan Quick in the eye with his stick, but comes back just in time to make this a spicy one. If nothing else, it'll be an exciting watch with a lot of talent on both sides.
Evening Matchup (7:00 p.m. ET): Pittsburgh Penguins @ Montreal Canadiens
Last on the Saturday agenda we have the parallel evening matchup. Montreal will be entering this one a little hot, but a little light. A loss to Vegas last Saturday was tough to swallow on its own but understandable given the two teams' ambitions this year, and a little bit of momentum was picked up throughout the week with wins against Detroit and Vancouver. Mike Hoffman in particular delighted those who rely on his offensive-minded style of play in their pick-making by tallying up his second, third, and fourth goals of the season over those two games, while fan favourite Arber Xhekaj grabbed his second of the year against the Canucks while also finding a way to take two slashing penalties on the same shift. Unfortunately, those excited to see first-overall pick Juraj Slafkovsky won't get the opportunity to this Saturday – he's out for the latter half of a two-game suspension, which he earned by boarding Matt Luff. The Habs will, however, gain Josh Anderson, who is coming of of his own boarding suspension for his hit on Alex Pietrangelo in the Vegas loss.
Pittsburgh is yet another struggling team, who entered this week with seven consecutive losses, but a win against its rival Washington Capitals on Wednesday might be what sets the team on the right path. We also know that Sidney Crosby, who is still producing at an over point-per-game clip, loves to play against the Habs in Montreal. The childhood fan, who's dad once played in the organization, has 21 goals and 58 points in 44 games against Montreal in his career. The biggest limiter here is likely the fact that the Penguins play on Friday against the Maple Leafs, which should tire both teams out before their arguably more-anticipated Saturday night matchups.
Sunday, Sunday, Sunday
Speaking of tired teams on the back end of back-to-backs, we've got two of these situations coming this week!
First, you've got the Canucks taking on the Boston Bruins, which, uhh, seems like pretty rough sledding for Vancouver. Even if the Canucks pull the cheeky underdog effort out against Toronto like they (and a lot of other underdogs) are known to do on occasion, they'll be jumping straight into a battle against one of the league's juggernauts to start the year. The Bruins come at you in waves with tons of forward depth, David Pastrnak has been unstoppable to start the season, and they just got Norris Trophy threat Jake McAvoy back from injury. The only saving grace here is that the Bruins also play the night before, and that both teams will have to travel about the same distance to get to Boston the next day. You can catch this game at 6:00 p.m. ET.
Afterwards, you'll find the Jets matching up against the Seattle Kraken, who aren't the pushovers that they were last year. While they're still trying to find stable footing in between the pipes, they've put up a very respectable 8-4-2 start, trailing only Vegas in the Pacific division. Their offence is more creative this year, Matty Beniers has been an exciting rookie for the team, new signing Andre Burakovsky has put up 13 points in his first 14 games, and the team has generally gotten scoring by committee. Going back to the point about the Jets' skaters being buoyed up by Connor Hellebuyck, he'll either be starting his second game in as many nights here, or the much less successful David Rittich, whose save percentage sits 53 points lower (.885 to Hellebuyck's .938) will be tending the goal instead. This might be a game where you look to Seattle to pop a couple more goals than usual. Puck drop for this one is at 8:00 p.m. ET.
Where to Watch HNIC Games
Want to tune into these games? Of course you do, that's why you're here. Worry not, we're here to help!
Hockey Night in Canada's marquee games, as always, are best found on the CBC. Hook up your antenna, check your cable box, or head to the CBC homepage for an online stream that's completely free if you live in Canada.
For the secondary games, you can find Flyers vs. Senators on TSN or TVA in Ottawa, Oilers vs. Panthers on Sportsnet, Penguins vs. Canadiens on Sportsnet East, CityTV, or TVA. On Sunday, Canucks vs. Bruins will be on Sportsnet 1 or TVA, while Jets vs. Kraken will be on TSN in the Winnipeg region.
For those without cable, your best bet will be the Sportsnet NOW app, which has replaced NHL Live this year. Check out our full NHL streaming guide for a bit more info on how to tune in online!
Saturday Night NHL Lines
Lots of action is available on all of these games come the weekend. Our friends at NorthStar Bets already have the main lines up – check them out below! You'll also find all sorts of spreads and props available when you click through.
If you're looking for another book to bet at, we've also got you covered – check out our Best NHL Betting Sites guide for more info!