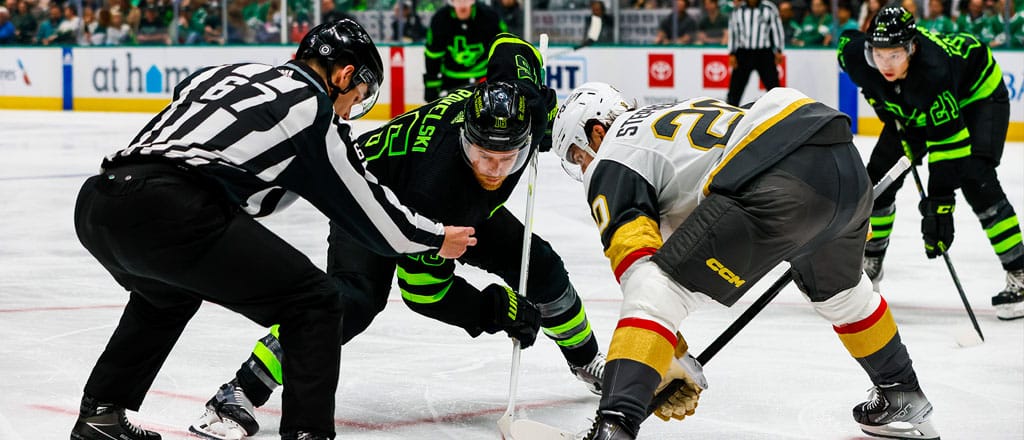 This isn't very Coast to Coast, is it? Those who have already read our Round 3 preview, written by yours truly will have a pretty good idea of what's up this weekend and are only in here to check on the latest updates. Those who are out of the loop, however, will see that the Stanley Cup playoffs have become decidedly un-Canadian in the last couple weeks. Edmonton and Toronto are gone, and Las Vegas is the northern-most market remaining! Vegas! The North! I know, it's pretty insane, but it leaves us with four great hockey teams who will play three games over the course of this weekend, having already started the Conference Finals festivities yesterday. Let's look at what's on tap:
Friday Night 8:30 p.m ET HNIC Headliner: Dallas Stars vs. Vegas Golden Knights
Opening the weekend is the first game of the Western Conference Finals, putting two teams who have earned their stripes up against each other for their first finals trip in, well, less time than the Eastern combatants. Dallas strives for its first appearance since losing in the COVID-19 bubble in 2020, while Vegas strives for its first since the franchise's unlikely debut season in 2018. Both teams have cycled in a second layer of talent that has effectively become their first layer since those runs, with Vegas trading for star-power while Dallas drafted and developed their big three of Miro Heiskanen, Jason Robertson, and Jake Oettinger.
The two teams played each other three times in the regular season, and those who saw those games will likely give Dallas the advantage going in, despite Vegas' home-ice advantage. The Stars won all three games, coming out ahead by scores of 4-0 on Jan. 16, 3-2 on Feb. 25, and most recently, 2-1 on April 8. It'll be interesting to see if the Knights' surprise quick dealing with the Oilers gives them the confidence boost they need to keep rolling, or if Dallas feels the energy boost from surviving a scary push from Seattle.
Saturday Night 8:00 p.m. ET HNIC Headliner: Florida Panthers vs. Carolina Hurricanes
As mentioned in the opening paragraph, the first game in this series opened the round's festivities on Thursday, and boy did it ever deliver, to the tune of what was effectively two hockey games and change, in one of the longest games in NHL history. The scoring in this one opened following a first-period Carolina five-on-three power play, which isn't something you see very often in the playoffs, but it was awarded after a Marc Staal trip on Martin Necas and Aaron Ekblad cross-check on Stefan Noesen came 39 seconds apart. Carolina technically didn't convert on the five-on-three, but Seth Jarvis did score four seconds later with the second power play still on the clock.
In the second period, Florida responded with late-period goals from Aleksander Barkov and Carter Verhaeghe, with a little over two minutes between them. Another Florida penalty, this time against Sam Bennett, gave Noesen the opportunity to tie the game for Carolina early in the third, and that deadlock lasted the remainder of the frame.
Initially, overtime looked like it was going to meet a quick end, when Ryan Lomberg's shot beat Frederik Andersen two and a half minutes in. After review, however, there was deemed to be goaltender inteference on the way towards the net and we played on. And on. And on… until very late in the fourth overtime. With seconds to go in the seventh frame, at 1:58 a.m. ET, Matthew Tkachuk took advantage of a Jaccob Slavin turnover and called game.
For the Panthers, seeing their big-time forwards – Tkachuk, Barkov, and Verhaeghe – on the scoreboard is probably the most encouraging part of this, as the Panthers' top scorers were lukewarm in Round 2. For the Hurricanes, they can look to controlling the vast majority of the ice until the game went into crazy hours as a point of confidence, though it's tough to take moral victories when every game brings you that much closer to the end of the line.
Sunday Afternoon 3:00 p.m. ET HNIC Headliner: Dallas Stars vs. Vegas Golden Knights
There isn't much to say about this game without knowing what happens on Friday, admittedly. A win for either side can change the complexion of how Game 2 is treated, especially if the road Stars come out ahead. If nothing else, it's nice for us to get a Sunday afternoon game instead of having to wait for the evening, though West Coasters are probably, and perhaps rightfully, frustrated with the early afternoon nature of such a key playoff game.
Where to Watch HNIC Games
Want to tune into these games? Of course you do, that's why you're here. Worry not, we're here to help!
As always, the headliner games will be best watched by Canadians on the CBC. Canada's public broadcaster flexes its muscles by offering free hockey to all on Saturday night, in whatever way you wish to watch it – on their website, through their app, on your cable box, or even through the old school antenna. To learn more about about your viewing options, check out CSB's "How to watch the NHL in Canada" guide!
Saturday Night NHL Lines
Lots of action is available on all of these games come the weekend. Our friends at NorthStar Bets already have the main lines up – check them out below! You'll also find all sorts of spreads and props available when you click through.
| | | | |
| --- | --- | --- | --- |
| Home Team | NorthStar | Northstar | Away Team |
| Vegas Golden Knights | -122 | +100 | Dallas Stars |
| Carolina Hurricanes | -148 | +120 | Florida Panthers |
| Vegas Golden Knights | -129 | +106 | Dallas Stars |
If you're looking for another book to bet at, we've also got you covered – check out our Best NHL Betting Sites guide for more info!