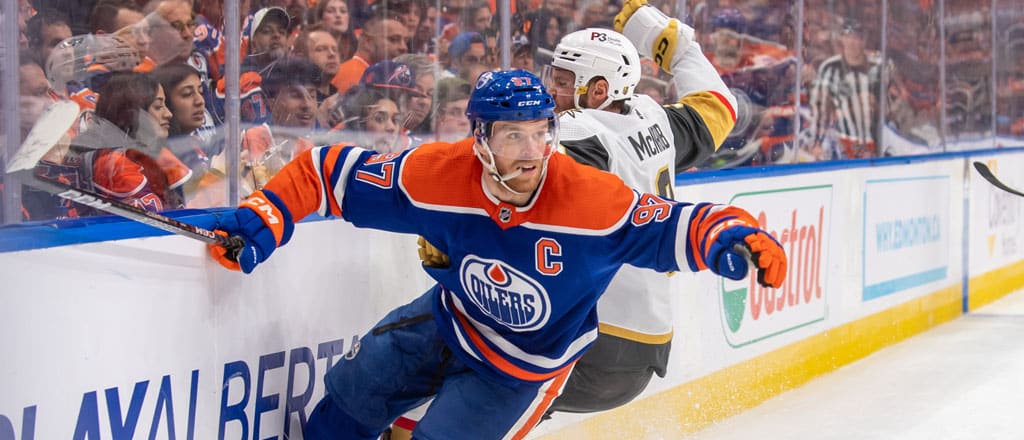 Last night, the Carolina Hurricanes eliminated the New Jersey Devils and now find themselves as the only National Hockey League team waiting for the Conference Finals in the Stanley Cup Playoffs. Three series remain, and all of them will play somewhere between a combined four and five games this weekend. Let's take a look at what's on tap!
7:00 p.m ET Friday HNIC Headliner: Panthers vs. Maple Leafs
Kicking off the weekend is a series that remains on the verge of ending, as the Maple Leafs attempt to come all the way back from 3-0. If you want to dive into this game into more detail, we've covered it in it's own piece here on CSB this morning.
10:00 p.m. HNIC Friday Headliner: Oilers vs. Golden Knights
A vicious Game 4 could lead to an explosive Game 5. Edmonton evened up this series with a 4-1 win on Wednesday, pushing back on the initial Vegas control with three goals in seven minutes and never looking back. Ryan Nugent-Hopkins added further insurance in the second period while finally getting the monkey off his back with his first goal of the postseason, and that's when things started to get a bit messy. Maybe it was the cross check into the boards by Evander Kane on Alex Pietrangelo, or the two-handed swing by Pietrangelo to the wrists of Leon Draisaitl, or maybe it was the scrap between Darnell Nurse and Nick Hauge that raised your eyebrow. The NHL's solution to restore balance was to suspend Nurse and Pietrangelo for a game each, a move that has people around the league confused at how the punishment measurements work.
But either way, we have a hockey series on our hands still, and one of these teams is going to take control of it tonight. A win puts the victor up 3-2, and brings them within a game of the Western Conference Final. Will it be the deeper Vegas group, or the star-heavy Oilers? That remains to be seen, but it'll be a lot of fun finding out. Look for there to be a bit more open ice in this one with the two highest-profile defencemen now out of the mix.
Saturday Night Matchup (7:00 p.m.): Dallas Stars vs. Seattle Kraken
The feel-good story of the Seattle Kraken is starting to feel like it's in jeopardy, with the Dallas Stars now one game away from winning the series and heading to the Western Conference Final. The Stars took a quick grip of yesterday's Game 5, thanks to Wyatt Johnston and Roope Hintz's early first-period tallies, and Joe Pavelski's near-immediate tally to begin the second, establishing a comfortable buffer. The Kraken weren't as phased by the Pavelski goal as one would expect, responding fewer than two minutes later and bringing the game within one five minutes after that. But despite getting outshot by 10, Dallas made the most of its opportunities throughout the game, and delivered the finishing blows in the back half of the third.
This is a tough spot for the Kraken, who have their backs against the wall going into Game 6 for the second time in these playoffs. The positive, of course, is that they wiggled out of their last jam against the defending Stanley Cup champions in the Colorado Avalanche. Can they do it again? We'll see.
Sunday Matchup (TBD): Vegas Golden Knights vs. Edmonton Oilers
Sunday is a night of variables. That is to say, a lot of what happens depends on what happens on Friday. In this series, we won't know who the series leader is going to be, just that there will be a leader, and they will be expected to close. Both Pietrangelo and Nurse will be back from their suspensions, and the stakes will be higher, so our guess would be that this game ends up tighter than Game 5 – an important thing to remember for props and total goals bets.
Sunday Matchup (Maybe): Toronto Maple Leafs vs. Florida Panthers
This game, on the other hand, might not happen at all, with Toronto being on the brink of elimination come Friday. If it does happen, though, imagine that the waves of pressure will start to really shift to Florida, as people move from talk of the Leafs being on the brink of embarrassment to the Panthers being on the brink of blowing it. Beyond that, this is a real question mark – we might not have a reason to be here at all.
Where to Watch HNIC Games
Want to tune into these games? Of course you do, that's why you're here. Worry not, we're here to help!
As always come this stage of the playoffs, these games will be best watched by Canadians on the CBC. Canada's public broadcaster flexes its muscles by offering free hockey to all on Saturday night, in whatever way you wish to watch it – on their website, through their app, on your cable box, or even through the old school antenna.
To learn more about your other options, check out CSB's "How to watch the NHL in Canada" guide!
Weekend NHL Lines
Lots of action is available on all of these games come the weekend. Our friends at NorthStar Bets already have the main lines up – check them out below! You'll also find all sorts of spreads and props available when you click through.
| | | | |
| --- | --- | --- | --- |
| Home Team | NorthStar | Northstar | Away Team |
| Toronto Maple Leafs | -177 | +145 | Florida Panthers |
| Vegas Golden Knights | +110 | -132 | Edmonton Oilers |
| Seattle Kraken | +125 | -155 | Dallas Stars |
| Edmonton Oilers | TBD | TBD | Vegas Golden Knights |
| Florida Panthers * | TBD | TBD | Toronto Maple Leafs * |
* If Toronto wins Friday night
If you're looking for another book to bet at, we've also got you covered – check out our Best NHL Betting Sites guide for more info!