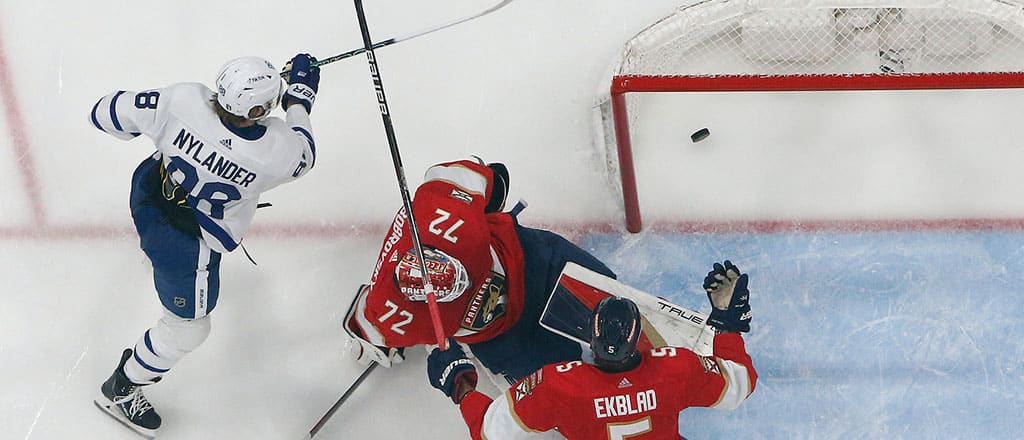 Some say it's the hope that kills you, but right now, it's what's keeping the Toronto Maple Leafs alive. Toronto shook off an embarrassing Game 3 effort and eked out their first Round 2 victory in 19 years on Wednesday night, meaning at least one more home game for the team on Friday. Can the Leafs keep pushing the Florida Panthers closer to the walls of chaos? That remains to be seen, but they'll be trying their hardest to do so in tonight's National Hockey League action. Here's what you should know ahead of puck drop tonight!
Canada Sports Betting will be providing comprehensive betting previews for each game of this series, so check back over the next couple of weeks for all of the latest odds information and news! Coast to Coast will also run on my end every Friday down the stretch.
Panthers vs. Maple Leafs odds
All odds courtesy of

Previous Matchups
The tension was high in this one, and I gotta tell you, the Leafs didn't do a lot to calm people's nerves down. Sure, a few early chances showed us the team was hanging around to play a serious game, but it took 23 minutes before they'd score their first goal. It took some help – Florida finally went to the box for an Eetu Luostarinen high stick that was the first Panthers penalty in a game and a half of elapsed time (and weirdly, not called a double minor despite a cut Michael Bunting). But the lessened call was made up for by a fluke deflection of the puck off an official's skate, which William Nylander was able to retrieve and turn into his third of the playoffs.
Things tensed up once again in the third period, but let up just a little after Mitch Marner finally scored a goal beyond Game 3 of a series for the first time since 2019. It turned out to be an important tally, as Alex Kerfoot took a penalty shortly after, which Sam Reinhart turned into a response goal.
| Date | Home Team | Result | Total |
| --- | --- | --- | --- |
| May 12, 2023 | Florida | 2-1 TOR (-1.5, -120) | 6.5 (under) |
| May 7, 2023 | Florida | 3-2 FLA (+1.5, +128) | 6.5 (under) |
| May 4, 2023 | Toronto | 3-2 FLA (+1.5, +176) | 7.0 (under) |
| May 2, 2023 | Toronto | 4-2 FLA (+1.5, +130) | 6.5 (under) |
| April 10, 2023 | Florida | 2-1 TOR (+1.5, +122) | 7.0 (under) |
| March 29, 2023 | Toronto | 3-2 FLA (+1.5, +158) | 7.0 (under) |
| March 23, 2023 | Florida | 6-2 TOR (+1.5, +113) | 7.0 (over) |
| January 17, 2023 | Toronto | 5-4 TOR (-1.5, -175) | 6.5 (over) |
The Leafs locked it down defensively from there – a little nerve-wracking all things considered, as most "punt team" scenarios usually are. But they held the fort well, particularly first-time playoff starter in goal Joseph Woll, and the game zeroed in on the buzzer. Some controversial extra-curriculars followed, starting with a Brandon Montour hit on Morgan Rielly and ending with nearly every player on the ice getting a roughing penalty, but the team got the job done. Sheldon Keefe called it arguably Toronto's most complete game of the season – perhaps a little skewed by recency bias there, but it was solid nonetheless and allows them to go back to Toronto with their heads up a bit higher.
About the Maple Leafs (5-5, 3-7 ATS, 4-6 o/u)
Player(s) to watch: Auston Matthews
I suppose that Matthews was the co-player to watch last game, but it's hard not to keep looking at him. He put up another four shots on goal on Wednesday, a puck away from clearing the line, but remains without a goal in this series. Needless to say, a weird result for a player who is usually a threat for the back of the net, who scored in the back four games of the Tampa series, and even with Toronto's bad offensive luck, generally shoots at about a 40-goal pace in the spring. The defensive play is there, the engagement is there. The health, we'll find out at the end of the spring, but even then, you feel like something is coming. If the Leafs want to get out of the woods decisively in this series, they'll need it to come.
About the Panthers (7-4, 7-4 ATS, 5-6 o/u)
Player to watch: Sam Bennett
I wish I could say this is for hockey reasons, and it very well could end up being the case on Friday, as Bennett has shown capable in stretches of being an effective player. He had seven points in his first seven games in these playoffs, and he had one of his best career point rates in the regular season. I think the bigger thing, though, is the risk for something else silly happening. This is a player that speared Garnet Hathaway in a sensitive area while down in the Boston series without punishment, and in this round has hit David Kampf with a leaping elbow, thrown Matthew Knies to the ice with a wrestling move that caused a concussion, cross-checked Bunting in the neck, and most recently, punched a prone Jake McCabe in a final-buzzer scrum. So far, his punishment has been a $5000 fine and a couple loose minor penalties.
It'll be interesting to see how the Leafs respond to this. They can't play scared because there's no time left to borrow, and they can't play for revenge because, well, there's no time left to borrow. Let him get in your head one way or another, and it could sink your season. How they find a way to be aware ,but not absorbed by him, will likely define a lot of the tempo tonight.
Probable goaltenders
Maple Leafs: Joseph Woll (1-1, 2.45 GAA, .902 SV%) – confirmed.
Panthers: Sergei Bobrovsky (6-2, 3.00 GAA, .910 SV%) – confirmed
Noteworthy Absences
Ilya Samsonov remains out of the lineup for Toronto. Knies is progressing well, but still needs at least one more game off before hopefully, on multiple fronts, getting a chance to play. Kampf and Noel Acciari had some injury scares on Wednesday, but as it stands right now, both seem likely to remain in the lineup – we'll see if that changes.
Betting trends to watch
Toronto is 0-3 in its last three home games. That includes Game 5 against Tampa, and Games 2 and 3 in this series. The Leafs are 0-3 on the puckline during that span and every game played under the total.
The Leafs have played under the total in five straight games and in six consecutive games against Florida.
The Panthers are 5-0 in their last five home games and 9-1 in their last 10.
The underdog is 6-1 in the past seven meetings between the teams.
Wagers to consider
I'm thinking these teams finally play over the total tonight. We've seen six consecutive games of low-scoring hockey now, Bobrovsky's run presumably will have an expiration date, and while Woll has looked good, he's still raw enough to not bet the farm on him cleaning up tonight. Now that I've made this prediction, it'll be a 1-0 overtime spectacle, but I'd at least look at that -125.
Nylander and Marner both scored their first goals of the series on Wednesday. If you think Matthews and John Tavares will score tonight and lead the Leafs to a victory, bet365 has a three-leg parlay boosted from +450 to +500.
I ragged on Matthew Tkachuk for also being goalless in this series on Wednesday, so many readers have told me I've set him up for a spite game. I don't know if I have that power, but you believe I do, he's +170 to score.
Other NHL Games Tonight
There is one additional game on the NHL schedule tonight. Here's who we've got on tap: