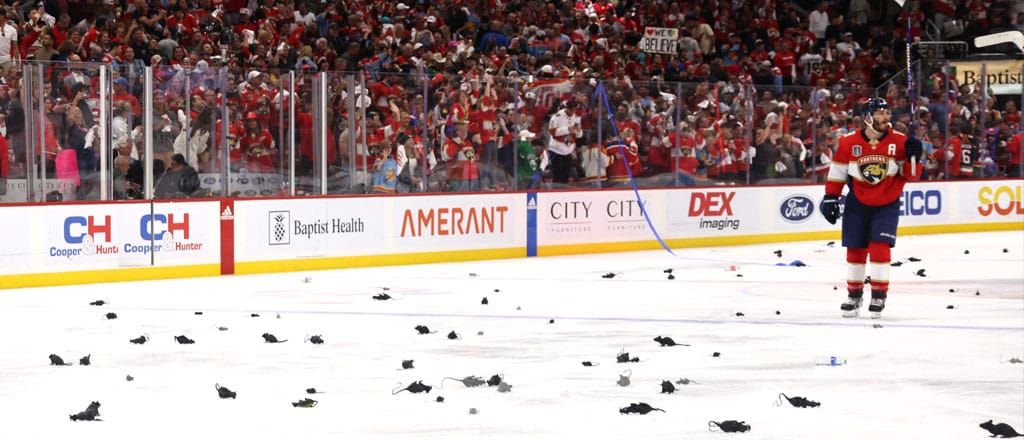 We have a series! A thrilling conclusion to Game 3 of the National Hockey League's Stanley Cup Final kept the series within one, meaning Saturday will not potentially be the end of the NHL season. Let's look at the game on schedule, some early Conn Smythe favourites, and news featuring the seven Canadian teams:
8:00 p.m. Saturday HNIC Headliner: Vegas Golden Knights @ Florida Panthers
Florida made the most of their return to Sunrise on Thursday night. Brandon Montour, who had a bit of the "new father" bump going for him after the birth of his child just a few days prior, potted Florida's first goal four minutes into the first period. The Panthers struggled with staying disciplined, however, and Mark Stone tallied an equalizer with Radko Gudas in the box. In the second period, with the Cats once again shorthanded, Jonathan Marchessault added another powerplay tally off a pretty pass from Jack Eichel, leaving this series in question.
The Panthers have shown time and time again that they don't quit easily, though, and with Sergei Bobrovsky pulled for an extra attacker, tied the game up via a Matthew Tkachuk net-front goal with 2:13 remaining in regulation. This sent them to overtime, where for the seventh consecutive time in these playoffs, Florida was victorious. A quick shot through traffic from Carter Verhaeghe, gave him his seventh goal of the playoffs, and Florida their first ever victory in a Stanley Cup Final.
Looking to Saturday, it'll be interesting to see if that momentum can be carried. Florida has home ice, the winning vibes, and the fact that they were the only team to score at even strength in this game, but they also were outshot for much of the night, in better areas, and gave up six powerplays in what was another whistle-heavy game. Vegas is the type of team that can run up special teams on both ends and come out ahead, so they must be mindful if they wish to equalize.
Conn Smythe Watch
Check in with Canada Sports Betting later this weekend when we take an in-depth look at the Conn Smythe Trophy (Playoff MVP) race!
For the time being, though, your three favourites are:
Jonathan Marchessault (VGK, -140) – Marchessault has pole-vaulted himself into the front runners position after a slow start. Opening his playoffs with 0 goals and 2 assists through seven games, he has 13 tallies and 8 helpers, combining to 21 points, in his last 13.
Matthew Tkachuk (FLA, +400) – The breakthrough star continues to only score when it matters. The 25-year-old added a game tying goal to his resume on Thursday, continuing a run that has broken how we all perceive win probability.
Sergei Bobrovsky (FLA +550) – Bobrovsky wasn't back to unbeatable form on Thursday, but he was a lot closer than he's been in the series. Stopping 25 of 27 and adding another overtime win to the books keeps him near the top of the race.
The Latest Canadian NHL News:
Canada remains extremely not involved in the home stretch of these playoffs – shocking, I know – so let's take a very quick glance at what everyone is up to this week.
Calgary Flames – Elliotte Friedman reported on Thursday night that Ryan Huska is the favourite to become the team's head coach. The 47 year old has been an assistant coach with the team over the past five years, largely focused on the defensive and penalty kill side of the bench.
Edmonton Oilers – The Oilers kicked off the month late last week by trading for the rights to Jayden Grubbe, a 2021 third round pick. Grubbe, who was about a point-per-game producer in his Draft+2 year with Red Deer of the WHL, leans towards a long-shot bet but at the cost of a fifth round pick, the Oilers are hoping his frame will carry him into the pro ranks.
Montreal Canadiens – The Habs discourse is still buzzing from the eight-year extension to Cole Caufield, which we broke down earlier this week.
Ottawa Senators – The search for a new owner is becoming very troublesome, with Bruce Garrioch reporting today that Steve Apostolopoulos, who was previously thought to be the highest bidder for the team, has backed out of the bidding due to the hurdles in the process.
Toronto Maple Leafs – The blue and white announced the appointment of Shane Doan as their Special Advisor to new GM Brad Treliving this morning. Doan's long-time connections to Treliving likely drive the hiring decision, but his similar connections to megastar Auston Matthews will likely help with contract extension talks starting to brew.
Vancouver Canucks – To the best of my knowledge, the team still exists. (Okay, they have the slowest news week, I'm sorry. The city is cheering for Roberto Luongo to get a ring in Florida, at least!)
Winnipeg Jets – Pierre-Luc Dubois has asked for a trade out of town, per multiple reports, while some gossip suggests that Mark Scheifele and Connor Hellebuyck will also be on the block. Despite this, the Jets aren't looking to initiate a rebuild, and seemingly hope to be able to shake things sideways with the moves, should they come.
Where to Watch HNIC Games
Want to tune into these games? Of course you do, that's why you're here. Worry not, we're here to help!
As always, the headliner games will be best watched by Canadians on the CBC. Canada's public broadcaster flexes it's muscles by offering free hockey to all on Saturday night, in whatever way you wish to watch it – on their website, through their app, on your cable box, or even through the old school antenna. To learn more about Now and your other options, check out CSB's "How to watch the NHL in Canada" guide!
Saturday Night NHL Lines
Lots of action is available on all of these games come the weekend. Our friends at NorthStar Bets already have the main lines up – check them out below! You'll also find all sorts of spreads and props available when you click through.
If you're looking for another book to bet at, we've also got you covered – check out our Best NHL Betting Sites guide for more info!