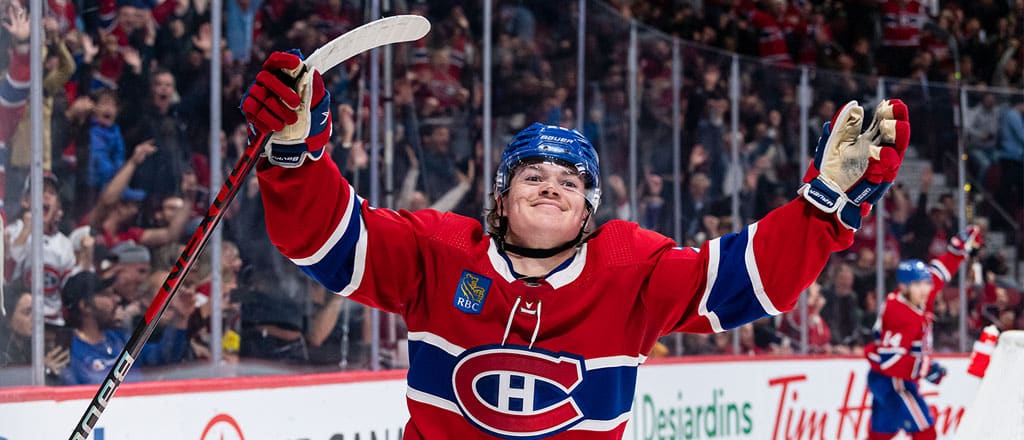 The Monday morning National Hockey League news cycle opened with a bang. While we all await Game 2 of the Stanley Cup Final, the Montreal Canadiens took care of business by announcing the signing of forward Cole Caufield to an eight-year, $62.8 million contract extension with a $7.85 million salary cap hit (AAV).
Caufield has played 123 games over the course of his entry-level deal with the Bleu, Blanc, et Rouge, scoring 53 goals and adding 31 assists. The 22-year-old ranks 27th in the NHL for goals per game in that span (minimum 100 games played).
Among forwards with 1,500+ minutes of 5-on-5 play to their name in that time span, Caufield ranks eighth in goals per hour on the 29th-highest rate of shots per hour and 47th-highest rate of expected goals per hour. Caufield is seen as a sharpshooter with immensely positive finishing ability, showing particular danger when he's used as a triggerman on his off wing. For regulars on this website, Caufield will no doubt be the kind of name you should look for in terms of 2023/24 goals futures, and a frequent guest on your shot and goal props next year.
While one could point to Caufield's defensive weaknesses, lower (but still decent) assist rates, and injury history as knocks against him in negotiation, individual goal-scoring remains arguably the most expensive asset in player valuation today, and Caufield's ability in this regard allows for this to be a potentially strong contract despite other concerns.
| Year | Salary | Signing Bonus | AAV |
| --- | --- | --- | --- |
| 2023/24 | $4,975,000 | $5,000,000 | $7,875,000 |
| 2024/25 | $4,975,000 | $5,000,000 | $7,875,000 |
| 2025/26 | $9,975,000 | none | $7,875,000 |
| 2026/27 | $8,705,000 | none | $7,875,000 |
| 2027/28 | $6,215,000 | none | $7,875,000 |
| 2028/29 | $5,985,000 | none | $7,875,000 |
| 2029/30 | $5,985,000 | none | $7,875,000 |
| 2030/31 | $5,985,000 | none | $7,875,000 |
The deal also has a 15-team no-trade clause in 2028/29, a 10-team no-trade clause in 2029/30, and a 5-team no-trade clause in 2030/31.
Montreal can't help but be happy with the timing of this deal. The NHL has been in a very unique position with its salary cap over recent years, as the NHLPA has found themselves in escrow debt with the owners, particularly after continuing to get paid at the onset of the COVID-19 pandemic. This has led to a near-freeze of the salary cap ceiling since 2019/20. While NHL revenues land at about $6 billion this year, which would imply a $93.75 million ceiling, this escrow situation leaves the cap at $83.5 million going into this summer, just $2 million more than four seasons ago. The gap is expected to clear this year, and while the Collective Bargaining Agreement prohibits an instant jump for the ceiling, we expect to see two or three consecutive 5% single-year jumps to catch up – massive upgrades over the 2.4% increase between summer 2019 and summer 2024.
As a Toronto-based writer, Maple Leafs winger William Nylander comes to mind here. Nylander signed a six-year deal at a $6.96 million adjusted AAV in fall 2018, on a $79.5 million cap ceiling. Nylander's pedigree was similar, with lesser finishing talent but a more well-rounded toolbox and slightly more production. Nylander would ultimately well exceed the value of his contract through his growth towards superstardom, but cap inflation did not allow for his actual hit to become much less significant. A cap percentage of 8.8% at the start of his deal will end at 8.3% six years later. Caufield's deal, however, starts at 9.4%, but will likely come in much lower in relative terms much faster. Next summer alone projects for an equal single-year jump to the six-year jump over Nylander's term. If the salary cap catches up fully to Hockey-Related Revenue in the next 2-3 years and then grows the way it did pre-COVID from there, Caufield's deal could have a cap percentage of under 7% by its completion, meaning the growth hurdle he has to clear is shorter than the stars of the last five years.
Montreal also has some risk mitigation baked into the structure. As talented as Caufield is, he remains an undersized (5-foot-7, 174-pound) winger with multiple injuries in his career, including a shoulder injury that ended his 2022/23 season in January. While these factors don't guarantee that he'll continue to struggle with injury and/or decline as a result of it, they certainly don't help, and the structure of this contract gives the Habs some outs if it heads in that direction. The front-loaded nature isn't much of a shock – most players would rather have their money sooner than later – but the fact that the deal brings his annual salary below his AAV within four years and pays out its last signing bonus next July is crucial for potential movement down the line.
A lower salary than AAV would make him attractive in the future to a team that is trying to spend fewer real dollars than the salary cap floor (the Arizona Coyotes, for example, are infamous for this), and the lack of bonus money means that lower-budget teams won't have to worry about paying out lump sums. Just as importantly, should the worst-case scenario happen and Montreal be met with a buyout, this structure mitigates the damage of that. Signing bonuses are typically paid out in full in the event of a buyout. Once they get past the second year, they have this option in their back pocket. Compare and contrast with the deal they signed with Nick Suzuki, which is near-identical in it's final price tag, but includes $3 million bonuses in years 7 and 8.
I think it's unlikely that the Habs will have to worry about those "nightmare scenarios," but for their sake it's good to have some contingencies baked in. Caufield in a sense does too, by virtue of signing an eight-year contact at a time where the cap is about to boom – it may not be the most potentially lucrative path, but it affords him some insurance and gets him significant short-term money to work with now.
Overall, I think this is an excellent bet for the Canadiens. They're still in a stage of their rebuild where they're figuring out what they want to be and who they're going to be moving forward, but there isn't a team in existence who can do without a guy who fills the back of the net. Caufield has elements of his game to work on and health is a bigger concern than we'd like to admit, but so long as he's high-end at the highest-end asset, he's a guy you take a bet on. This bet lines up juuust a little bit better than the +10000 odds they have to win the Stanley Cup next year!