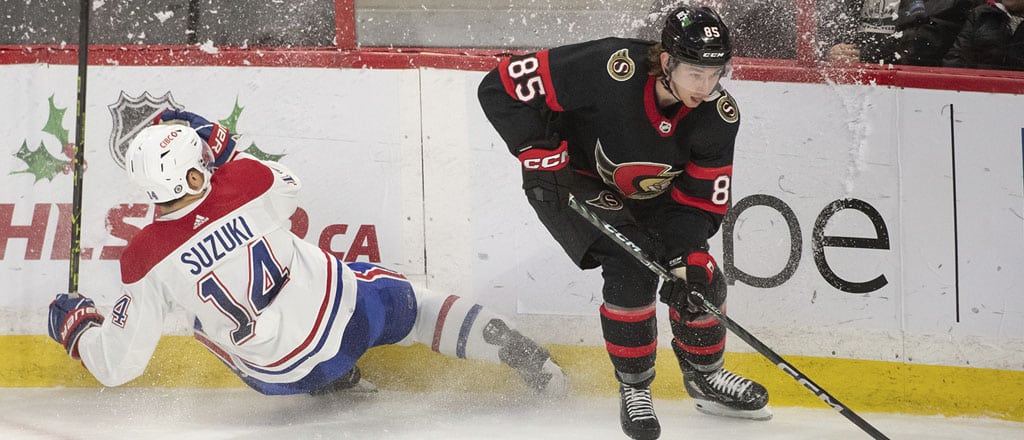 After a Hockey Day in Canada-themed weekend that was filled to the brim with Canadian National Hockey League action, the seven teams have scaled back this weekend – only four feature on Saturday, and the Vancouver Canucks and Calgary Flames take the weekend off entirely. Maybe that gives you some time to check out the AFC Championship and NFC Championships in NFL, pre-Super Bowl action, or maybe it just gives you the chance to appreciate the games that are on the schedule a little more, including the double-Canadian headliner! Let's bring you up to speed.
7:00 p.m ET HNIC Headliner: Montreal Canadiens vs. Ottawa Senators
No, it's not the usual Maple Leafs at the top of the Hockey Night docket this week – a realization that will probably appeal to most of the rest of Canada. Instead, it's the Eastern Conferences' other Canadian duo, both starting to settle into life in the bottom third of the standings, but not without some fun.
The Senators' momentum will likely be dictated by how their game against Toronto goes tonight, but a tight 2-1 win against the Islanders on Wednesday at least gets the ball rolling after a pair of heavy losses. Some concern will come between the pipes. Cam Talbot exited that Wednesday game with a lower body injury, and with Ottawa's AHL affiliate in Belleville being pretty depleted, the Sens will likely have to run Anton Forsberg on both Friday and Saturday – something for those intrigued to bet on Montreal to monitor.
Montreal, on the other hand, has the issue of having next to no scoring punch to work with. Simply put, the Habs are missing just about everyone. Cole Caufield? Out. Juraj Slafkovsky? Out. Brendan Gallagher, Jake Evans, Jonathan Drouin, and Sean Monahan? Out, out, out, and out. The forward group is basically Nick Suzuki, Josh Anderson, Kirby Dach, and what's left of Mike Hoffman and Evgenii Dadonov trying to push the group through this stretch – Chris Wideman is playing on the wing, for goodness sake. One possible revelation, however, comes in the form of Rafael Harvey-Pinard. The 24-year-old call-up picked up a pair of goals in Montreal's Thursday loss to Detroit, to bring him to three in five games this season. Montreal sits at a pretty even 5-5 over their last ten games, which is better than their season pace but still not overwhelming. All the same, I'd still reckon that the tired goalie factor plays to their favour.
10:00 p.m. HNIC Headliner: Chicago Blackhawks vs. Edmonton Oilers
Do the Edmonton Oilers have a scrappy underdog to be scared of in the Chicago Blackhawks? As it turns out, maybe. The team remains a genuine Conor Bedard threat, don't get us wrong, but after a ridiculous 2-19-1 run that went from November 14th to January 3rd, things have been decently good for Chicago. Heading into Thursday, the Hawks had won six of their last nine games, and to the surprise of many they made that seven of ten last night.
It wasn't so much the fact that they had beat the Flames – they did similar three weeks ago – but how they did it, in a 5-1 performance that saw Calgary look more like the tanking team in the occasion. To do it two days after a massive egg laid against a messy (to say the least) Canucks group is particularly impressive. This isn't the first time the Hawks have caught fire this year, and maybe it just speaks to the level of parity in the league, but it's still intriguing nonetheless. Players sticking around still have pride, and those potentially on the move in a few weeks have a good opportunity in this stretch to showcase themselves, leading to the team almost looking decent.
Over on the Oilers end, they have their own tough night to bounce back from, as their six-game win streak was squashed by, of all teams, the Columbus Blue Jackets, who are also doing a Canadian tour like the Hawks right now. Zach Hyman picked up his thirteenth (!) point in his last six games, making him one of the hottest producers in the league, but his and Derek Ryan's goals weren't enough to extend the team's run. So far this year, the Oilers lay claim to both wins in this season series, though with 6-5 and 5-4 final scores, they've been close, and they've been adventurous. So keep an eye on that, especially if you're looking to cash in on Edmonton's top producers like the streaking Hyman, likely MVP Connor McDavid, or megastar Leon Draisaitl.
Evening Matchup (7:00 p.m.): Philadelphia Flyers vs. Winnipeg Jets
These two teams find themselves in very different situations over the course of the full season, but in similar territory to where they were last weekend. On Sunday, the Flyers and Jets faced off in Philadelphia, and Winnipeg had the last laugh. Briefly blowing a 3-0 lead established in the first period, a mid-third tally by Karson Kuhlman brought the Jets back into autopilot and Kevin Stenlund's empty netter brought them down for a gentle landing. With that said, two powerplay goals from Kevin Hayes definitely gave Winnipeg some scares. Neither team went with their starting netminder in that game, so I reckon we'll probably see Connor Hellebuyck vs Carter Hart on Saturday, and with that in mind – maybe stay away from any total goals bet that leads to believe we're saying eight again. It's not impossible, but it's a lot less likely if the starters don the cages.
Sunday, Sunday, Sunday
This Sunday features just one Canadian team on the schedule – and it's the one who had a suspicious absence from Saturday. Yes, that night typically belongs to the Toronto Maple Leafs, but this weekend they've opted for the rare Friday-Sunday combination. Tonight they'll take on the Ottawa Senators, and on Sunday, it's all about the Washington Capitals. It'll be interesting to see if the Leafs go back to Ilya Samsonov for this one – he's been absolutely money at home this year (14-0-1 with a 0.938 SV%), but his last attempt at facing his former team result in arguably his worst of the season, conceding five to the Caps on 28 shots. On the other side, Alex Ovechkin's chase for immortality continues after potting goal number 812 of his career on Thursday. Oh, and it was his 32nd of the season, in case you're wondering to what extent the 37-year-old still "has it". Toronto is the likely favourite in this one with Washington having just one regulation win in their last seven games, but anything is possible.
Where to Watch HNIC Games
Want to tune into these games? Of course you do, that's why you're here. Worry not, we're here to help!
As always, the headliner games will be best watched by Canadians on the CBC. Canada's public broadcaster flexes it's muscles by offering free hockey to all on Saturday night, in whatever way you wish to watch it – on their website, through their app, on your cable box, or even through the old school antenna.
For the Philadelphia/Winnipeg game, you'll have to check in with Sportsnet 360 or Sportsnet West.
On Sunday, to get Washington/Toronto, you'll be heading over to TSN 4 (Toronto).
For those looking to stream the games, your best official bet would be Sportsnet Now, with the premium package required for non-local games. To learn more about Now and your other options, check out CSB's "How to watch the NHL in Canada" guide!
Saturday Night NHL Lines
Lots of action is available on all of these games come the weekend. Our friends at NorthStar Bets already have the main lines up – check them out below! You'll also find all sorts of spreads and props available when you click through.
If you're looking for another book to bet at, we've also got you covered – check out our Best NHL Betting Sites guide for more info!