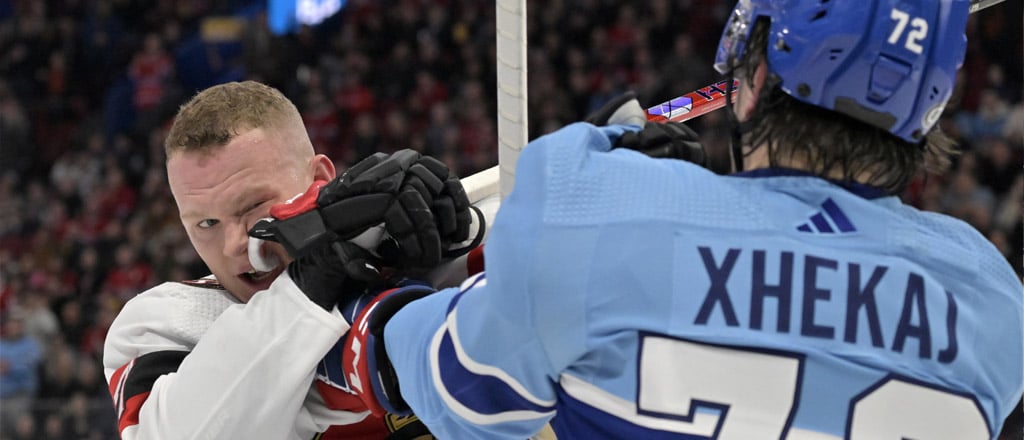 Welcome back to another edition of HNIC Coast to Coast – a look at Saturday's Hockey Night in Canada marquee matchups, along with other games involving Canadian National Hockey League teams over the weekend. This week, we've got a Canada-on-Canada matchup at the top of the billing, along with three other Saturday games and a pair on Sunday. Let's dive in!
7:00 p.m. ET HNIC Headliner: Ottawa Senators vs. Montreal Canadiens
Are the Senators up to something? That's what the hockey world is asking right now following a late Wednesday night trade with the Chicago Blackhawks. The Senators sent defenceman Nikita Zaitsev, a second-round pick, and a fourth-round pick to the Hawks in exchange for… nothing. Yes, they were simply looking to dump the last year and change of Zaitsev's seven-year deal, which carries a $4.5 million cap hit.
That the Senators would want to move on from the contract, originally signed by the Toronto Maple Leafs, is understandable, as Zaitsev is struggling to perform in just about any form of NHL minutes at this stage in his career. But to pay to move the deal now instead of, say, after July 1 this summer, would lead one to believe that there's a money-in move coming between now and the deadline.
For now, the team on the ice will be focused on taking on the Habs. Ottawa has gone 7-2-1 in its last ten, though a loss to the Hurricanes on Friday could redirect that curve into a downward one. Montreal will also be coming in on the second half of a back-to-back after facing the Flyers on Friday night. Both of these teams are in awkward standings spots and will have to make decisions on what level of seller they intend to be over the next week – Saturday's game, however, may give the actual players a chance to play some even, fun, emotionally-charged hockey.
10:00 p.m. HNIC Headliner: Calgary Flames vs. Colorado Avalanche
For a team that's been high on expectations and low on delivery, in the midst of a five-of-seven losing streak, Wednesday night's win must've been one of extreme relief for the Flames. For a while, it looked like they were going to fall into their worst loss in recent memory, pummeling the Coyotes on the shot count but conceding three of Arizona's first eight shots to trail by two. While the Coyotes have been on a wild, and frankly confusing run, a loss to them with the ice so slanted would've been catastrophic.
Thankfully, the Flames put home five in the back half of the game, simultaneously reversing their spell and popping the balloon for the NHL's hottest team that isn't supposed to be hot. Calgary can come into Saturday with a bit more confidence, but certainty not cockiness, as the Colorado Avalanche have started to look like their Stanley Cup-winning selves in recent weeks, posting an 11-2-2 record in their last 15. Cale Makar's concussions remain a major concern for the team, but Nathan MacKinnon's 31 points in his last 18 games have led the way for a resurgence. He'll be a player to watch for Calgary if it wants to finish this game on top.
Afternoon Matchup (12:30 p.m. ET): Edmonton Oilers vs. Columbus Blue Jackets
Kicking off the day for Canadian fans are Connor McDavid and the Oilers, who have the potential to have a bit of a "point night" against the basement-dwelling Blue Jackets. That is to say, another point night, given that the Oilers absolutely trounced the Penguins in what was our game of the night yesterday. McDavid picked up another four points for 109 in 59 games, while Leon Draisaitl, Ryan Nugent-Hopkins, and Tyson Barrie all picked up a pair. This extends Edmonton's torrid run to one with points in 16 of 17 games, posting an 11-1-5 record along the way.
Edmonton's opponents in Columbus continue to struggle, with a 2-0 loss to Minnesota yesterday adding to its troubles. The mess continues off the ice too, with reports that Vladislav Gavrikov, who has been in press box limbo for the last five games, was meant to be the defenceman going to Boston before they landed Dmitry Orlov. It remains to be seen now if he'll play this game tomorrow, or if the relationship between player and team is unfixable. Coincidentally, the Oilers are a team that have been tied to the physical Russian defenceman, so they might ask for an up-close-and-personal look here.
Evening Matchup (7:00 p.m. ET): Boston Bruins vs. Vancouver Canucks
Normally, a game against the Bruins has a must-win feeling for Canucks fans, no matter what the circumstances. The fanbase, the organization, and somehow even the players find a way to make every one of these matchups into a vengeance game for the 2011 Stanley Cup Final.
This Saturday, though, you'll probably have a lot of Canucks fans hoping that they don't deliver on that rivalry for a change. You see, the Canucks are now firmly in a state of needing to bottom out rather than pushing for a playoff spot – the 6-15-1 run from Dec. 29 to Feb. 15 gave little choice in that matter – and now they're doing the worst thing imaginable, which is scraping points not just for themselves, but from other bad teams. Their last three games have seen them blow out the Flyers, force a shootout against Nashville with two goals in the last 1:07 in regulation, and win in OT against St. Louis after being down two with 11 minutes to go, and down one with 29 seconds remaining. Gutsy wins for a team that has something to prove still, terrible ones for a team whose only hope for the foreseeable future is the draft lottery. At least Andrei Kuzmenko and Elias Pettersson remain studs, sure, but they need a zero-point game badly right now.
Thankfully, the Bruins continue to exceed expectations this year and are on their way to one of the best seasons in history. Boston enters this game on a five-game win streak, including a 6-5 victory over Seattle last night. They're about to add two more big pieces in Orlov and Garnet Hathaway, who very well might make their debuts tomorrow. There's a lot of potential here for a steamroll. For this one occasion, you almost hope the Canucks roll over.
Sunday, Sunday, Sunday
As you may have noticed, five Canadian teams playing on Saturday means two are out of the mix – the Toronto Maple Leafs, who typically take up the evening headliner spot, and the Winnipeg Jets. As it turns out, both play on Sunday, though unfortunately, not against each other. The good news is that gives us two games to watch instead of one.
The Jets will be taking on the New York Islanders, who are looking to find ways to score with Mathew Barzal out for the forseeable future. The two faced off earlier in the week as one of our featured games and, as expected, it was a slow one, with the _____ winning 2-1. Meanwhile, the Maple Leafs have the Kraken in their sights in Seattle, and they're going to be hoping for revenge after the league's newest team gave them their first significant loss of the sesaon in a 5-1 rout on Jan. 5.
Where to Watch HNIC Games
Want to tune into these games? Of course you do, that's why you're here. Worry not, we're here to help!
As always, the headliner games will be best watched by Canadians on the CBC. Canada's public broadcaster flexes it's muscles by offering free hockey to all on Saturday night, in whatever way you wish to watch it – on their website, through their app, on your cable box, or even through the old school antenna.
For the rest of Saturday's games, you'll have to head elsewhere. To catch Edmonton/Columbus, you'll head to Sportsnet West or Sportsnet 360. To catch Boston/Vancouver, you'll head to Sportsnet West, Sportsnet Pacific, or CITY TV.
On Sunday, you'll catch Islanders/Jets by tuning in at 3:30 p.m. ET to TSN 3 (Winnipeg). For Leafs/Kraken, you'll head to Sportsnet Ontario at 7:00 p.m ET.
For those looking to stream the games, your best official bet would be Sportsnet Now, with the premium package required for non-local games. To learn more about Now and your other options, check out CSB's "How to watch the NHL in Canada" guide!
Saturday Night NHL Lines
Lots of action is available on all of these games come the weekend. Our friends at NorthStar Bets already have the main lines up – check them out below! You'll also find all sorts of spreads and props available when you click through.
| | | | |
| --- | --- | --- | --- |
| Home Team | NorthStar | Northstar | Away Team |
| Columbus Blue Jackets Odds | +185 | –230 | Edmonton Oilers Odds |
| Vancouver Canucks Odds | +185 | –230 | Boston Bruins Odds |
| Ottawa Senators Odds | –152 | +133 | Montreal Canadiens Odds |
| Colorado Avalanche Odds | –150 | +123 | Calgary Flames Odds |
| Winnipeg Jets Odds | TBD | TBD | New York Islanders Odds |
| Seattle Kraken Odds | TBD | TBD | Toronto Maple Leafs Odds |
If you're looking for another book to bet at, we've also got you covered – check out our Best NHL Betting Sites guide for more info!