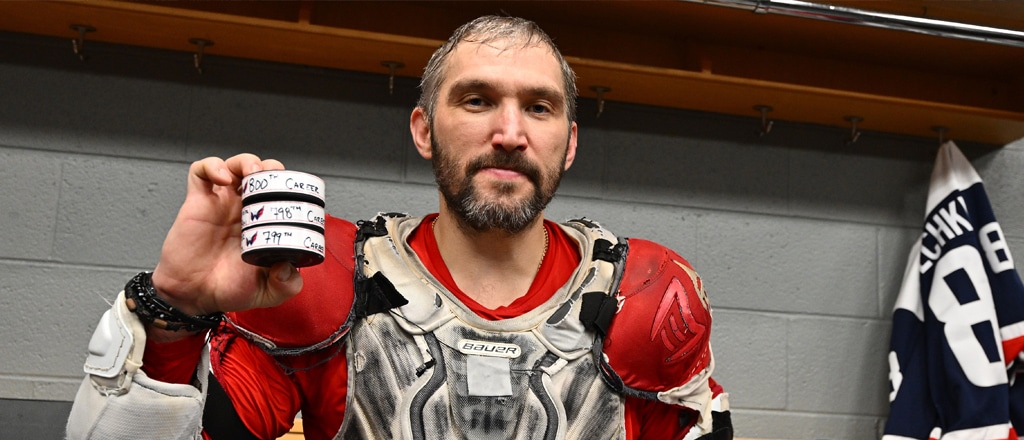 Welcome back to HNIC Coast To Coast, your favourite preview of the Canadian National Hockey League teams as they enter the weekend, particularly those headlining on Hockey Night In Canada. As always, we've got your storylines, your betting lines, your ways to watch, and so much more. Like Alexander Ovechkin looking at a net on a power play, let's fill you in!
7:00 p.m ET HNIC Headliner: Toronto Maple Leafs vs. Washington Capitals
On the face, this matchup already has plenty going for it. The Maple Leafs lost their first game in regulation in over a month on Thursday to the New York Rangers, falling 3-1 in a stingy battle where Jimmy Vesey had the game of his life for the Broadway Blue. They'll be looking to prove that the loss was a light hurdle and not a roadblock, while the Capitals will be looking to get points by any means necessary – things have been better of late, but the team looks at risk of being out of the playoff picture.
The big stories in this one, though, will involve two individual players. Firstly, we have the aforementioned Ovechkin, who scored a hat trick against the Chicago Blackhawks earlier this week to become the third player in NHL history to hit the 800-goal plateau. The next milestone isn't far away, as just one tally will match Gordie Howe for second all time. Ovi always shows well against his teenage favourite team (he was a big Owen Nolan fan), so don't be shocked if he makes a big push under the spotlight. On the other hand, you have Ilya Samsonov, who signed with the Maple Leafs this year after not being tendered a qualifying offer by the Capitals, who drafted him in 2015 and played him in 89 regular season and eight playoff appearances.
What has come since resembles the early hype around him, to a degree that no one has suspected – the 25-year-old has posted a 9-2-0 record with a .939 save percentage and 1.70 goals-against average, including back-to-back shutouts in his last two games. So it's the unstoppable force going up against the immovable object, with the spotlight, history, and a revenge game mixed in. If that's not a reason to tune in, I don't know what is!
10:00 p.m. ET HNIC Headliner: Winnipeg Jets vs. Vancouver Canucks
It sure sounds like the Vancouver Canucks have chosen their direction with team captain Bo Horvat. While they haven't said anything with certainty, contract negotiations with the 27-year-old London, Ontario native have appeared to sour, and the team's direction will now move towards moving him by the deadline. Discussion has gotten so loud that Horvat even put out a statement on the noise.
"I am focused on this season and playing for the Vancouver Canucks, helping the team in any way I can," Horvat said. "I will not have any further comments this year about my future."
This comes as reports trickle out that the Canucks' summer offer to the centre came in at eight years and about $41 million total, and that their latest offer, increased due to his torrid start to 2022/23, came in under $50 million in total compensation with less term. In a vacuum, all of this is actually pretty reasonable – Horvat is a nice two-way piece, but we can all agree that he'll likely not be shooting at 22% forever. The bigger issue is with how the team got here, opting to extend J.T. Miller for a big-money deal that looks worse by the game before addressing their captain. Nevertheless, no one can claim he's giving less than his best effort until this gets resolved.
In the meantime, Bo and the Canucks will take on the Winnipeg Jets on Saturday night. The Jets continue to roll, to the point where I'm going to stop treating this like a surprise until they prove otherwise – buoyed by goaltending or not, .672 through 29 games with a good goal differential is a winning hockey team until they aren't. The Jets have been strong at home (11-5-0) this year and have won seven of their last 10, and while the Canucks have done the same, the combination of the Jets winning those games in more decisive fashion, having the full year's body of work, and having home ice makes them the favourite in this one.
Afternoon Matchup (1:00 p.m ET): Ottawa Senators vs. Detroit Red Wings
For the most part, the present-day Senators are not much for newsworthiness at the moment. The team is still at the bottom of the Atlantic Division, Ryan Reynolds is promising to be a "Rabies-infested fan" if he does join an ownership group that takes the team over in the near future, and the roster largely remains the same.
The biggest story this week was likely in the form of ceremony, as the team inducted Wade Redden as its first player in the Senators Ring of Honour. It's interesting to look back at Redden, who played 838 games with the organization and received Norris Trophy votes in six of his last eight seasons with the team. Particularly interesting is looking at the underlying numbers in his post-Ottawa years – Redden's fall upon departure is talked up as one of the worst of the cap era, but his shot metrics mostly show a fine control of the ice. You wonder how much of our alarm bells were simply rooted in being more fussed about counting stats and goal differential – even his age 35 season, three years removed from the NHL, saw him perform decently well by current standards in lesser minutes. Might be worth a deeper dive at some point.
Back to today's Sens, one nice thing for them is that they're running pretty hot at the moment, with a 7-2-1 record in their last 10 games, including victories in three straight. Their opponents in Detroit, not so much – after a surprising start, the team is 3-5-2 in its previous 10 contests and has dipped into the red in goal difference. Ottawa's top-5 forwards (Brady Tkachuk, Tim Stutzle, Alex DeBrincat, Claude Giroux, and Drake Batherson) are all clicking right now, and it wouldn't shock me to see at least one of them pop off on Saturday.
Mid-Afternoon Matchup (4:00 p.m ET): Anaheim Ducks vs. Edmonton Oilers
The chirp of the week goes to Minnesota Wild forward Jordan Greenway, who dove into the balance sheets to take aim at Oilers defenceman Darnell Nurse.
"Honestly, what's it feel like? What's it feel like? You get $9 million and you don't do sh.." you can figure out the rest.
Nurse's response would probably be the crying into stacks of money GIF if this exchange happened online, but there's no doubt that the 27-year-old's fresh new contract, which was signed in August 2021 and kicked in this year, will be the target of some criticism. I don't like laying it on the player specifically from a fan's or media person's perspective (get the bag you're offered, I say), but the eight-year deal was undoubtedly an example of an inflated 2021 market, which Nurse benefited from by securing a $9.25 million AAV with significant buyout protection in the back half of the deal. Nurse is performing at a rate closer to a middle-pair defenceman than a lights-out superstar, though as long as Connor McDavid is making anything less than the max, the Oilers' total commitment to their stars is hard to spin as a complete burden.
Nurse will have an opportunity to push back on this sort of conversation on Saturday as his Oilers take on the Anaheim Ducks, who won just their second game in regulation earlier this week (something we've discussed prior, and will touch on again in a couple minutes). This should be a pretty easy game for the Oilers on paper – they've got home ice, they've got the star talent, and Anaheim is an undisciplined team, which will give the juggernaut Oilers power play ample time to cook.
Evening Matchup (7:00 p.m ET): Tampa Bay Lightning vs. Montreal Canadiens
So back to Anaheim and its regulation win yesterday against the Montreal Canadiens. We all thought the moment would come against Toronto – something that makes no sense on paper, but always makes sense when you consider the Maple Leafs. Instead, that was a 7-0 steamroll, much like its losses to Ottawa and San Jose. Instead, the Ducks saved it for the Habs, winning their first multi-goal game. Cole Caufield actually brought the Habs back from a 2-0 deficit in the third period, but John Klingberg's go-ahead goal came at the nine-minute mark and two empty netters sealed the deal. Personally, I blame the reverse retro jerseys – I get the Expos thing, but Baby Blue just doesn't mesh with what the Habs are about.
No NHL loss should be embarrassing, but you have to imagine that this one stings a little more than average given Anaheim's historic struggles. Not too much, as Montreal is essentially playing a season for the vibes (an enviable position), but enough that it'll be playing with some energy on Saturday. The bounce-back opponent will be a tough one, though – the Habs take on the Tampa Bay Lightning, who are merely the third-best Atlantic Division team at… eighth overall with an 8-2-0 record in their last 10. Yeah, this division is a gauntlet. Steven Stamkos is sitting at 497 goals – wouldn't it be something if he pulled an Ovi and got to 500 with a hat trick?
Sunday, Sunday, Sunday
We have a pretty crowded Sunday agenda this weekend!
First, the Senators will be right back at it for their second consecutive afternoon road game. Just 25 hours after taking on the Wings, they'll be facing the Minnesota Wild. The Wild are starting to catch their groove after an early season slow start, and with Kirill Kaprizov in the lineup, you never rule them out from at least bringing some action.
Also repeating, the Jets play their second in 22 hours, albeit with less travel as they take on the Seattle Kraken. Seattle isn't quite as scorching as it started the year, but still has carved a pretty decent niche in the Pacific Division and is the second-best team by both record and goal differential as of Friday. Both have the distinct advantage of not being on the second half of back-to-backs, so keep that in mind when making any decisions.
Lastly, the Calgary Flames, who play tonight against St. Louis but get Saturday off, will take on the San Jose Sharks. In this one, the Sharks will be the less rested team playing Los Angeles the night before, and come in with a decently worse record. The Flames have struggled to find their groove to start this season, hovering just barely over .500 by points percentage, but are the better of these two teams down the lineup so it's hard to not still see them as the favourites, especially with rest in mind.
Where to Watch HNIC Games
Want to tune into these games? Of course you do, that's why you're here. Worry not, we're here to help!
If you've been reading Coast to Coast throughout the season, you know the drill when it comes to the Headliners. If you haven't – check CBC, wherever you get it, and you'll find your 7PM or 10PM game. That includes over the antenna, on your TV package, or even for free on the CBC website. For the other games, you'll find Ottawa/Detroit on TSN5 and TVA Sports, Anaheim/Edmonton on standard Sportsnet, and Tampa/Montreal on Sportsnet East, CITY TV, or TVA Sports. On Sunday, it's all about regional packages – TSN5 or RDS for the Ottawa game, TSN3 for Winnipeg, or Sportsnet West for Calgary.
Saturday Night NHL Lines
Lots of action is available on all of these games come the weekend. Our friends at NorthStar Bets already have the main lines up – check them out below! You'll also find all sorts of spreads and props available when you click through.
If you're looking for another book to bet at, we've also got you covered – check out our Best NHL Betting Sites guide for more info!