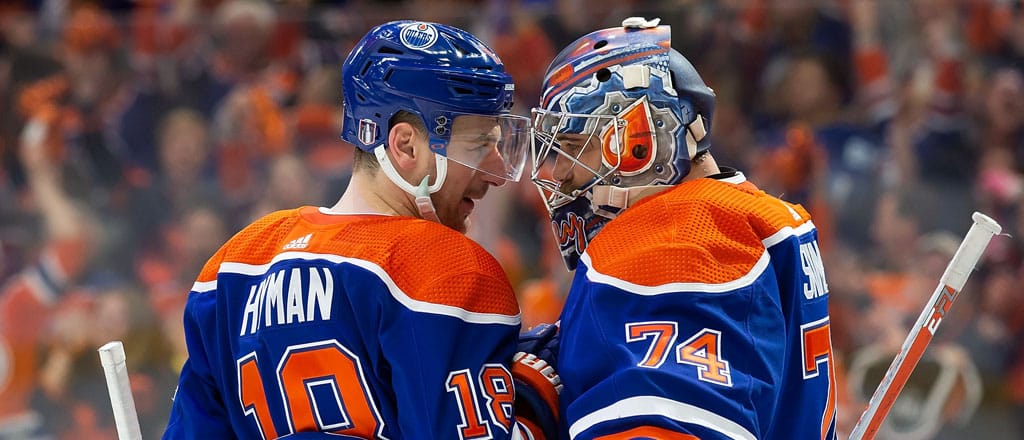 The first big dent in the armour of Canada's Stanley Cup Playoff hopes came on Thursday night. Try as they did, to the point of even pulling their goalie with eight minutes remaining, the Winnipeg Jets saw themselves become the first team in the National Hockey League to be eliminated from postseason play, succumbing in five games to the Vegas Golden Knights. On the bright side, the two other remaining Canadian teams – the Toronto Maple Leafs and Edmonton Oilers – have an opportunity to close their rounds out this weekend. That, and one more interesting game, will be the focus of this week's edition of Coast to Coast. Let's dive in!
7:00 p.m ET HNIC Headliner: Maple Leafs vs. Lightning
The good vibes are gone, and no city is more nervous heading into the weekend than Toronto is about the Maple Leafs. Weirdly enough, it doesn't have much to do with the actual results on the ice, but rather a city that's been hurt so many times before that they're worried about it happening again. After three consecutive wins in Games 2 through 4, the Leafs had a chance to be the NHL's first team to close out on Thursday and despite a tight-fought game, couldn't get across the finish line. Morgan Rielly scored the game's first goal and Auston Matthews converted on a early goalie pull, but it was a grab bag of goals from Tampa's depth forwards that pushed the Lightning back in the right direction.
Saturday provides an opportunity for Tampa to tie the series at home, or for Toronto to close it off right away. The Leafs are still slight favourites at most sportsbooks to win on Saturday, and heavy (-425) favourites to advance, but try telling that to a passionate fan burned six years in a row. We'll see what happens in this one!
10:00 p.m. ET HNIC Headliner: Oilers vs. Kings
The Oilers have an opportunity to repeat history on Saturday, with a chance to knock out the Los Angeles Kings for a second consecutive year. They've certainly had a lot of rest time to get there, too, having not played since Tuesday (the joys of Los Angeles being the Game 6 site while the arena is overbooked). In the last appearance, Edmonton was able to hold the lead for 52 whole minutes, opening the scoring early in the first with Evander Kane's third of the playoffs and, despite pushes in the first period and beyond by Los Angeles, never looking all the way back, pulling away with a 6-3 victory.
The Kings will be throwing everything at the wall on Saturday, not wanting their improved squad to end their season one game earlier than last year's group. They'll need a big night out of Joonas Korpisalo; whether they get it remains to be seen. Interesting to Oilers fans and bettors alike is the fact that Connor McDavid appears to be nursing a leg injury, which may explain his relative lack of production (in McDavid terms) in this series, particularly at 5-on-5.
Evening Matchup (8:00 p.m.): Devils vs. Rangers
Remember when the Devils were on the brink of a quick exit? Yeah, neither do they. Akira Schmid mania has taken over New Jersey, with the 22-year-old rookie showing signs of being this year's "goalie that came of nowhere." Since taking the reins in Game 3, with his team down 2-0 in the series, Schmid has posted a .976 save percentage and 0.63 GAA, only conceding two goals along the way. Scarier yet, the Devils have slowly rebuilt the goal support to back him up if this does slow down for him, posting two, followed by three, followed by four goals in that stretch.
Could New Jersey end it with a rout? If these trends continue, maybe. The Rangers spent a lot of assets to get to this point, and they'll be hoping that trade deadline adds Vladimir Tarasenko and Patrick Kane come out of their shells and help lead the way tomorrow. At this point, their season depends on it.
Sunday, Sunday, Sunday
Sunday is going to be a day of conditionals, to the point where we can't promise you anything specific just yet. Four series – Colorado/Seattle, Dallas/Minnesota, Boston/Florida, and Carolina/Islanders could all be going to deciding Game 7s, depending on how they all fare tonight. None have projected times, so your best bet is to check in with the NHL website later in the weekend if any of these four see the trailing team be the victor tonight.
Where to Watch HNIC Games
Want to tune into these games? Of course you do, that's why you're here. Worry not, we're here to help!
As always, the headliner games will be best watched by Canadians on the CBC. Canada's public broadcaster flexes its muscles by offering free hockey to all on Saturday night, in whatever way you wish to watch it – on their website, through their app, on your cable box, or even through the old school antenna.
For Rangers/Devils, you'll have to look elsewhere.
For those looking to stream the games, your best official bet would be Sportsnet Now, with the premium package required for non-local games. To learn more about Now and your other options, check out CSB's "How to watch the NHL in Canada" guide!
Saturday Night NHL Lines
Lots of action is available on all of these games come the weekend. Our friends at NorthStar Bets already have the main lines up – check them out below! You'll also find all sorts of spreads and props available when you click through.
| | | | |
| --- | --- | --- | --- |
| Home Team | NorthStar | Northstar | Away Team |
| Tampa Bay Lightning | -110 | -110 | Toronto Maple Leafs |
| Los Angeles Kings | +140 | -175 | Edmonton Oilers |
| New York Rangers | -130 | +107 | New Jersey Devils |
If you're looking for another book to bet at, we've also got you covered – check out our Best NHL Betting Sites guide for more info!