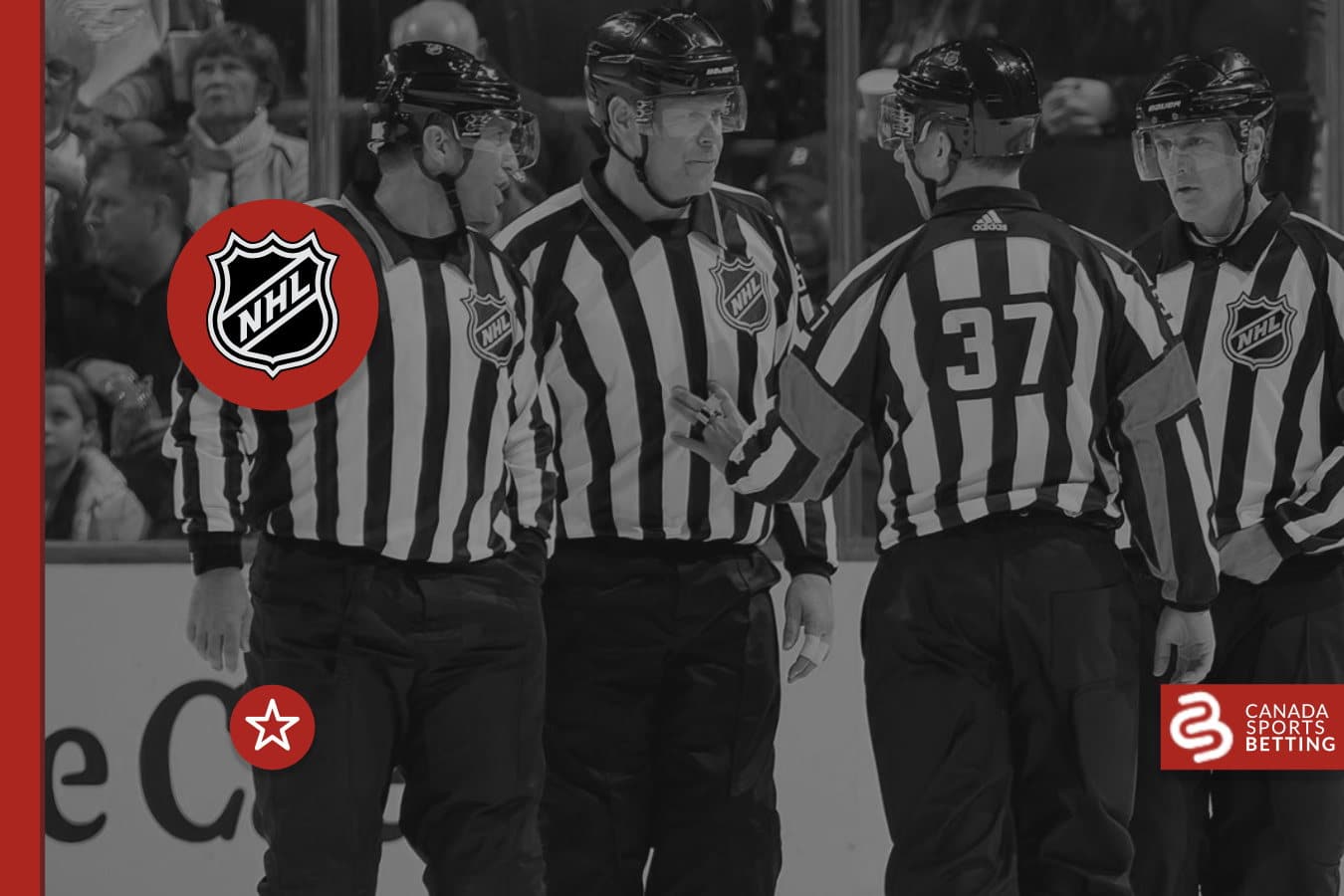 Those who officiate in the NHL were put under the microscope during the 2020-21 regular season when veteran referee Tim Peel was caught by a hot mic admitting he called a penalty to make up for an infraction he'd missed previously during a game. Peel was removed from his work as an NHL official and the scrutiny of all who wear the striped shirts led to one question – who are the NHL's best referees?
Do you know who are the NHL's best referees?
NHL referees came under scrutiny during the 2020-21 season
Veteran official Tim Peel was dropped from the roster of NHL referees after he was caught on a hot mic admitting he'd made a makeup call on a play
Who are the best referees in the NHL today? Read on to find out
Thanks to veteran official Tim Peel's poor choice of words as he unknowingly stood near a hot mic during a game in the midst of the 2020-21 NHL regular season, all NHL referees suddenly found the way that they work a game to be under assessment from players, fans and the media alike.
Peel openly admitted that he'd made a call against the Nashville Predators during a game against the Detroit Red Wings because he'd missed an infraction against the team earlier in the flow of play. The league was suitably embarrassed. Peel was removed from the referee rotation for the remainder of what was already known to be his farewell NHL campaign.
The incident has led to intense scrutiny on all NHL officials, people who already found themselves under the microscope at the best of times. However, the fact of the matter is that there are several NHL officials who are well-respected by the players, and even grudgingly acknowledged to be competent by fans who are certain that everyone wearing the stripes and blowing a whistle is out to prevent their favourite team from winning the Stanley Cup.
These are the men considered to be the best referees in the NHL during the 1920-21 season.
PLAY ONLINE NOW

NHL Betting Resources Here
Wes McCauley
In 2018, Associated Press conducted a poll of NHL players asking them who is the best referee in the league. McCauley garnered 47.8 percent of all the votes cast. However, a sign of the growing respect for McCauley's work as an on-ice arbiter was evidenced in 2020, when The Athletic also conducted a player ballot to select the league's top official. McCauley won again, this time garnering 71 percent of all support.
"He's real," Colorado Avalanche forward Nathan MacKinnon told the Associated Press. "He's obviously an animated guy and definitely calls a good game."
The son of longtime NHL official John McCauley, Wes comes by his officiating roots naturally. He played college hockey at Michigan State and later enjoyed a brief pro career, so that's helped him to gain a measure of respect from the league's players.
McCauley's animated penalty and goal signals have earned him a level of popularity among the NHL fan base that few officials ever enjoy.
"I don't think I'm that good," McCauley told The Associated Press. "My job's just to officiate hockey games and to do the best I can and to move on to the next game and really to stay out of the highlights.
"My biggest thing is when I step on the ice, I want the players to feel like, 'Oh, OK we're going to get a fair shake tonight.' I've never really taken it for granted, so I try to go out there and referee every game the best I can.
Kelly Sutherland
Sutherland held forth as No. 2 in both of the aforementioned player polls behind McCauley. He garnered 17.7 percent of all support in 2018 but dropped to 15 percent in 2020.
An NHL referee since 2000, Sutherland has called nearly 1,300 career games. He's worked seven Stanley Cup finals, including the past three.
Francois St. Laurent
St. Laurent worked both QMJHL and AHL games on his way to the NHL. He officiated the 2002 CHL Memorial Cup final and also worked the 2008 and 2009 AHL Calder Cup finals.
Joining the NHL in 2003 as a trainee, St. Laurent made his NHL debut in 2005. He's worked over 800 regular-season games and more than 60 playoff games. He's also as tough as the players whose games he calls. In 2018, St. Laurent fell into the boards in the first minute of the third period, fracturing his collarbone. St. Laurent finished the game.
Trevor Hanson
Like Sutherland, Hanson hails from Richmond, B.C. Hanson, 36, has worked over 300 NHL regular-season games and more than 20 playoff games since he joined the NHL in 2012.
Hanson also gained support during the NHL players poll, although one player cited him as Trevor Hamilton on his survey. That could be a good thing, though. They say that if you don't know the referee's name, then the official probably did a good job.
Where To Bet On The NHL
There are a number of leading online sports betting sites that will provide bettors with the chance to place a wager on NHL action. The best bet you can make is to shop around in advance and seek out the right deal before joining one of these sportsbooks. Check out PowerPlay Sports and SportsInteraction as examples.
The signup bonus offers that are in place at all of these recommended sites will prove advantageous to the bettor. And since you'll get a good deal wherever you go, why not assess the available options at several sites and find the ideal fit for your needs?
Do you want a risk-free first bet as a signup bonus? Perhaps you find a no-deposit bonus to be enticing. Or maybe you simply like the feel of cold, hard cash in your account and you want to go for a matching first deposit bonus. Whatever option you choose, you're already a winner.
Remember that new players and returning customers are eligible for better bonuses when they deposit using Bitcoin. As well, take advantage of the betting advice offered at these sites to help newcomers acclimatize to sports betting.
See below the top sportsbooks where you can wager online and choose the right one for you: