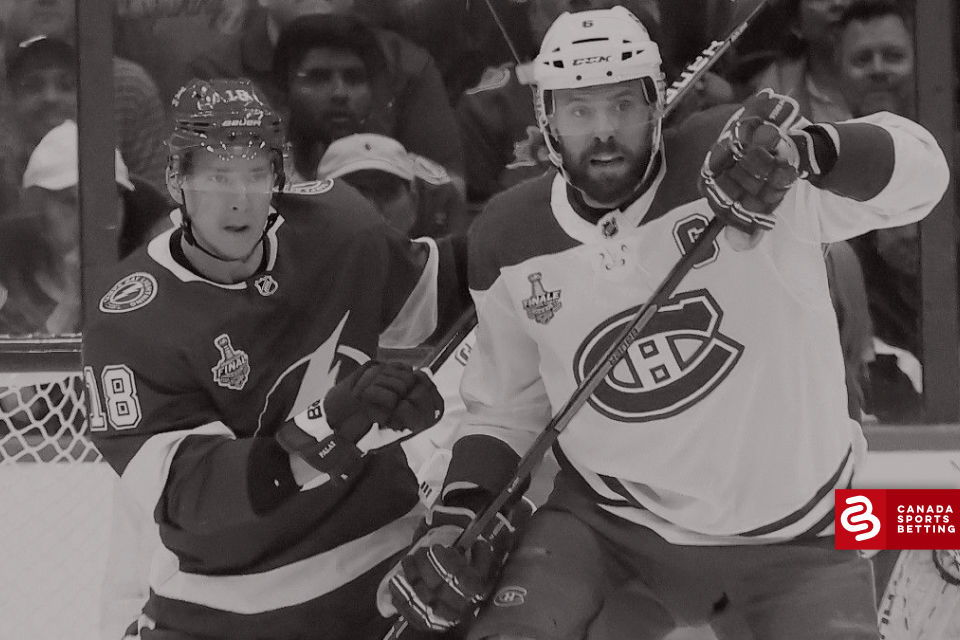 The Stanley Cup has gone through some unique firsts during the past two NHL seasons thanks to the COVID-19 pandemic. Last year's Cup final series didn't end until September. This year, with the launch of the regular season delayed until January, the Cup final series is stretching into July. One facet that hasn't changed, though, is that no matter when wagers are placed on the games, the bettors want to be certain that they are placing those wagers with the best betting sites for the Stanley Cup Finals.
Stanley Cup 2021 Betting Resources
The Stanley Cup is the most significant event on the Canadian sporting landscape
Teams have been competing for the Stanley Cup since 1893
These are the Best Betting Sites for the Stanley Cup Finals
There's no bigger sporting event in Canada than the Stanley Cup. That's especially true when there's a Canadian team that's making a dramatic Stanley Cup run. When the Montreal Canadiens surprised the hockey world by reaching the 2021 Cup final series against the defending champion Tampa Bay Lightning, this fact of life was driven home.
The Canadiens unsuccessfully petitioned the Quebec government to increase the COVID-19 restrictions on fans attending games at the Bell Centre. When their pleas fell on deaf ears, the Habs set up public viewing areas at venues such as Montreal's Olympic Stadium so that long-suffering Canadiens supporters could quench their Stanley Cup fever.
Certainly, fans of both the Canadiens and the Lightning were both looking to get wagers down backing their favourite teams to win the Cup at the best NHL betting sites. But they're hardly alone in that pursuit. The chase for Lord Stanley's mug has always proven to be a betting bonanza across Canada.
When players place their bets, they want to make the most of their opportunity. They want to wager with a reliable, trustworthy online betting site, one that will offer competitive odds and provide them with perks such as a lucrative signup bonus.
Which are the best betting sites Stanley Cup wagering has to offer? We looked at all the leading online sports betting sites in order to compile a list of the best sportsbooks Stanley Cup fans will want to be wagering with during the NHL playoffs.
Bet99
The oddsmakers at Bet99 cover all the bases when it comes to betting on the Stanley Cup finals. There are standard and expected moneyline, puck line and total wagers offered on every game. Among the game props they offer are odd/even, period scores, highest-scoring period, first goal, last goal, correct score and winning margin. There's also in-play wagering and player props.
As for future bets, Bet99 comes though with series odds, correct series scores and exact games total for the series. Newcomers to Bet99 can take advantage of their $600 maximum matching first deposit bonus offer when using the bonus code Canada999.
PowerPlay
PowerPlay Sports offers no less than 60 betting markets on Game 4 of the Stanley Cup final. These include Tampa Bay to win all three periods, Montreal to score a goal in each period, time of the first goal and team to score the first goal.
Outrights on tap include series winner, correct series score and when will the series end? PowerPlay offers new players a 100 percent matching first deposit bonus worth up to $500.
Sports Interaction
Sports Interaction offers a Stanley Cup pinata pick. It's basically an online click version of the old spin the wheel game. Players are assigned a result from their spin. If those results come in, it pays off at odds of 46.00.
There are 35 betting lines at Sports Interaction on Game 4 of the Stanley Cup final. Besides series winners, other outrights offered at Sports Interaction include series correct score and when will the series finish? When players sign up at Sports Interaction, they'll be welcomed with a 100 percent matching first deposit bonus worth up to $200.
ComeOn Sports
When it comes to the best betting sites Stanley Cup players will want to check out, ComeOn Sports is saying come on over. No one can suggest that the oddsmakers at ComeOn Sports aren't on top of their game. These folks are real go-getters. The 2021 Stanley Cup final isn't even over and ComeOn already has outright future book odds posted on the 2022 Stanley Cup outcome. The Colorado Avalanche are 6.00 favourites to win the next Cup final series.
They're also offering a money-back guarantee for one wager on each Stanley Cup final game. Bettors must place in-play bets of up to $50, with minimum odds of 1.80, on the NHL Stanley Cup final games. The first bet placed on each finals game that loses will be refunded as a free bet worth up to $50. Free Bets are valid for seven days on all markets.
New players at ComeOn Sports can access a 100 percent matching first deposit bonus that maxes out at $600.
10Bet
Along with Conn Smythe Trophy odds, 10Bet also provides bettors with props on who will be the leading goal scorer of the Stanley Cup final series. They've also already got 2021-22 Stanley Cup future odds posted.
At 10Bet, they deliver to new players a 100 percent matching first deposit bonus of up to $300 if they enter the promo code CA300.