Since the 1980s, Chicago Bulls and NBA legend Michael Jordan has been popular across the world thanks to his amazing Nike sneakers. Indeed, Air Jordan shoes are without question some of the best out there and there are so many different versions. But now, you can find them on ice? Yup! That's because we have Air Jordan on Ice: Air Jordan 1's turned into hockey skates. Seriously, these things are nothing short of brilliant and epic.
Air Jordan sneakers as hockey skates are really outstanding
As you can see from the Twitter post above, Air Jordan sneakers as hockey skates are really outstanding and fans are going nuts over them already. The Air Jordan 1 is a total classic and really changed the way we look at basketball shoes. Now, Matthew Keeler and Nick Ciavarella are teaming up with artist Dakota Wiley to design them on hockey skates. Props to these three, as they really are trying to change the way of things here.
Can you imagine if NHL players start wearing these on a consistent basis? Indeed, think if Pittsburgh Penguins star Sidney Crosby started wearing Air Jordan 1 skates for big-time games? He'd be flying down the ice with some of the coolest skates around. It would make his goals look 100 times cooler. At the same time, goalies would feel terrible to give up great shots to someone who was rocking the Air Jordan 1 skates.
"Hockey is a really traditional sport and lagging behind where guys can really express themselves," Keeler told Sean Shapiro of The Athletic in a recent, exclusive interview with the outlet. "We just wanted to think outside the box of what hockey is and what hockey can be."
Keeler is right, as NHL players have never really been known for making headlines for the skates they've worn. That most certainly is not the case in the NBA, MLB or even in the NFL these days. In the NBA, countless players have developed their own shoe lines, including Steph Curry, LeBron James, Klay Thompson and so many others. However, they all have these thanks to Jordan and Nike taking things to the next level years ago.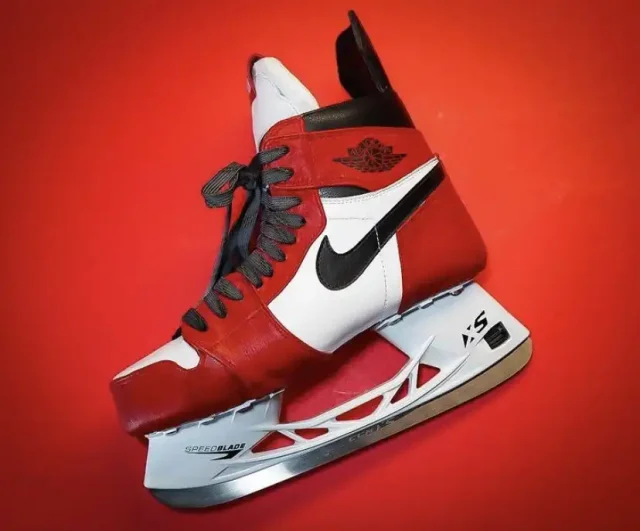 Could we see the Air Jordan shoes end up being used in games?
The question begs, could we see the Air Jordan shoes end up being used in games at some point down the road? If it were up to Viavarella and his teammates, he'd most definitely love to see it happen. Already, we are seeing the design go viral on Twitter, and Instagram and for good reason. No one has seen anything like it before. The idea of it being used not only in the NHL, but other hockey leagues has crossed fans' minds.
"We knew it was gonna make noise, we knew when we were working on a project like this people would see something iconic and how we brought it to hockey," Ciavarella also told The Athletic in the interview. "It's a one-of-a-kind thing for a reason."
Not only with the Air Jordan skates, but this team is also eyeing even more designs to potentially one day make their way to hockey rinks. What about it being showcased in a Stanley Cup showdown? Right now, it's been about advertising and getting their name out there a little bit more. Fortunately for them, they're off to a hot start with this Air Jordan skate and their publicity is only going to keep growing, even more, no doubt about that one.
"We're lucky we've got a good connection at a local rink so we've been able to get out and take photos and make videos of the product in action," Ciavarella added with some serious passion in his piece with The Athletic.
I think once we get to a spot where more people are playing hockey, and the product can be seen out in public at rinks and stuff more, that will be the next step for us.
See below the top sportsbooks where you can wager online and choose the best one for you: