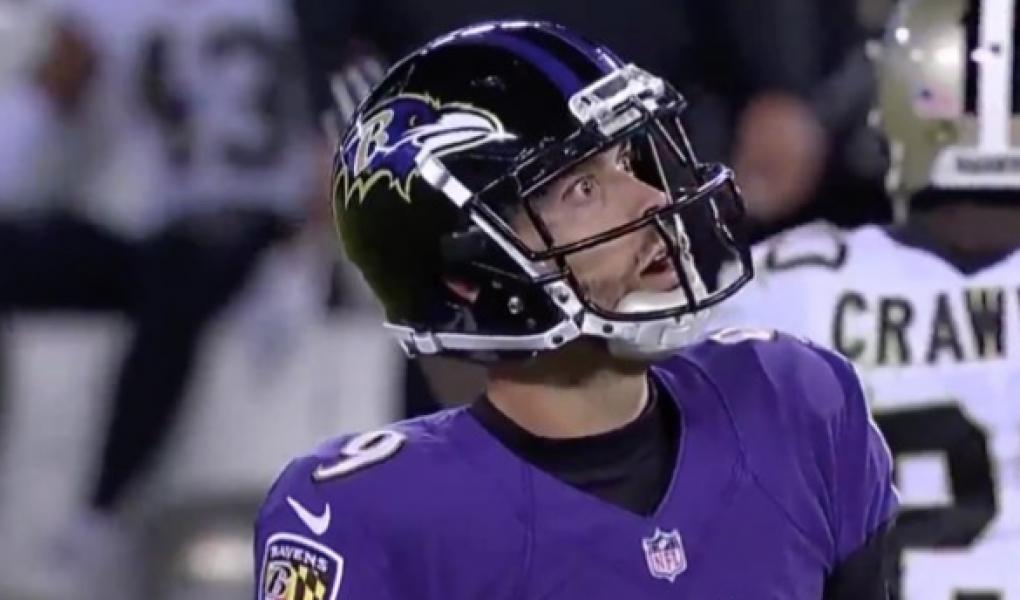 I am of the opinion that we should have little to no professional sympathy in instances of kickers missing managable field goals and extra points.
Why, you ask; well for starters, they are not asked the smash their heads into a 300 pounder, 50 times a game. Kickers don't have to cover anyone who runs a 4.4. They don't risk career and life threatening injury on every play. Their one job is to KICK THE BALL THROUGH THE YELLOW THINGS.
The 10 Worst Kickers of the 2018/19 NFL Season
But first a mini rant
Now if you saw the thumbnail of this article is was the ridiculously comical face of Ravens kicker, Justin Tucker, who did NOT make our list, as he is one of the Best kickers in NFL History. But that face was made as a result of him missing the only extra point of his career earlier this season against the New Orleans Saints. An extra point that would have tied the game with no time left in regulation. A missed extra point that gave New Orleans the win.
A win that could result in them getting home field advantage for the NFL playoffs. Home field advantage that would make them the clear cut favorite to win the Superbowl. A Superbowl that would cement Drew Brees' legacy as one of the greatest quarterbacks ever to play the game.
A missed extra point…the butterfly effect is real. Kickers should not matter as much as they do, but sadly…they do.
So lets take a moment to acknowledge the, way to common, thorn in our side – the underperforming NFL kicker. We've compiled the list of this season's 10 worst NFL kickers.
See below the top sportsbooks where you can wager online and choose the best one for you:
And without further ado…
Coming in at #10…a former Superbowl Champion who was once regarded as the best in the business.
10. STEPHEN GOSTKOWSKI – Patriots
If you saw the Miami Miracle this past Sunday just know that it was all made possible because of a Gostkowski missed extra point and field goal. 4 points that would have put the scoreline out of reach for any number of laterals and Gronk missed tackles. The Patriots may miss out on a first round bye because of that fiasco.
9. CODY PARKEY – Bears
Chicago is cold and merciless in the winter time. Having already missed 2 extra points, and 2 field goals inside 40 yards means that nothing will be automatic for the Bears as the importance of every kick heightens down the stretch.
8. HARRISON BUTKER – Chiefs
Don't worry about the fact that he's missed 4 extra points this season Chiefs fans. Just keep your fingers crossed that Mahomes can cover up his incompetence by dropping 35 points on your opponent every game.
7. CHANDLER CANTAZARO – Formerly of the Buccaneers
And now a kicker for the Carolina Panthers…I don't know why…I just…whatever.
In 9 games for the Bucs this season, he missed 4 field goals and 4 extra points. He will be out of the league soon, until someone else decides to take a shot at mediocrity.
6. MASON CROSBY – Packers
He's missed 7 field goals and 2 extra points this season. 5 of those 9 kicks were in a dome in Detroit in week 5, a 31-23 loss to the horrible Lions. You get extra credit on a list like this for being bad in a dome. Mason Crosby got bumped up a couple spots for that one.
5. DAN CARLSON – Formerly of the Vikings
And now of the Raiders…(insert joke here).
Mike Zimmer watched his front office spend a 5th round draft pick on a kicker this spring. He then watched that kicker go 1-4 to start his career, including missing 2 kicks in an overtime game at Lambeau (a game where Mason Crosby also missed a potential game winner). The game ended in a tie and then just like that, Zimmer cut his ties and brought in another kicker named Dan – I wonder how that's going?
4. DAN BAILEY – Soon to be formerly of the Vikings
Bailey has missed an extra point, a field goal inside 30 yards and is 3 of 8 between the distances of 40-49 yards. It's beginning to feel like Mike Zimmer and the State of Minneapolis are cursed when it comes to this position – Oh and by the way, they also play in a dome.
3. ZANE GONZALEZ – Formerly of the Browns
Coming into this NFL season the Browns were all the rage, with their talented roster looking like a dark horse. Zane Gonzalez burst the balloon by missing two extra points and three field goals and instead of 2 wins to start they season they had a tie and loss. The loss was to the New Orleans Saints who IF they get home field advantage, get to send a holiday gift basket to another kicker as well.
2. CALEB STURGIS – Formerly of the Chargers
If the Vikings are cursed then I don't know what the Chargers are. Last season was a nightmare for them and placekickers. And this season looked like the sequel. In the first six games of this season, Sturgis missed 6 EXTRA POINTS and 50% of his field goal attempts between 40-49 yards.
Hopefully they righted the ship with their newest kicker because that roster is too good to constantly be let down by "hit ball with leg" guy.
And as horrible as all these place kickers have been there's one that tops them all and even more ludicrous is that he is still employed.
Drumroll Please!
1. CHRIS BOSWELL – Steelers
The Steelers faked a 20 yard field goal with Boswell a couple weeks ago and threw for a touchdown pass. Perhaps they should keep doing that.
But let's be honest, Boswell could literally be released any second. His career as a Steeler hangs by a thread.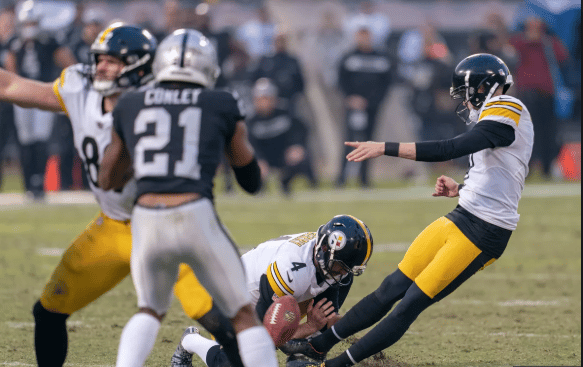 So far the Steel town kicker has missed 5 extra points and is 3 of 8 between the distances of 40-49 yards with the exclamation point being a missed FG to tie a game at the end of regulation against the Raiders.
The sword of Democles hangs over the heads of those who can't help you beat the Raiders.
You can follow me on twitter @zahir_gilani