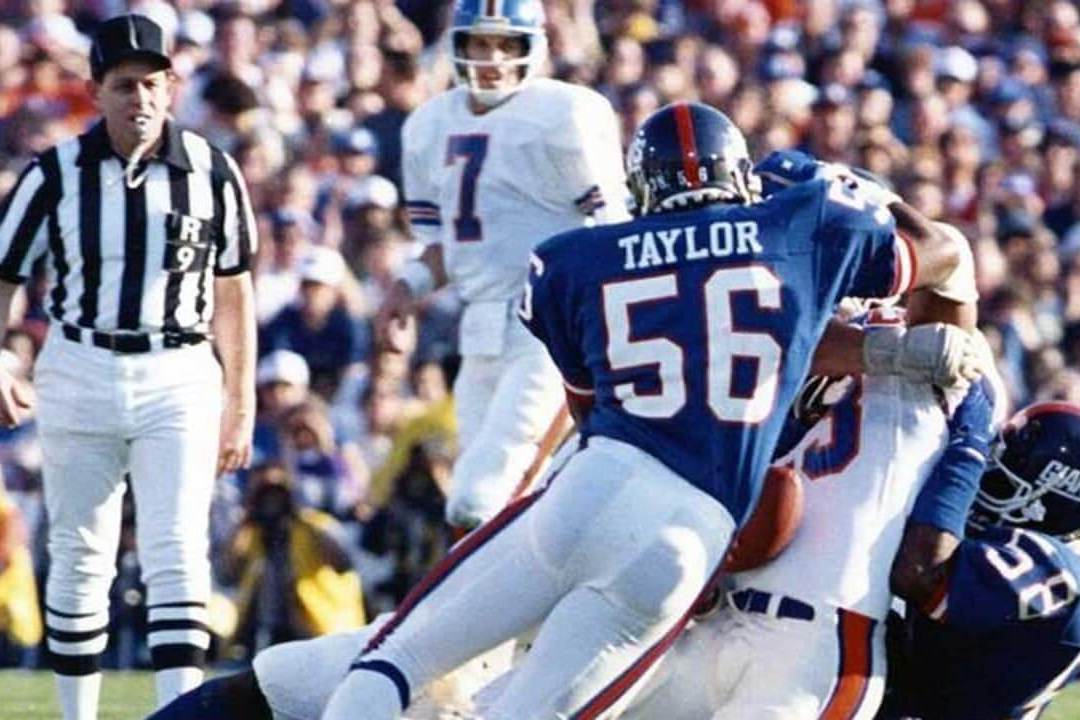 Although it's usually the star quarterback who gets all the scrutiny, these top 10 greatest NFL defensive players prove that a dominant defender can also, not only change the game but alter the course of NFL history.
Top 10 Best Defensive Players in NFL History
There were dozens of defensive players to consider for this list. Quickly, we'll give a shoutout to those who just missed the cut:
Bruce Smith, DE
Ray Lewis, LB
Rod Woodson, CB
Bob Lilly, DT
Jack Lambert, LB
With that said, we take look at the ten best NFL defensive players considering their impact and accolades:
10. J.J. Watt, DE
Despite only having played five full seasons as of 2019, Watt has already won three Defensive Player of the Year awards (tied with Lawrence Taylor for most in the NFL). The indomitable Watt is also the only player to have two 20+ sack seasons in a career.
Though mostly a DE, Watt can shift to DT and even occasionally plays on offence. He holds several Texans franchise records and is already the franchise's greatest player. Watt's injury-proneness is a concern, but should he retire soon, he's already a surefire Hall of Famer.
9. Deion Sanders, CB
Arguably the biggest star on this list, "Primetime" Deion Sanders proved that even defensive players can become superstars. In his 14-year career, Sanders won two Super Bowls, was selected to six First All-Pro teams as a cornerback and made eight Pro Bowls.
Sanders' 19 defensive and return touchdowns were an NFL record and he also won Defensive Player of the Year, becoming only the fourth cornerback to do so. Primetime helped popularize the secondary's role in the NFL and will always be one of the best defensive players in NFL history.
8. Aaron Donald, DT
Donald is undoubtedly one of the best defensive players in the NFL right now and maybe for his generation. The Ram won back-to-back Defensive Player of the Year awards and became one of a few defensive tackles to lead the league in sacks.
With just a handful of NFL seasons under his belt, Donald already has a Hall of Fame career and he's just getting started. Expect more honours, franchise records, and iconic moments for the budding legend.
7. Ed Reed, S
Synonymous with the term "ball hawk", Reed redefined the safety position during his 11-year NFL career. The former Raven was an eight-time All-Pro, won the 2004 Defensive Player of the Year award, and led the league in interceptions three times.
Reed was one of the most analytical defenders and forced entire offences to gameplan around him. The likes of Bill Belichick and Peyton Manning have cited Reed as the greatest safety they've ever played against. 'Nuff said.
6. Ronnie Lott, CB/S
Heralded as the greatest safety of all time, Lott began his career as a cornerback with the San Francisco 49ers and helped them win a Super Bowl. The skills Lott demonstrated were ahead for his time and he would be one of a few players from his era who would still be a star in today's NFL.
Lott is arguably the greatest player to never win the Defensive Player of the Year award (thanks to a player on this list). But he'd take his four Super Bowl rings over any award any day.
5. "Mean" Joe Greene, DT
Renegade: Joe Greene Edition #Steelers pic.twitter.com/2DjuK5tpbL

— BlitzburghUSAVideos (@sdextrasmedia) November 29, 2019
When considering the best defensive players in the NFL, no list would be complete without a member of the "Steel Curtain". "Mean" Joe Greene was the leader of the NFL's greatest defence. This 6'4″ powerhouse from Texas transformed a hapless Steelers franchise into the icon it is today.
Among Greene's accolades include a pair of Defensive Player of the Year awards, ten Pro Bowl appearances, eight All-Pro selections, and four Super Bowls. Greene was also one of the first defensive superstars and will always bee a beloved icon in the NFL.
4. Dick Butkus, LB
Almost 50 years since he retired and Butkus is still considered as the "gold standard" among middle linebackers. Known as the most feared hitter in NFL history, Butkus "tried to put you in the cemetery" every time he laid a hit according to fellow Hall of Fame defender Deacon Jones.
Butkus was more than a hard-hitter. He became one of the early ball hawks and often caused chaos as evidenced by his 22 interceptions and 27 recovered fumbles (an NFL record then). He finished his career having been named to eight All-Pro teams and two Defensive Player of the Year awards.
3. Reggie White, DE
The most prolific player on this list is none other than the "Minister of Defense" himself. Reggie White played for three NFL teams recording 13 All-Pro and Pro Bowl selections, two Defensive Player of the Year awards, and a Super Bowl. He also led the NFL in sacks twice and is second all-time in total sacks.
White died in 2004 after an illustrious NFL career and time as an ordained Baptist minister (hence his nickname). He had accomplished what he set out to do: be an NFL player and a minister.
2. Deacon Jones, DE
David "Deacon" Jones is the godfather of sacks – the NFL sack leader award is even named in his honour. Jones is still honoured as the greatest Ram today and is one of a handful of defensive players to make both the NFL 75th and 100th Anniversary All-Time Teams.
Jones never officially won the AP Defensive Player of the Year award (since it began during the latter part of his career). He doesn't need it as he's seen as one of the best defensive players of all time and the greatest defensive end ever.
1. Lawrence Taylor, LB
Lookup any best defensive players in the NFL history list and Taylor is near-unanimously at the #1 spot. Taylor, still until today, is regarded as the most revolutionary defensive player in football. The second overall pick forced teams to change both their offensive and defensive schemes.
Taylor won a pair of Super Bowls with the Giants and is still widely considered the greatest athlete to have played for a New York team outside the Yankees. In his career, he earned three Defensive Player of the Year awards (one as a rookie), ten All-Pro and Pro Bowl selections, and an MVP, becoming one of only two defensive players to do so. L.T. remains the "GOAT" among NFL defenders.
Defensive players continue to play pivotal roles in the NFL today so much so that you can even wager on the Defensive Player of the Year awards among other things. Find these and more NFL bets from any top online sportsbook.