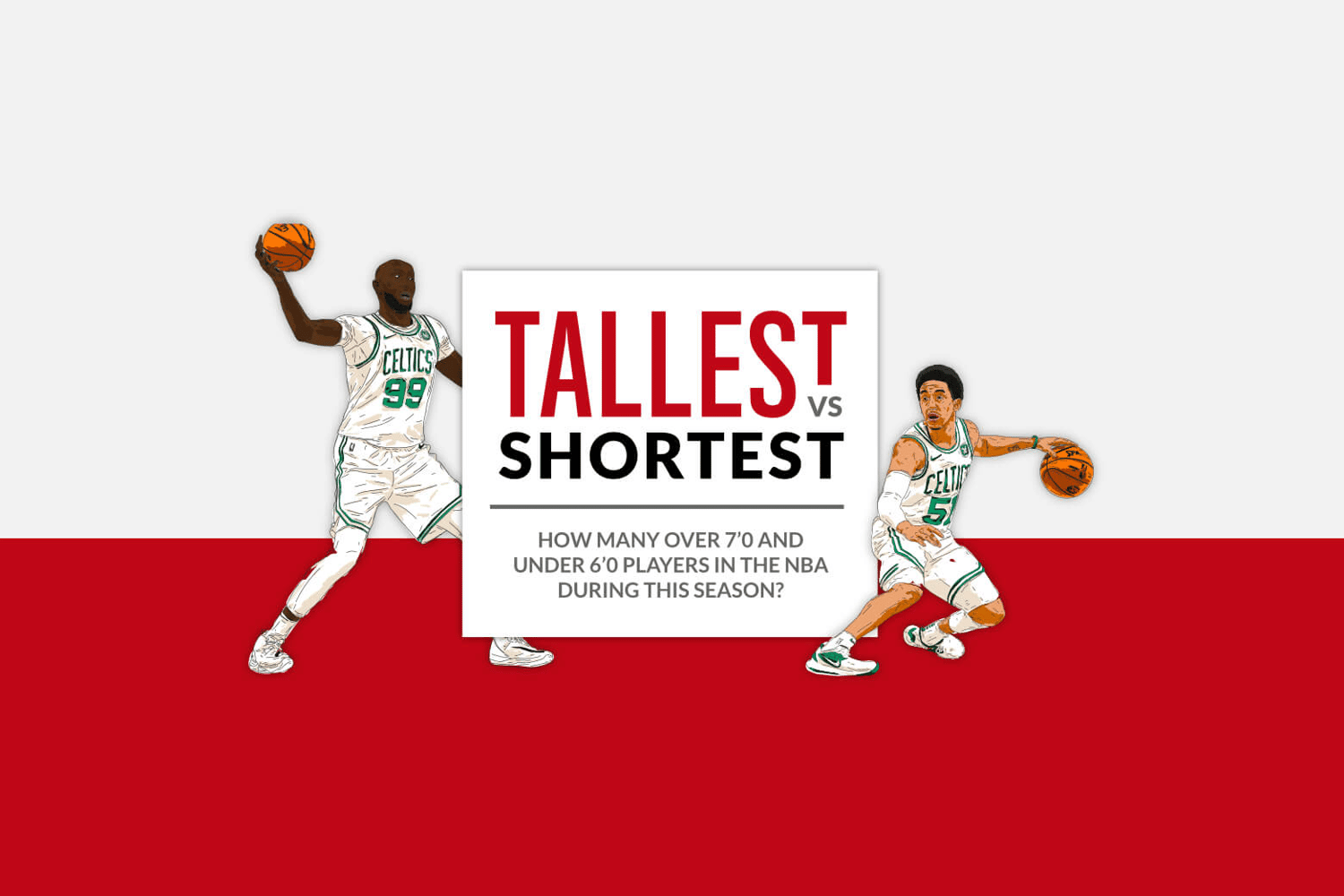 The average US Male is 5 feet 7.5 inches tall whereas the average NBA player is just short of 6' 5.
Could an average US male make it to the NBA? And what does it mean to be over seven feet tall in a league of shorter players?
Key Findings – NBA Players' Heights Season 2020 – 2021:
The average height of NBA players is 6'4.7
The shortest NBA player is 5'10; that's 2.5 inches taller than the average US male
Only nine players in the league are under 6'
Taco Fall is the tallest NBA player at 7'5
28 players in the NBA are taller than 7'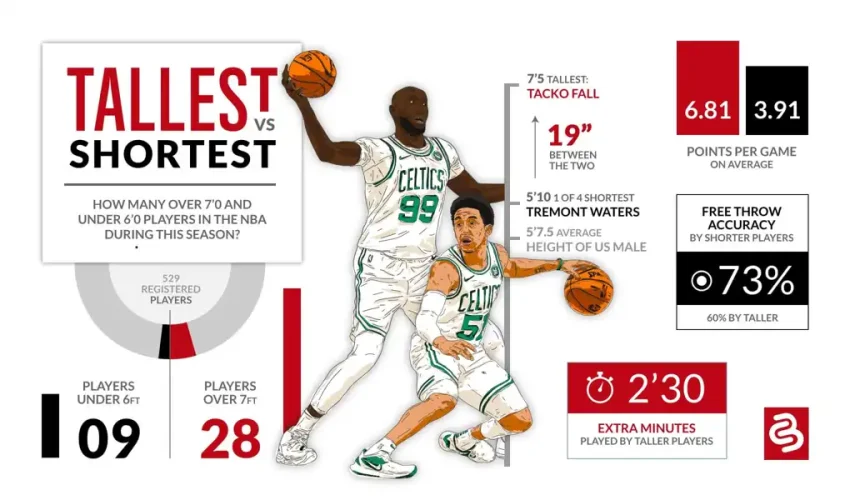 Could an average US male who is 5'7.5 make it to the NBA?
The short answer is no. I'm sorry. The shortest NBA players in the 2020 – 2021 season are Jared Harper (Knicks), Tremont Waters (Celtics), Facundo Campazzo (Nuggets) and Markus Howard (Nuggets); they are all 5'10 – two and a half inches taller than the average US male.
Campazzo has been probably the best short player this season with an average of 14 minutes after 25 games and 4.9 points, 1.9 assists and 0.8 rebounds per game.
How many % of US males above 7'0 are in the NBA in 2020 – 2021?
It's a bit hard to say how many US males are currently over seven feet tall, but according to multiple estimations, this number is in the low hundreds, possibly even in the high tens.
For the sake of an argument, let's say that there are around 100 males in the US who are taller than 7'0.
During the 2020 – 2021 NBA Season there are 24 players who are over seven feet tall, so according to our 100 figure, roughly one in four of them currently plays in the NBA.
Do the tall guys dominate the league?
They don't – absolutely not. They don't even dominate the shortest players in the NBA.
During the 2020 – 2021 season, the tall players have played on average 1.1 games more with 2.9 points more per game than the short ones. That's better, but not towering like their height.
Short players actually do much better than the tall ones when it comes to shooting accuracy. From the free-throw line, the short ones sink 73% of shots whereas the tall ones only make around 60% of their free-throws.
There's one area where the tall players are vastly superior to the short players and that's under the basket: the players who are above 7'1 have taken almost 5 times as many rebounds as the players under 6'0.
Sources
NBA.com/players
https://runrepeat.com/height-evolution-in-the-nba
https://www.cdc.gov/nchs/fastats/body-measurements.htm