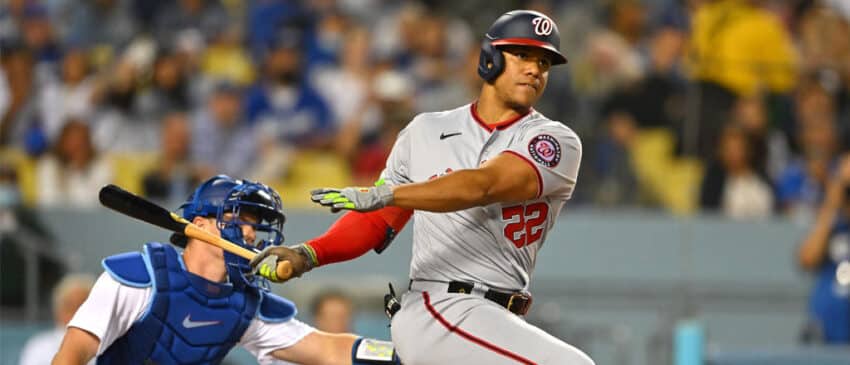 Fewer things are more exciting in the world of sport than a blockbuster. Besides the sports action itself, a massive trade titillates the collective sports world and holds our attention like nothing else can.
The 2022 MLB trade deadline is destined to be remembered for a singularly jaw dropping move. 
It was no secret to those in the know that Juan Soto, young superstar of the Washington Nationals, wanted out. He turned down a massive 14 year, 440 million dollar contract extension with the Nats which would have been the largest contract in MLB history.
There's really no coming back from that and thus the table was set for what would become one of the most intriguing and rare bidding wars ever seen.
National Sadness
Before we dig into the nitty gritty, let's look back at the unfortunate recent history of the Washington Nationals.
World Series champs in the long long ago year of 2019, the Nats boasted a truly unstoppable lineup of front line stars. Despite having lost franchise cornerstone Bryce Harper to free agency just a year prior, Washington assembled a killer lineup that would go on to be crowned champions. Hall of Fame calibre players Trea Turner, Juan Soto, Anthony Rendon and Max Sherzer would prove integral to winning the ultimate prize, but ultimately, they would all depart shortly thereafter.
The Juan Soto trade looks like the end of a long line of exits for Washington. Their fans experienced the greatest joy in sports followed by a parade of pain. The cherry of sadness on top? The pandemic prevented the team and their fans from properly celebrating the championship in 2020. Ouch.
(Author's Note: I grew up a massive Expos fan. Do I experience a little schadenfreude from all this? Maybe.)
Soto-Like
Back to the task at hand. Washington was left with no choice but to find a suitable trade partner for Soto and considering how contentious it was becoming between player and team, the 2022 Trade deadline presented the out for both sides.
Enter every major league team with World Series ambitions in 2022 and beyond.
A player like Soto hitting the market at 23 is exceedingly rare. For context, imagine the Leafs trading Auston Matthews at the same age, one year before his 60 goal, 106 point, Hart trophy winning campaign.
Imagine the Bengals trading Joe Burrow, one year before leading the team to not only their first playoff victory in 31 years but an unlikely Superbowl birth.
In a broader baseball context, imagine any one of Ronald Acuna Jr, Vladdy Guerrero Jr., Fernando Tatis Jr., Wander Franco or Bo Bichette being traded before their true primes. It's very hard to picture.
Franchises covet their young stars and Washington attempted to make Soto one of the highest paid athletes of all time, but it wasn't enough.
The Nationals and their GM; Mike Rizzo, were faced with the unenviable task of finding a satisfactory return for a superstar. Veering head first into a scorched earth rebuild, a king's ransom of prospects was the assumed cost for Soto.
Every team in the league has a pool of prospects and from that pool a limited number of standouts. The San Diego Padres emerged from the bidding period with the best prospects on offer. Truly in win now mode, the Padres dipped into their considerable roster of up and coming youngsters to make this dream move a reality.
The Youths March on Washington
Left handed pitcher MacKenzie Gore is the most established of the players headed to Washington. The 3rd overall pick from 2017 is a big, strong lefty who projects to be a rotational workhorse. With a slightly above average fastball, Gore aims to throw hitters off with his mix of Curveball, Slider and Changeup with plus Whiff rates. Something resembling peak Charlie Morton is Gore's high end.
Outfielders Robert Hassell III, James Wood and Shortstop CJ Abrams are the position players going to the Nats. Hassell III, the 8th overall pick from 2020, is a power hitting lefty bat. Regarded as the best pure hitter from his draft class, Hassell III was the Padres number 1 ranked prospect outside of the majors.
James Wood, a second rounder from 2021, is an athletic speedster who at 6'7", 240lbs offers a tantalising mix of strength and speed similar to Pirates youngster Oneil Cruz. Prior to the trade he was the Padres' 3rd ranked prospect outside the bigs.
CJ Abrams, another Lefty batter, had already cracked the San Diego lineup prior to being traded. The Padres top prospect from 2021, the 6th overall pick from 2019, Abrams mixes high end contact skills with tremendous speed. Able to positively impact teams both offensively and defensively, in Abrams the Nationals may have found the heir apparent to Trea Turner.
Finally, Right handed pitching prospect Jarlin Susana rounds out the package for Soto. At only 18 years old, Susana marks the biggest swing for Rizzo and the Nationals. Standing at an imposing 6'6" and throwing a plus fastball that is capable of hitting triple digits, Jarlin may end up being the crown jewel of this haul in a few years time. For the Nationals at least.
For now the jewel is truly Juan Soto himself. An otherworldly talent at such a young age. Only 4 months older than MacKenzie Gore, who is still considered a work in progress, Soto is an established superstar with nothing but runway in front of him.
San Diego is now primed to compete for many years to come, boasting as talented a roster of position players as you can imagine, with a killer rotation to boot.
It remains to be seen how many of the prospects given up pan out, and what is the true cost of this trade. As it stands now, more than a few pundits and fans feel that the Padres have pulled off a steal. As it's difficult to imagine any amount of prospects equaling what Soto brings to a franchise.
The Multiverse of Blue Jays
To the Canadian baseball fans hoping that Soto had landed north of the border, I will attempt to contextualise the price as best I can.
For starters, the Jays' prospect with the most blistering upward momentum, Ricky Tiedemann, would have almost assuredly been included. For the sake of this exercise, let's consider him our equivalent for MacKenzie Gore.
From there we'd have to include Gabriel Moreno, Orelvis Martinez and Otto Lopez to equal the position players paid for Soto. On paper it seems fine, sure, but in actual prospect value it simply does not equal what Washington received in the trio of Robert Hassell III, James Wood and CJ Abrams. Gabriel Moreno is a high end prospect that would excite any GM there is no doubt, but Martinez and Lopez, while good prospects to have in any system, do not close the gap.
Without that high end talent outside of the bigs, we are forced to look at Toronto's current roster and that is where, I believe, GM Ross Atkins recused himself from any attempt at acquiring Soto.
Hypothetically we are talking about something akin to Bo Bichette or Alejandro Kirk going the other way. Since fellow catcher Moreno would undoubtedly be a chip, we are ultimately talking about Bichette.
Would a package of Bo Bichette, Ricky Tiedemann, Gabriel Moreno and Orelviz Martinez have been enough? Would Jays fans feel good about this trade or would losing a player as iconic as Bichette be too much to bear.
Those questions will never be answered, but it's certainly fun to imagine.
At the end of all this the true winner today is Juan Soto. At 23 he's already tasted winning at the highest level, been showered in awards and accolades and stands to become one of the highest, if not the highest paid player in major league history, all while living in California. Not a bad day for Juan.
Blockbusters such as this one don't happen very often but when they do the sports world comes together to marvel at something so rare. To ponder the ramifications. To dream that one day it'll be their team at the receiving end of true superstardom.
If you're a Padres fan, this was your day. If not, there's always next time.