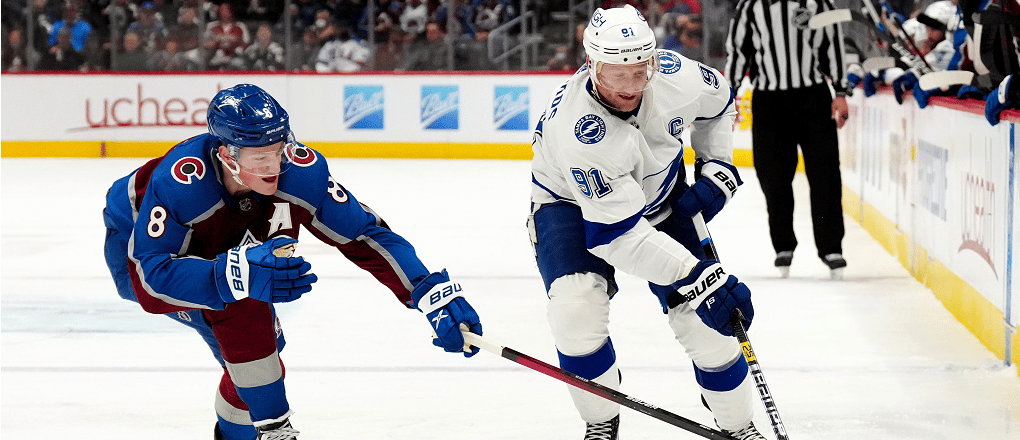 It's always special when you can get a Stanley Cup Final where you can argue that the two best teams, or at least two teams in the conversation, made it through to the end. The argument can certainly be made for that here – maybe you quibble if it's exactly #1 vs #2, but at the end of the day, it's the team with the best record in the NHL over the past three years, taking on a team that is now four wins away from winning the most desired prize in all three of those seasons. This isn't David vs. Goliath – this is proven Goliath vs. Unproven, but still assumed Goliath. Of course, we at CSB are here to break down the championship series for you, so let's get after it!
Series Updates
This section will be updated as the series progresses. Check back regularly to keep tabs on the trends!
Game 1, 4-3 Colorado: Depending on who you ask, this game delivered on the promises and expectations. If you're a general hockey fan, you loved it. If you're an Avalanche fan or member, you really loved it. If your allegiance is with Tampa, well, you probably felt your team could do better.
Truthfully, all of that is on point. It was a fun affair, but it really didn't feel like we had seen the most from the Bolts. That was most evident very early in the game, when Colorado stormed to a multi-goal lead in the opening minutes. Andrei Vasilevskiy let a routine shot from Mikko Rantanen trickle through his pads and onto Gabriel Landeskog's stick at the eight minute mark, and Valeri Nichushkin capped off a strong Colorado forecheck with another typically-routine shot on Vasilevskiy. Nick Paul closed the gap a few minutes later with his fourth of the playoffs, though a pair of penalties in the span of just 27 seconds put Tampa on a 5-on-3 penalty kill that Artturi Lehkonen quickly took advantage of.
The Lightning made a push in the second period, tying the game with two goals in under a minute, via the red-hot Ondrej Palat and defenceman Mikhail Sergachev. This concluded the scoring in regulation, though the Avs continued to put on the pressure. So much so that in the closing minutes, Patrick Maroon chipped a puck over the glass and gave Colorado a key powerplay to start the third and begin overtime. They weren't able to convert on it, but shortly after, Andre Burakovsky concluded a counter-attack started by JT Compher, continued by Nichushkin, and put on the former OHL star's tape to send home with a one-timer.
BetMGM has the Avalanche at 1.63 decimal odds to win Game 2, with the Lightning at 2.35. For the whole series, Colorado is now up to 1.35, with the Lightning down to 3.25, and the best odds lie with Avs in 5 (4.00), followed by Avs in 6, 7, and 4 (4.50 to 6.00).
Game 2, 7-0 Colorado: This was a shell-shocking like no one could – even the most optimistic Avalanche fan – could have possibly predicted. The Avs handed the back-to-back defending champs from Tampa one of the single biggest blowouts in Stanley Cup Final history, where the Lightning skaters looked lost and Andrei Vasilevskiy conceded what tied for the most goals allowed in a game in his career.
The onslaught started just 2:54 into the first period, though one could argue it started at 1:01 when Ryan McDonaugh took the roughing penalty which gave Colorado their first powerplay. Valeri Nichushkin took advantage of that man advantage by tapping home a pass from Andre Burakovsky in the slot, and before the period closed, Josh Manson and Burakovsky both put home their respective third goals of the playoffs. In the second, Nichushkin once again got the Avalanche going with his eighth goal of the post season, and Darren Helm, looking to win Stanley Cups on both sides of the famous Colorado/Detroit rivalry, contributed his second of the postseason. Shockingly, Vasilevskiy stayed in goal for Tampa through all of this, and through what was still to come.
The Lightning were afforded an opportunity to gain back some semblance of momentum in the third period when Mikko Rantanen took a tripping penalty against Steven Stamkos, but the powerplay went the other way – Cale Makar continued his dominance and stretched the lead to 6-0. He'd add another on a Colorado powerplay at the midway point of the period, adding a PAT to the Avalanche's proverbial touchdown.
Needless to say, the markets have shifted heavily into Colorado's favour for the full series. The Avs sit at 1.16 decimal odds on BetMGM to Tampa's 5.50. At this point, you'd get less back betting on a Colorado sweep (3.50) than you would on either Tampa outcome (Bolts in 7 at 9.00, Bolts in 6 at 15.00). With that said, Tampa are slight favourites for the game tonight (1.87 to Colorado's 1.95), and if that holds, it would be of little shock to see pendulum on the full series swing back a little.
Game 3, 6-2 Tampa Bay: Well, I said it would be of little shock to see the pendulum swing back the other way, and it swung hard on Monday night. The Bolts are back in business, delivering a statement game at home that they absolutely needed to stay alive. At first, Colorado's success seemed to be a foregone conclusion – even after their first goal of the game was disallowed by a close offside at the blue line, the Avs still ended up first on the board thanks to Gabriel Landeskog's drive to the net after a Mikko Rantanen shot.
The Bolts didn't let it get to them, though. Anthony Cirelli tied the game up with his own net-front drive just five minutes later, and Ondrej Palat followed it up before the period closed. Tampa's control continued into the second, exploiting just about any shift where they weren't matched up against Cale Makar or Devon Toews and tilting the ice in his direction. Nick Paul stretched the lead to 3-1 after appearing to get injured, and while Landeskog did put up a second tally to pull Colorado close again, the Lightning poured it on from there – Steven Stamkos, Pat Maroon, and Corey Perry all scored in the span of seven minutes.
Some cause for concern for Tampa came late in the third period, when Devon Toews responded to a series of Nikita Kucherov hits with one of his own, injuring the latter. Jon Cooper says that Kucherov will likely be ready for Game 4, but to what extent he'll be able to contribute if it's bad is up in the air. Kucherov has played fantastic hockey despite already looking like he's playing below 100%, but another ding could be serious – Brayden Point's ineffectiveness to the point of benching on Monday was a great example of what playing injured can looks like against a high-end skating team, no matter how good you are.
Heading over to look at the lines, the odds for the full series are still sitting pretty strong in Colorado's favour – not a shock given that BetMGM had Tampa baked in as Game 3 favourites. The Avs sit at 1.33 decimal odds to take the series, not far from where they were before puck drop – though the Lightning have climbed up to 3.40. With that said, those odds are still longer than the ones given in favour of Colorado winning both of the next two games, which sit at 3.20.
Game 4, 3-2 Colorado (OT) – Welcome to the land of chaos, as the Avalanche creep to within one game of the promised land, but not without controversy. Hot off the heels of their response win in Game 3, the Lightning jumped ahead just 36 seconds into the first period. Immediately gaining the zone off the opening faceoff, Tampa Bay flooded the net with attempts, including one that took Colorado netminder Darcy Kuemper's helmet off, but the play was deemed continuous as Anthony Cirelli gave his team the lead. It was a lead that was maintained throughout the first period, but a redirection on an Avs powerplay equalized things in the second, courtesy of Nathan MacKinnon. Victor Hedman responded five minutes later with a backhand goal, but momentum was creeping back towards Colorado's favour – the team outshot Tampa 17-9 in the second period.
Early in the third period, Nico Sturm scored what would be the first 5-on-5 goal against the Lightning in Tampa since Round 1, and that tally would eventually send the game to overtime. It was all Colorado for 12 minutes, leading up to the game deciding goal, which ended up weird in a couple ways. Nazem Kadri, who was making his Finals debut after suffering an injury in the semis, split through a 1-on-3 and beat Andrei Vasilevskiy with a wrist shot that tucked itself into the bar of the net. Few in the building noticed that it had gone in until seconds after – not even the Avs celebrated at first – but it was eventually ruled a goal. Tampa Bay coach Jon Cooper was distraught in post-game scrums, saying that they should "still be playing right now", and a review of the tape shows six Colorado attackers on the ice when Kadri gets the puck – including the player he subbed on for. The league put out a statement that effectively amounted to "we didn't really see it that way", the arguments flowed across the hockey world, and now the cup will be in the building when Game 5 gets played in Colorado on Friday.
So what do the odds look like now? According to bet MGM, Colorado has Tampa right where they want them. The money line puts them at 1.57 decimal odds to Tampa's 2.45 for Friday night's game, and for the overall series, it sits at Colorado's 1.07 to Tampa's 9.00. Confidence is pretty high in the next game being the final one in this series, as is the confidence in Cale Makar walking away with the Conn Smythe trophy – he sits at 1.18 with no one else's returns being lower than 6.50.
Still to come:
Game 5: Lightning @ Avalanche, June 24, 8:00 PM EST
Game 6: Avalanche @ Lightning, June 26, 8:00 PM EST*
Game 7: Lightning @ Avalanche, June 28, 8:00 PM EST*
* If necessary
The Matchup
We've had some time to get familiar with the Lightning here on CSB over the course of these playoffs, since they started their run against a Canadian team in the Toronto Maple Leafs. After breaking the hearts of a chunk of Canada and making the years of another chunk, the Lightning said that Toronto gave them their biggest fight in the last two and a half years, and sure enough, the rest of the playoffs has implied that to be true. Tampa made shockingly quick work of the 1st overall Panthers, sweeping them in the second round, and after a tough start against the Rangers, quickly found their groove and wore out their Broadway foes in six games, with not even the heroics of Igor Shesterkin able to slow them down at that point.
Over in Denver, this year feels a lot like the start of the Tampa "dynasty" (some people wouldn't call it that – I would). It's the unproven team that's had flashes but couldn't get over the hump, now sprinting towards the hump looking more capable than ever of making that great leap. Ten years after drafting Nathan MacKinnon and really kicking off this era, the Avs have cleared the second round hurdle via a sweep of the Nashville Predators and a well-fought battle against the St. Louis Blues, and like Tampa and Florida, shocked us all by sweeping a weaker, but still very capable Edmonton Oilers roster. They're the most rested team in these playoffs now, having gone 12-2 up to this point – three fewer games to get here than the Lightning.
These two teams haven't faced each other very much this year, which is normal for teams who make it to the final. Colorado won both games, taking the first one 4-3 in a shootout on October 23rd and the second 3-2 in regulation on February 10th. Does that mean something? It's tough to say. Tampa lost both their games to Dallas in 2020, and handily beat them in the Final. St. Louis split their 2019 season series with Boston with their win counting in a shootout, and still won when it mattered. Washington lost both their games against Vegas in 2018, Pittsburgh split with Nashville in 2017 but lost on goal difference. In fact, the last time a team won the Stanley Cup after outright beating their Finals opponent in the regular season series was in 2010/11, when Boston won their lone regular season game against Vancouver.
The Star Power
We've already talked about each of these players over the course of the playoffs in Tampa's previews against Toronto and New York, and Colorado's against Edmonton – so we won't go into extreme depths here. But let's check in on the big guns all the same.
Cale Makar, COL – The generational defenceman was his sublime self against the Oilers, truly the track meet competitor to Connor McDavid and more than willing to lean into the role. Makar averaged 28:03 of Ice Time in their games against the Oilers and in the sweep, picked up a whopping nine points in four games – including a 1 goal, 4 assist effort in the deciding Game 4. He might be the favourite to win the Conn Smythe Trophy right now.
Nikita Kucherov, TBL – Little by little, Tampa's top forward is heating up. After a disappointing Game 1 against the Rangers where he went pointless and was a -2 in on-ice goals, "Kuch" put up points in every game in the rest of the Eastern Conference Final, including three in the turnaround-starting Game 3. It seems likely that he's dealing with some form of injury, at times falling a step behind the flow of play, but a broken Kucherov is still better than most forwards in the league, and a legitimate point per game threat at that.
Nathan MacKinnon, COL – MacKinnon might not be producing at the same rate as Makar, but he still continues to get things done. The Halifax-area native scored in three of the four games in the Western Conference Final, improving his playoff clip to 18 points in 14 games. Sure, he's probably not going to win the playoff scoring race, but he's still producing at enough of a clip to make him a threat to Tampa's streak.
Steven Stamkos, TBL – If 2020 was this Moral Support year, and 2021 was the proof he could lead his team back to the promised land, this run has been the exclamation point for the Tampa captain. Stamkos' nine goals in these playoffs already represent his best total in a single run, and he sits only three points back of his best in that regard. One thing that's been nice to see is that he's healthy enough to do it in a true top-six rule, having played just three minutes in the entire 2020 run and having averaged just 15:52 of ice time in his full run in 2021. This year, his 18:38 average is the most he's had on a deep run since 2011.
Mikko Rantanen, COL – Rantanen, who found himself falling off of some top winger lists heading into this year, may be clawing his way back in now. Despite only having one goal in the first two rounds and ten games, the 25-year-old buried one in every game against Edmonton. Whether you he can keep burying one of every four against Andrei Vasilievskiy is a different story,
Victor Hedman, TBL – While I feel that Makar has taken the crown as the best defenceman in the league, the one player who has the best canse to say "not so fast" is on the other side of the ice. Hedman has been a force for the Bolts, and one that's all but certain to head to the Hall of Fame when all is said and done. He's also been the team's most important skater in these playoffs, a result that resembles his Conn Smythe win in 2020. Hedman has more miles on him in the past few years, but is likely less short-term gassed than Makar is, playing six fewer minutes per game in Tampa's victories against the Rangers.
Gabriel Landeskog, COL – Landeskog's responsibilities might be more "heart and soul" on a roster like this, but he hasn't lacked production, continuing to sit at over a point per game in these playoffs. Against Edmonton, he picked up points in three of the four contests, for six (2G 4A) in the series. He also threw ten hits – I wouldn't be surprised if he ramps that up against a very physical Lightning team.
Andrei Vasilevskiy, TBL – What do you say about this guy that hasn't already been said? Elite goalies feel fewer and fewer in this league, so a three-year run like this is going to be remembered with so much reverence when looking back at the era. His sub-0.900 series against Toronto feels like an aberration now, having put up a 0.919 save percentage in the conference final, which turns into a 0.955 when looking at the last four games. In his last ten appearances (which include the two stinkers to start the NYR series) Vasilevskiy is 8-2-0 with a 0.948 save percentage. That's beyond stupid, and cracking him is going to be, by far, the biggest key to this series for Colorado.
Nazem Kadri, COL and Brayden Point, TBL – Each team is missing one of their most versatile secondary stars – Point has been absent for Tampa since Game 7 against Toronto, while Kadri was lost midway through the last round after suffering a thumb injury following a dirty hit from Evander Kane. The good news for fans? Both have been moved closer to day-to-day status, meaning that while neither is likely to draw in for Game 1, we could see both dress by the end of the Final, especially if it's a close one once we get to the midway point.
Why the Colorado Avalanche could win
The Avs, to put it lightly, have been a force all year. Really, they've been a force over the past several years. As mentioned earlier, they've got the best record in the league since the start of 2019/20, going 137-52-19 for a 0.704 points percentage, combined with a goal differential of +187 in that time. Their underlying numbers also match this over that time span – their 55.3% score-adjusted Corsi ranks second over the three-year window to Carolina, and their 54.9% expected goal share ranks second to Boston. Over the long haul, the team can clearly dominate play.
Short term has been a bigger concern for them, with early playoff exits being the norm. But this year has been different, and while I mentioned the similarities to the Lightning's own rise, they might be looking for something more like the Washington Capitals – failure to get out of Round 2, followed by a beeline straight to the promised land. They certainly have the firepower to do it, and that's without us mentioning great contributors like Devon Toews, Andrei Burakovsky, Valeri Nichushkin, and others.
Where Colorado could separate themselves from Tampa stylistically is tempo. They're one of the league's most skilled and most mobile teams, something that Edmonton learned quickly when they saw that their high-flying group didn't have the same speed separation they usually do once they faced the Avalanche. The Lightning can make quick plays, but don't have the same raw speed. Not to mention, as persevering as they are, this is their third deep playoff run in as many years. That sort of territory was more common decades ago, but the game has only gotten more intense, as have the schedules. Colorado's short work in this playoff run and generally not having the same miles on their players could work out to their advantage in a big way.
Why the Tampa Bay Lightning could win
*looks at last 11 playoff series* Do I really need to answer this one?
Okay, I still have to answer this one, but that doesn't change the point made. All this team has done since getting embarrassed in the first round of the 2019 Playoffs is win, and typically, win handily. Just twice has the team ever really looked in danger of losing late in a series – the 2021 Eastern Conference Final against the Islanders, and the previously-mentioned 2022 first round against Toronto.
Granted, with all due respect to prior opponents, particularly the latter Maple Leafs, the Avalanche are likely the best team that Tampa has faced in this stretch. A huge benefit the Lightning have here is that they can match Colorado's heavyweights pound-for-pound in a way that the Avs haven't seen yet. You've got MacKinnon vs. Stamkos, Makar vs. Hedman, Rantanen vs. Kucherov, Kadri vs. Point (when both heal up). The Avs have a little more in the high-end skater department (Landeskog, Toews), but the Lightning have a lot more in the depth department.
The biggest difference, though, remains in goal. Darcy Kuemper missed some time in the conference final to an upper-body injury, but is reportedly ready to go for the final. Some might say that's a good thing to have over the even less proven Pavel Francouz, though it's worth noting that the latter netminder has a save percentage of nine points higher (0.907) than Kuemper (0.897) does in these playoffs. Either way, though, we're talking about a platoon that's averaged about a 0.900 in these playoffs, going up against Andrei Vasilevskiy, who is having yet another all-time great run for his team. Goaltenders can change the course of a playoff series more than any player on the ice, and Vasilevskiy has by far the most pedigree in this series.
Colorado Avalanche vs. Tampa Bay Lightning Betting Lines
We're going to stick with a sportsbook that has treated us well over the course of these playoffs – BetMGM. Obviously, they're not the only ones offering lines on the Stanley Cup Final – you can check out our Best Canadian Sportsbooks portal for other options, but they've served us well in our preview coverage. So let's see what they have to say!
So lets head to BetMGM, who run by default on decimal odds. They're kicking things off with a lean towards the Avalanche, setting them at 1.53 to the Lightning's 2.55. To them, the most likely series result is the Avs winning in 6 games (4.75), with 5 and 7 sitting just behind at 5.00. Their least likely outcome is Tampa winning in a sweep (21.00). The prop selection at BetMGM is always good, but for this series it's nothing short of remarkable – you'll find dozens to hundreds of different bets you can make between the actual series and individual games.
Colorado Avalanche vs. Tampa Bay Lightning Prediction
Everyone is waiting for the downfall of the Lightning – in some regards as a matter of common sense, in some as a matter of projection, and in some as a matter of spite. Certainly, if there's any team skilled, strong, deep, and fast enough to take this dynasty down, it's the Avalanche.
It's just.. I don't know about this series. There is so much high-leverage talent on both sides, and deeply combative narratives. You've got one near-perfect team who have evolved into the elder statesmen and final boss of the league, and one near-perfect team who have finally broken through their postseason hurdles to buzzsaw their way to the final. One knows what it takes to win, one has significantly less mileage on their bodies. Even the goofball narratives come to a clash – either Corey Perry will win a Stanley Cup after losing in the final in back to back seasons, or Patrick Maroon will have to take a year off after winning in the last three.
I think Colorado has the better team, the fresher legs, and the best skater on either team (Makar) and when you combine that with home ice, that could be a huge help for them. On the other hand, Vasilevskiy remains the biggest x-factor in the hockey world come spring and if the Avalanche either struggle to break through him, or their own goalies don't step up, the difference in skater skill won't be enough.
I picked the Avalanche to win the cup at the start of these playoffs, but I'm going to flip and say that Tampa has the slight edge here, with a likely victory in six games. Experience matters, Point seems closer to injury recovery than Kadri, and the goaltending chasm right now is significant.
With that said, you could make a case for literally any outcome here, either team, seven or sweep. The gift of such loaded rosters is that the alignment or non-alignment of stars can create such huge swings, to the point where it's truly difficult to foresee the future. One guarantee though – it's going to be must-see TV.