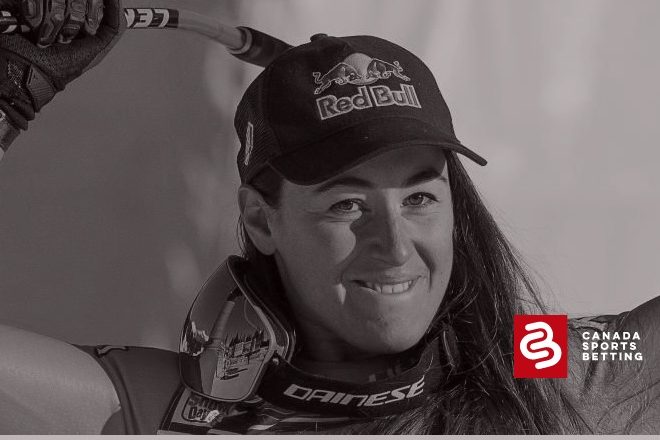 Sofia Goggia is a slight favourite at this weekend's first event at St. Moritz. Will anyone else be able to catch her on this wildly exciting Swiss course?
Our winter sports picks spotlight takes a look at the lovely mountain known as St. Moritz in Switzerland. At nearly 1,900 meters in elevation, the course features quite a few technical turns and has a little bit of everything which can frustrate any skier. The Super-G takes center stage on Saturday and is packed with contenders.
The big question here at Canada Sports Betting is one can wake up before sunrise and bet on this? That answer is undeniable yes! One can bet on individual events and of course the whole entire overall for the World Cup.
Women's Winter Sports Picks — St. Moritz Super-G By The Numbers
Keep in mind, this is the first of two Super-G events this weekend. There is one on Sunday at St. Moritz as well. The Winter Sports definitely start to heat up about now as the men have a double event this weekend too. Always watch for the Olympic year as news for sports betting becomes more prevalent. Having the right information is important with these individualized events.
The best sportsbooks online in Canada have some interesting odds, like from Bet99, for this event. Here is our table below.
Winter Sports Picks Super-G 12/11
Sofia Goggia
Lara Gut-Bahrami
Mikaela Schiffrin
Corinne Suter
Federica Brignone
Ester Ledecka
Marta Bassino
Tamara Tippler
These numbers were taken as of December 10th.
Winter Sports Picks: Sofia Goggia Is A Favourite Carrying Momentum
As the season moves over to Europe From North America, it became clear that Sofia Goggia was rapidly gaining momentum. The Italian skier mastered the Lake Louise course in Alberta last week. It was a clinic as she managed to pull off a rare triple. That's right. Goggia went 3 for 3 in Canada to make herself a favourite heading into Saturday's first event.
She nosed out Lara Gut-Behrami by 0.11 seconds while Mikaela Shiffrin still looks somewhat tentative as she slowly rounds herself into form. That may take a few more weeks even. In the meantime, Goggia is racking up wins and points. Remember, this blend of more speed and technical into the overall mix favours skiers like Gut-Behrami and Goggia. It makes for some fun races.
If St. Moritz is anything like Lake Louise was last weekend, we are in for some treat. For early December events, skiers usually are not in peak form. The top two skiers have set themselves apart here. No one was too sure how Goggia would do this season but so far, she is third overall on the strength of last weekend.
While the giant slalom and slalom are not strengths, the turns and twists in this Swiss course are more to her liking. This sets up more like a downhill in many spots. Currently, the weather is not supposed to be a major factor with maybe several centimetres of snow and temperatures of -7 to -9 degrees Celsius around race time.
These are conditions Goggia typically thrives in. Winds will not be immensely strong but a slight north wind could push across the course. Expect the unexpected but the favourite here could do quite well. Her number here is about as long as it will get. If anything between now and the weekend, it may shorten a bit.
Lara Gut-Behrami Primed To Steal A Win At St. Moritz
Considering how close Lara Gut-Behrami came last weekend at Lake Louise, most thought she honestly had won. Skiing at this level literally can come down to one loose turn and that is basically what happened to the Swiss skier. This weekend, she is in her home country at St. Moritz with a ton of expectations on her shoulders. With Mikaela Shiffrin sputtering a bit, the overall may be Gut-Behrami's to win.
With the return to more blended events, this also benefits Gut-Behrami. Again, intimate knowledge of the course plays a huge role too. The only concern is that pressure. She has a tendency to go all out at home and has had a DNF or two because of it. Sometimes going for broke isn't always the best policy.
It is partially why the Swiss skier is not the favourite at St. Moritz. Most probably were expecting that to be the case. She is primed to win at St. Moritz. The question comes down to can she?
The feeling here is that Gut-Behrami may just win the Sunday event as opposed to the Saturday.
There are some intriguing new and free sports picks to take a look at too.
Can A Longer Shot Crash The Party At St. Moritz This Weekend?
That is a great question. St. Moritz is a tough course that favours the skier than can perfectly balance going for it all while maintaining great speed going into the technical sections. Mikaela Schiffrin cannot be counted out completely but the Austrians have a bit of intrigue here. Tamara Tippler could be poised for a podium finish in one of the two races this weekend. She knows the course well and was close last week to win.
It is ironic considering that going into the World Cup season that Sofia Goggia, for example, was considered a long shot. In just a few weeks, she has become one of the favourites along with Gut-Behrami.
Both races expect to be very good this weekend but it is that first one that has our eye. Take Gut-Behrami as she figures out her countryside course. Always keep an eye on the sportsbooks and hope for longer odds. Good luck.
Click here for more Winter Sports odds.