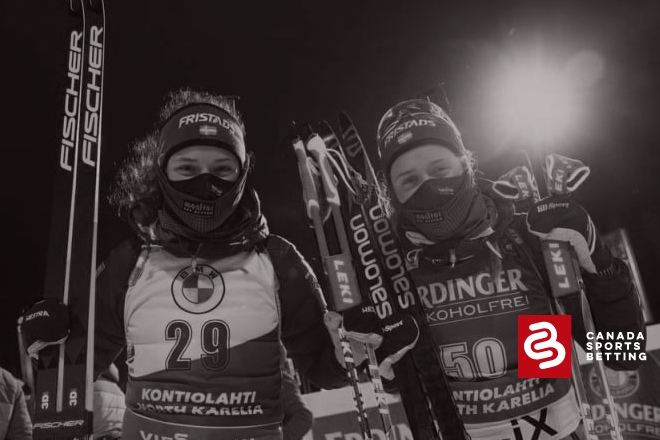 This weekend Winter Sports spotlights takes a look at the Women's 7.5km Sprint from Le Grand Bornand. The Oeberg Sisters remain the favourites this weekend.
One of the most demanding sports is cross country skiing. Now imagine sprinting for 7.5 kilometres straight with the addition of shooting once standing and once lying. This weekend, the best sprinters head to Le Grand Bornand. We take a look at it here from Canada Sports Betting. Winter Sports picks are going to be quite the spectacle for this one.
Le Grand Bornand can be quite the animal. This biathlon event can be a beast with crosswinds galore and those dreaded penalties of course. Naturally, the Oeberg sisters, for their speed and accuracy, are the favourites. Let's look at some more numbers, shall we?
Women's 7.5 km Sprint Biathlon — Le Grand Bornand Numbers
Again, this sprint biathlon for the women will have some major bite. The course this weekend expects to feature some adverse weather. This will not be from snow or even cold. There lies a slight chance of avalanches into the weekend. It will be something to keep an eye out for. It may even delay some events. This World Cup event is the creme de la creme.
This event will be a major tuneup for what is coming up at the Winter Olympics. These Winter Sports Betting Odds will be a bit different than most events. Biathlon is harder to gauge than most sports. That being said, here are the numbers below as of December 14th, 2021.
Winter Sports Picks Women's 7.5 km Sprint
Elvira Oeberg
Hanna Oeberg
Marte Olsbu Roeiseland
Hanna Sola
Justine Braisaz-Bouchet
Tiril Eckhoff
Dzinara Alimbekava
Anais Chevalier
Denise Herrmann
Also, for icy sports of the indoor variety, there are always the best NHL betting sites in Canada to make wagers on ice hockey as well.
Winter Sports Picks – Oeberg Sisters Favoured At Biathlon Sprint
Again, this was not unexpected for the winter sports picks. The Oeberg Sisters are quite the spectacle as Hanna finished fourth in the Biathlon World Cup last year and Elvira in 12th. Now, the older sister, Hanna, has slightly better shooting skills and Elvira can carry more speed. This is part of why Elvira is a very marginal favourite in the early going.
Elvira faltered badly shooting-wise in the early going and will have to shoot much better this week. It can be argued that Hanna will have to as well. She made a couple of unforced errors last week. There was not as much wind as there could be at Le Grand Bornand at times this weekend. Right now, that wind is expected to be calmer. However, the weather there can change in the blink of an eye.
The Hochfilzen was a different type of race but did reveal some chinks in the sisters' armour. It will not be easy to go away from the sisters but our focus would be more on Hanna for her ability to shoot under normal conditions. She is our pick of the two Oebergs.
Sprint Biathlon Speed For Justine Braisaz-Bouchet
The Winter Sports CSB pick for the Sprint Biathlon this weekend may just be for Justine Braisaz-Bouchet. Again, the fastest spring skiier in the world at this discipline may just be Braisaz-Bouchet when she is on her game. Even last week, she finished second to Hanna Sola despite missing two targets and even stumbling out of the penalty ring. For those that do not know, the 150-meter ski of shame averages about 30 seconds for each shot missed.
Speed-wise, only the Oebergs can typically match the overall speed of Braisaz-Bouchet. Also, it does not hurt the fact that a home country race could stoke the flames a bit. If the French woman shoots clean or misses one target, the feeling is that she can very well win.
This will be the second race in a row where snow will not be a factor. It also will not be super cold, just cold enough. For those wondering. 0-3 degrees C for highs over the weekend is not horrible for this region of France in December. That is another reason why Braisaz-Bouchet could thrive this weekend as well.
Our pick again has many risks but we will take a wager at least on Justine Braisaz-Bouchet to win at 11.00 odds this weekend at the Sprint Biathlon.
Are There Any Other Skiiers To Watch Out For?
This winter sports event will be less of a crapshoot than usual. The Sprint Biathlon in pretty ideal weather conditions will lend to mostly predictable rules dependent on shooting accuracy. Now, Olsbu Roeiseland of Norway comes to mind. Her skiing may not be the fastest but she can shoot with the best in the world. A few more penalties would give her a better chance at victory.
Hanna Sola, the winner last week, has to be looked at again as well. The Belarusian may not have the best speed around the technical parts of this course. Even with a clean shoot, that may not be enough. Again, speed is going to be more key this week than last week. No sudden wind appears likely either. That should help the ones not quite as skilled in the shooting discipline.
Again, pick Justine Braisaz-Bouchet and her speed to win. Her countryside course is one that she has skied for many many years.
Finally, always take a look at excellent sports betting news to keep you informed in the wagering world. Good luck!