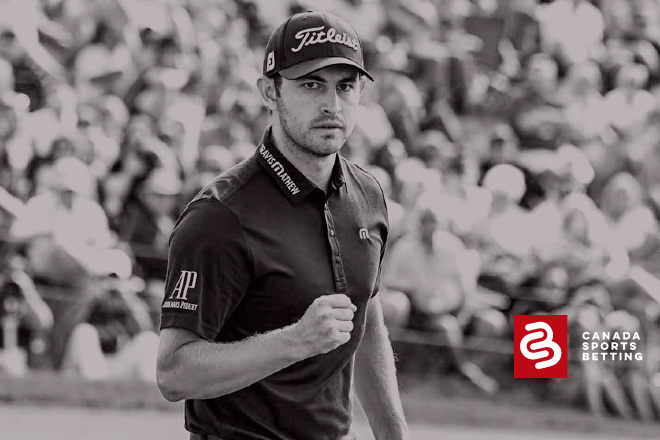 Could 2022 finally be the year Patrick Cantlay breaks his duck and wins his first golf major? Let's have a look at these props betting picks.
Cantlay is a six-time winner on the PGA Tour and has just had the best year of his career to date.
He is yet to win a major tournament. So could 2022 be the year Cantlay finally makes the breakthrough?
Check out our Sports Interaction Review for the latest betting offers that can be used for golf!
Cantlay came of age in 2021
In 2021 Cantlay won the PGA Tour Player of the Year (not to be mixed up with the PGA Player of the Year award, won by Jon Rahm).
Cantlay also won the FedEx Cup last year and finished the season ranked number 4 in the world. His highest ever world ranking.
He played his first-ever Ryder Cup as a Rookie. Qualifying automatically, Cantlay was one of the USA's best performers, picking up 3.5 points from his four matches played.
Only Dustin Johnson (5 points from five matches) did better.
So, going into 2022, Cantlay's game looks in the right place to make that next step up and finally win a golf major.
Let's take a look at his chances.
US Masters April 7th-10th
Cantlay won't have to wait long for the first major of the year with the Masters event taking place in early April.
Last season at Augusta, Cantlay missed the cut after never recovering from a first-round score of 79.
Things did improve in the 2nd round when he shot a respectable 73, but the damage was already done.
Cantlay was in good company, as Dustin Johnson, Brooks Koepka, and Rory McIlroy failed to make it to the weekend as well.
In Cantley's defence, he had a quiet start to the season and gradually built throughout the year.
He does have Masters's pedigree though. In 2020, he finished T17 on -7. While in 2019, he had his best finish of T7 with a score of -10.
Taking last year's performance out of the equation, Cantlay hasn't the worst record at Augusta. 
Our Best Canadian Sportsbooks Review page has even more top bookmakers you can use to bet on golf with!
USPGA May 19th-22nd
This year's USPGA is being held at Southern Hills Country Club in Oklahoma.
Slightly longer odds on him to win this event than the Masters. This must be down to the oddsmakers suspecting that Augusta suits his game better than Southern Hills.
Cantley's best finish in a Major was in this competition when back in 2019 he finished tied in third place. He was 6 shots behind the winner, Brooks Koepka.
He was never really in with a chance of winning that weekend. Koepka held an 11 shot lead over him after 2 rounds.
I suspect this is the major that has the least amount of pressure involved in playing.
For any player on the back 9 looking to win their first major, the pressure will be immense.
Playing at Augusta, or the US Open, the pressure ratchets up a notch.
Even playing at the Open Championship, I would expect him to feel the heat. After all, it's probably the major he least expects to win.
At odds of 26.0, the USPGA might just be the best value bet of the four.
US Open June 16th-19th
This is the big one for any American to win.
Last year Cantlay finished tied in 21st place at Torrey Pines. This was his best-ever finish in his home open. 
In total, Cantlay has played this tournament six times.
He has never missed the cut and has finished inside the top 25 on three of his performances.
Open Championship (British Open) July 14th-17th
Similar to the US Open, this is one of the four majors I least expect him to win.
That said, he did finish tied in 12th place back in 2018, his best-ever finish in this event.
Cantlay has played in this competition three times. As well as his 12th place, he finished tied in 41st place in 2019 and didn't make the cut in 2021.
There was no Open Championship in 2020, due to the Covid-19 Pandemic.
This year's open is being played on the old course at the iconic St Andrews.
Now, this would be a fairy tale to win your first ever major championship at the home of golf.
A win here on the world-famous links course would seal a remarkable rise to the top of golf for the popular American. 
At the start of the major tournaments, keep your eye on the top sportsbooks, as some offer incentives like extra each-way places before the start of the competition.
Our dedicated page to Golf odds and betting tips has more top-quality advice on the game.
Here you will find all the latest odds, free picks, and learn more about betting on the game.
See below the top sportsbooks where you can wager online and choose the best one for you: