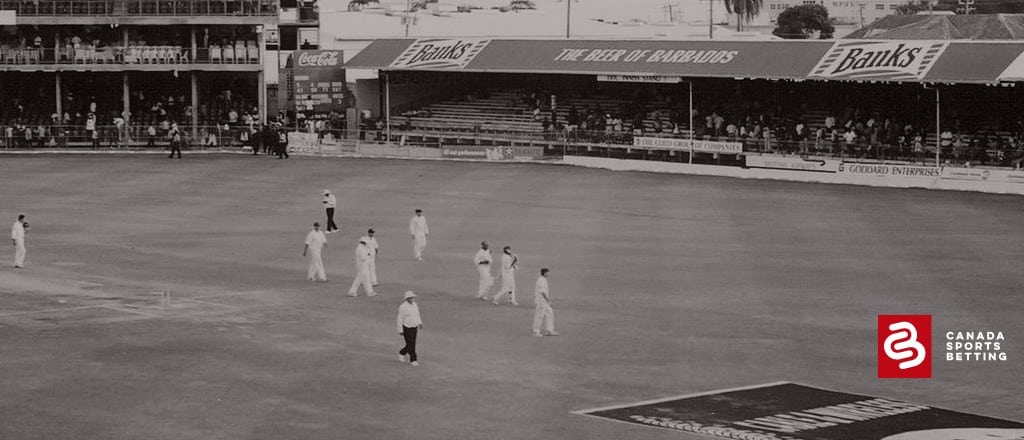 The second installment of the West Indies test series against England starts on Wednesday, and here are our cricket betting picks for the West Indies v England 2nd Test match.
The 1st Test between West Indies and England ended in a stalemate. So with two matches left to go, the 2nd Test match now takes on major significance, as the losers won't be able to win the series.
England finished the 1st Test stronger. They set the West Indies an unlikely 286 to win on the 5th day, and at one stage had the Windies rattled on 67/4.
In the end, West Indies managed to nullify England's attack and managed to bat out the final day for a draw, finishing on 147/4.
So with the series well set, will England take the momentum into the second match? Or will the West Indies take heart from the fact England's attack struggled to get the 20 wickets needed to win a Test match?
>How To Bet On Cricket
The most popular bet on cricket is the match-winner market. In Test cricket there are three options in this market, home win, draw or away win. This is opposed to the two options (Team A win/Team B win) you get in T20 or One Day International (ODI) cricket.
For those not in the know, a Test match lasts for 5 days. If at the end of the fifth day the match hasn't reached a positive result, it is declared a draw.
If you're new to betting on cricket, or unsure and don't wish to risk your own money, don't worry! Simply visit our sportsbooks reviews page, where you will find all the latest and best sports betting bonuses. These are ideal to use if you don't wish to risk your own cash.
West Indies v England; 2nd Test Betting
After finishing slightly on top at North Sound, England go into the 2nd Test match as the favourites in the latest betting odds.
What; West Indies v England 2nd Test (best of three series)
Where; Kensington Oval, Bridgetown, Barbados, West Indies
When; Wednesday, March 16th, 2022 – Sunday, March 20th, 2022
Time; 10am ET
Joe Root's England are 1.95 to win the match. The West Indies is 3.00, and the Draw is 4.50.
When you consider how blunt both team's bowling lineups were at North Sound, the Draw at 4.50 immediately jumps out as possible good value. But when you look at the venue, the Kensington Oval in Bridgetown, you will see that there have been positive results in the last seven Test matches here.
You need to go back to the 2011 Test between West Indies and India to find the last draw at this venue.
Admittedly, there hasn't been a Test match on this ground since 2019, so there is no recent evidence to judge how the wicket will play. But going with the statistics we do have, the wicket looks like it will be far more competitive than the one used in the 1st Test.
Just for the record, the match in 2019 I referred to was actually between West Indies and England. West Indies won that match by a mammoth 381 runs!!
England was bowled out for just 77 in their 1st innings. To put that 'effort' into perspective, Jason Holder scored a double hundred when West Indies batted afterward.
West Indies v England Betting Picks
Here on CanadaSportsBetting, it is our aim to bring you the best free sports picks, and cricket is no exception.
I'm looking at the win/draw/win market for our betting pick here, and it's a tough match to call.
As I alluded to earlier, the English finished the 1st Test on the front foot and come into this match with some momentum. They look set to be without their main bowling asset Mark Wood, who injured his elbow and couldn't bowl in the 2nd innings of the previous match.
This is a huge blow to England, whose attack did look toothless at times. In his place will probably come Ollie Robinson. Robinson is a good replacement, but not a bowler who is likely to strike fear into opponents, in the way Wood does.
So with this enforced change, does England really represent value at 1.95? I'm not sure they do.
As for the West Indies, they've named the same squad for the 2nd Test, and look set to continue with the same team and tactics.
I do find that a bit of a concern because apart from when they had England at 48/4 on the first morning of Day 1, the West Indies didn't ever look like winning the Test. These same players also couldn't capitalize on having England on the ropes, and let a winning position slip away.
More because of the West Indies' lack of killer instinct, I'm going to go for England to win the 2nd Test. As I mentioned before, England isn't great value at 1.95. But ultimately I have to go for who I think will win.
So, using a betting bonus or small stakes, I make England my betting pick to win the 2nd Test match.