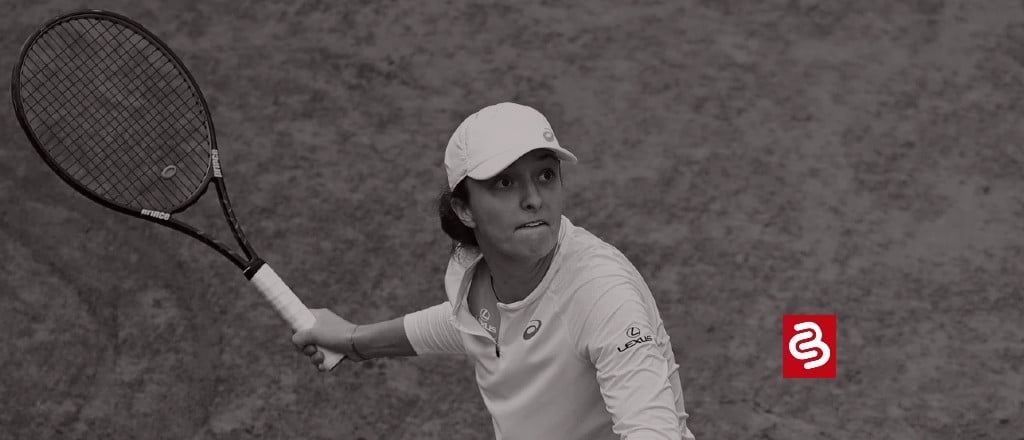 The player count at the Grand Slam began at 128 players but has already been cut down as qualifiers raged for his week. But let's be real, only a handful of players are true threats to win the French Open. You know it, we know it, and the best Canadian sportsbooks do too.
2022 French Open Betting Advice
There's a multitude of ways to make (and save) money betting on the 2022 French Open. Seriously, from now and until June 5, there will be a wide array of odds for the women's French Open — moneylines, props, futures, and so forth. That's why we wanted to give you overarching advice that you can use on a day-to-day basis. Here are three pieces of advice to remember:
Bet Iga Swiatek All The Way
There's a reason why Iga Swiatek is almost even-money to win the French Open singles titles. Over the past three months, the soon-to-be 21-year-old has been in a class completely of her own.
Let's count up the achievements, shall we? Swiatek has won five WTA 1000 titles in a row, the most recent one being just a few short days ago at the Italian Open. This is all part of a 28-game win streak for the Polish player. But get this, Swiatek isn't merely winning; she's blowing past her opponents in the process. In her past 43 sets played, she's won 42. Yes, 42 of 43 (almost 98 percent)! This incredible run that began in March has propelled her to the world's No. 1-ranked player.
The women's side of the sport has completely flipped amid this hot streak. First, Ash Barty shockingly retired, and now, Swiatek is shaping up to be the new face of the sport in her void. Huge performance in Rolland-Garros would cement her as such — and heck, that's exactly what we're betting happens.
Swiatek is our futures bet to win the whole event. Let's not forget what she did at this tourney two short years ago. Swiatek won the 2020 contest out of nowhere (she was ranked No. 54 at the time). It remains her lone Grand Slam win, but with what we've seen from her as of late, there's zero question Swiatek is miles better now than she was then.
Ons Jabeur Will Go Deep Into Tourney
Jabeur has been the best women's player not named Swiatek recently. When Swiatek skipped out on the Madrid Open a few weeks ago, Jabeur claimed her first-ever WTA 1000 title (becoming the first Arab or African player to do so; she's from Tunisia). She followed that with a second-place finish at the Italian Open, losing to Swiatek, of course. But regardless, this recent streak or play makes Jabeur a perfect under-the-radar play at Roland-Garros.
Now, we're not saying she'll win the tourney outright, but you should familiarize yourself with Jabeur. She'll make you plenty of money earlier in the tournament on individual matches, especially if she's an underdog, which she may end up being in the quarter-finals or so. We're riding Jabeur's momentum throughout this tournament, and you should too!
Fade Naomi Osaka At French Open
Osaka returns to Rolland-Garros — the same place that caused her career to tailspin only a year ago. First, she skipped out on mandatory media interviews here, next, she dropped out of the 2021 event altogether due to "mental health", and now, well, she's winless since and down to No. 38 in the world rankings. But despite that, she's still getting respectable +1600 odds to win the Grand Slam, and we'd guess she'll be a favourite in her early matches.
Many casual bettors will continue to bet on Osaka because of the name recognition, but that only creates a perfect opportunity to fade her. We'd be shocked if Osaka can make it to the quarter-finals. Who remembers when Osaka lost her focus at the first Grand Slam, the Australian Open, because of a heckler in the crowd? Are we sure that won't happen again at Rolland-Garros? We just can't trust Osaka in that scenario if so.
How To Bet On The 2022 French Open?
While there are many places to bet on the 2022 French Open online, there are few better than the betting sites listed in the underneath table. That's because any one of the bookmakers featured will be a one-stop shop for getting up-to-date French Open odds. Every single match — whether it's men's, women's, singles, or doubles — will have bettor-friendly lines available to bet at these Canadian bookies.
Obviously, that's a lot of available bets from now and until June 5 when the men's singles final concludes. That's why we'll tell you right now: make sure you're managing your bankroll correctly. You don't want to burn your betting funds right now as the tourney is barely getting underway. No, you'll want to have spare funds toward the end as the championship is being decided too.
View All Sports Betting Sites