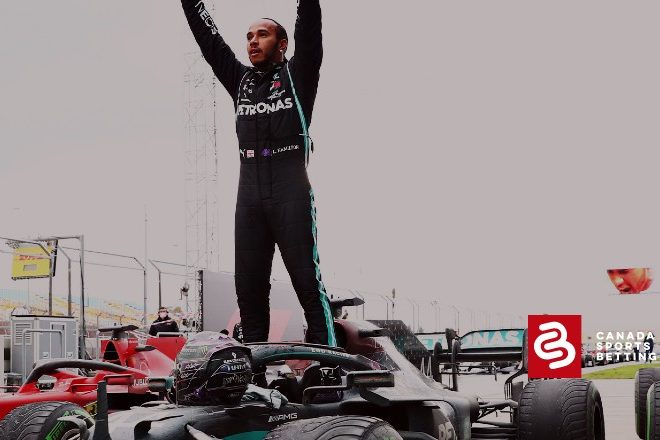 Seven more races. Seven more chances for Max Verstappen or Lewis Hamilton to run away with the F1 world title. Seven more betting opportunities for you. Knowing all this, you're going to want to read our pick to win F1 2021 Turkish Grand Prix — a completely free one at that!
Days away from the race in Istanbul, Verstappen is a clear favourite across the top Canadian betting sites. Here's how the odds to win currently stand:
Turkey Grand Prix Preview
Last year was the return of this race in the F1 season and it proved to be a memorable history-maker. Chaos was the common theme as rain poured down on the track. In the end, Hamilton rallied from behind to win.
With the victory, he claimed his record-tying seventh world championship then and there. This time around, there will be no title clincher for Hamilton, who leads Verstappen by all of two points in the standings (246.5-244.5). Heck, his quest for title No. 8 might hit a snag in Istanbul.
You see, Hamilton might take a grid penalty at the upcoming event. Mercedes has said it's a "possibility" — nothing more, nothing less. The penalty is due to Hamilton now being on his fourth engine this season (the max is three before penalties are handed out). Our money says Mercedes does in fact accept the starting place drop this Sunday. With the season winding down, they need to get this penalty out of the way sooner rather than later.
If you recall, Verstappen accepted the same penalty last time out at the Russian Grand Prix. He started dead last yet willed himself to second in rainy conditions of their own. Now that the tables have turned, it's no wonder why Verstappen is the big favourite here.
Betting Pick To Win — Verstappen
We'll go ahead and say it: we're betting BIG on Verstappen. And we believe you should do the same. The door is wide open for him to win — more open than at any other point in the season.
So long as Hamilton takes the penalty, Verstappen will have no other serious threat on the track — as has been the case year-round. Only two drivers outside of Hamilton-Verstappen have won a race this year (and in one of those events, the "big two" crashed into each other and had DNF's).
Momentum is sky-high after Verstappen rallied from P20 to P2 last time out. That new engine is firing on all cylinders and we expect that to continue in Turkey as Verstappen retakes the lead in the leaderboard. 
Prop Bet — Sergio Perez Podium Position
Here's an underrated play that has betting value — Verstappen's Red Bull teammate, Perez, to finish top-three on Sunday. Once again here, Hamilton's possible penalty creates an opening for Perez to place in the podium.
We're also backing Perez in this prop because we haven't forgotten about his performance on this same track a year ago. In rain-soaked conditions, Perez placed runner-up in the field back in 2020. And believe it or not, rain is once again forecasted come Sunday.
Admittedly, our wager on Perez isn't in the realm of Verstappen to win. But at these underpriced odds, we believe it's worth a few Canadian dollars.
How To Watch The 2021 Turkish Grand Prix?
F1 almost feels like "must watch" television at this point. The sport is enjoying a surge in popularity thanks to its Netflix original show and the Max-Lewis feud. For those that want to watch the action live, here are the starting times for the weekend ahead, which will be aired on TSN:
Friday, October 8 — practice at 8:15 am EST
Saturday, October 9 — qualifying at 8:55 am EST
Sunday, October 10 — race day at 8:05 am EST
After Turkey, F1 actually heads to the Americas for three more events. First up is the American Grand Prix, followed by Mexico and Brazil. These race start times will be much more friendly on Canadian viewers due to the time-zone switch, thankfully.
How To Bet F1 Rest of This Season?
F1 promises to be thrilling from here until the world title is decided. To get in on the thrill yourself, you'll want to have wagers locked and ready for the tensing competitions. We've compiled a list of the best F1 betting sites to help you in that regard.
Feast your eyes on the table below. Like F1 drivers you're wagering on, the sites we've listed are the "cream of the crop." Not only for dishing out odds on F1 but big-money bonuses as well.
Each of these sites has special promotions available to bettors right now. These promos come with free play, which can reach as much as $2500 in some cases. The table underneath has full details on what deals are worth what. You can leverage these bonuses before Sunday for "house money" that can be spent right back on the Turkish GP. It's a killer deal so don't leave it on the table.