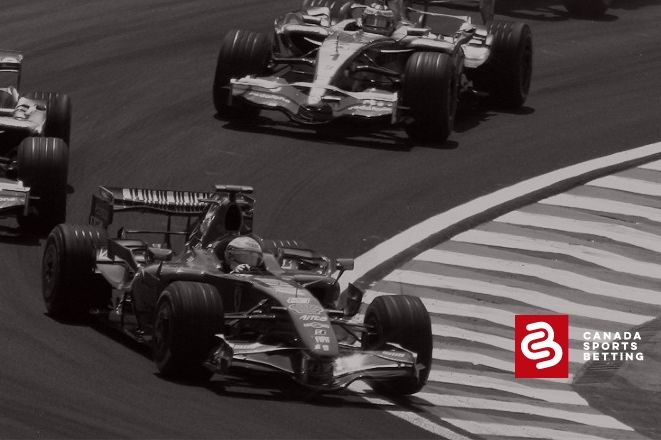 Get ready for the 2021 Brazilian Grand Prix – which returns after a hiatus in 2020 – with our betting predictions.
After a cancellation in 2020 – the best F1 drivers in the world return to Brazil for the 2021 Brazilian Grand Prix. Max Verstappen looks to repeat as the winner and grow his lead in the F1 Standings against two-time winner Lewis Hamilton. Find the best wagers to make on the race with our 2021 Brazilian Grand Prix betting preview.
Max Verstappen Favoured Over Lewis Hamilton in San Paulo
More drivers are available to bet at Sports Interaction
The best F1 sportsbook odds have Max Verstappen as the favourite over Lewis Hamilton at the 2021 Brazilian Grand Prix – the fourth final race of the 2021 F1 Season.
Verstappen is the reigning champion in Brazil – winning by 6.077 seconds over Pierre Gasly – and 11.139 seconds ahead of Lewis Hamilton who finished seventh (Hamilton originally finished third but a 5-second time penalty dropped him to seventh).
Hamilton has never been at his sharpest at the Brazilian Grand Prix. He only has two wins in his career at San Paulo – grabbing first in 2016 and 2018 – and two more podiums since debuting at the track in 2007.
One reason why other drivers have managed to beat Hamilton – including Verstappen in 2019 – is the altitude of the track. While not nearly as high as the Mexico City Grand Prix – the Brazilian Grand Prix is the second-highest race on the F1 calendar.
As we said in our 2021 Mexico City Grand Prix predictions – the higher altitude races benefit Red Bull and their cars. It gives Verstappen the advantage over Hamilton. Hamilton also needs this race – as he sits 29 points behind Verstappen. It will force him to do too much in Brazil – and cost him in the end.
Best Underdog Value: Take a Flyer on Daniel Ricciardo
At the 2018 Brazilian Grand Prix – one of the best drivers was Daniel Ricciardo. Despite starting 11th on the grid, Ricciardo finished fourth overall – only 5.192 seconds behind the winner.
While Ricciardo was racing for Red Bull in 2018 – we have seen his new team (McClaren) have some solid showings at the Brazilian Grand Prix. In 2019, Carlos Saniz Jr. – when driving for McClaren-Renault – finished in third – despite a 20th spot on the grid to start the race.
Ricciardo is also one of six drivers this season with a win this year. He took advantage when Hamilton and Verstappen crashed. If they crash again – which could be possible as Hamilton needs to beat Verstappen to have a shot of winning the 2021 Drivers World Championship – Ricciardo could pull off an upset victory.
Fastest Lap Prediction: Bottas Aims for the Achievement for the Third Time in Four Races
Fastest Lap 2021 Brazilian Grand Prix
Max Verstappen
Lewis Hamilton
Sergio Perez
Valterri Bottas
Charles Leclerc
Carlos Sainz
Lando Norris
Pierre Gasly
Daniel Ricciardo
More drivers are available to bet at Sports Interaction
Valterri Bottas – the owner of the all-time fastest lap record in San Paulo – aims for his third fastest lap at the event in the last four races. Bottas – who only has one win this year – does have plenty of fastest laps in 2021. Including the 2021 Mexico City Grand Prix, Bottas has ended four races with the fastest lap.
Valterri Bottas – assuming he falls behind Lewis Hamilton and Max Verstappen – could have a chance with a more open track near to the end to push his car and challenge for the fastest lap.
Sergio Perez Another Good Bet for Fastest Lap in Brazil
If you want to go with the best constructor and get better odds than betting Max Verstappen – his teammate Sergio Perez is a great bet for the fastest lap.
Perez has one fastest lap this year – getting the points for it at the 2021 Great Britain Gran Prix. In his career in the F1, he has five fastest laps – with most coming before he was driving a top-tier car for Red Bull. He could challenge for it again, especially as Red Bull could use the points if they are to win the 2021 Constructor Championship.
Best Online Sports to Bet on Formula 1 Racing
Find the best online sportsbooks to bet on the Formula 1 Racing below. New users who sign up through the links underneath can receive an exclusive welcome bonus – perfect for betting on the 2021 Brazilian Grand Prix.