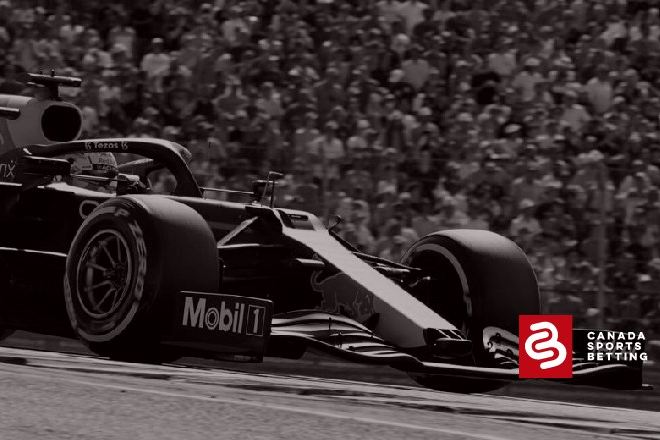 After a wild showdown in the United States, F1 drivers march south to Mexico for the fifth-to-last race of the season. Here's a completely-free F1 Mexican Grand Prix pick to win, plus a preview of the race ahead. Give this a read before putting down a dollar on the Grand Prix.
Before we dive into our Formula 1 best bet, let's first take a look at the current betting lines for the 2021 Mexican Grand Prix. Here are the drivers most favored to win the whole race:
No surprise who is atop the betting odds set by top Canadian bookmakers. It's been all domination for Verstappen and Hamilton, who have combined to win 13 of the 17 F1 races this season. With that said, let's begin our betting preview with what's at stake in Mexico.
F1 Mexican GP Betting Preview
This race goes down on November 7 in Mexico City. This event has been an annual fixture on the Formula 1 schedule since 2015, minus last year when it was canceled due to the pandemic. Perhaps not coincidentally, the recent Mexican GP events have also been dominated by Verstappen and Hamilton, as each driver has two wins apiece.
For Hamilton, those two victories are nothing out of the ordinary. You could say the same for just about every track he's competed in during the same timeframe, a run that includes four world titles. But for Max, he's shown a real competitive edge in Mexico City. Before his eight victories this season, he had tallied only 10 in his career over seven years. Therefore, those two first-place finishes in Mexico represented 20 percent of his all-time success.
Now Max returns to a familiar track in Mexico while holding a "comfortable" lead in the championship standings. He edged out Hamilton to win the United States Grand Prix by less than two seconds. Verstappen is now up to 287.5 points — 12 ahead of Verstappen with five races to go. Hamilton made a late push at the Americas to take the lead but it was too little, too late.
One more win for Verstappen here would extend his lead to a minimum of 18 points, which would certainly put Hamilton on the brink. Hamilton's margin for error is razor-thin in Mexico if he wants to claim his record-setting eighth world title. 
F1 Mexican GP Free Betting Pick
Opinions about whose car is superior — Red Bull or Mercedes — has flipped back-and-forth this season (just like Verstappen and Hamilton's place in the standings). The consensus early on was Red Bull, before shifting to Mercedes more recently, but if we're being honest, we don't even know anymore. At this point, car performance might be dead even between both teams.
However, the track at Mexico City does favour Red Bull. You see, the city is famous for its high elevation, which is about 2200 meters (or 7,350 feet). At those levels, the air thins out significantly which provides the advantage for the Honda-Red Bull engine. Its smaller turbo-charger performs well in less dense air, while also maintaining power and energy recovery. This is one of the main reasons why Verstappen has won two of the last three races here.
Our money is indeed going with Red Bull and Verstappen. The aforementioned benefits are no small thing and when things are as evenly matched as they are with Hamilton-Verstappen, any type of edge will make all the difference. Verstappen is the bet to make here and honestly, we're confident enough in him to warrant a larger bet than usual.
Heck, Verstappen's Red Bull teammate, Sergio Perez, might even be worth a small flier bet. The Red Bull advantage in Mexico City's thin air means that much. Save the big bucks for Verstappen, but a small risk on Perez could turn into a decent reward, too. 
How To Bet Formula 1 In 2021
Count 'em — one, two, three, four, five opportunities left for F1 betting in 2021. One of the most exciting seasons in recent memory is down to six weeks. Are you ready to bank off what's left? We sure are and if we were you, we'd mark the final races on your calendar right now:
November 7 — Mexican Grand Prix
November 14 — Brazilian Grand Prix
November 21 — Qatar Grand Prix
December 5 — Saudi Arabian Grand Prix
December 12 — Abu Dhabi
As for making the actual bets themselves, you can do so easily at one of the betting sites listed below. Among Canadian bookies, these sites are the "cream of the crop." You'll notice that in their motorsport betting selection, which ranges from F1 to NASCAR to MotoGP. Beyond pure selection, these bets are offered at great prices so you're always maximizing your value.
In case you need another reason to place F1 bets at these bookmakers, here's one: promotional bonuses that offer hundreds of dollars in free play. No, these aren't one of those "too good to be true" offers either. The deals are real and so is the money that comes with them. Current bonuses being offered are detailed in the table below.