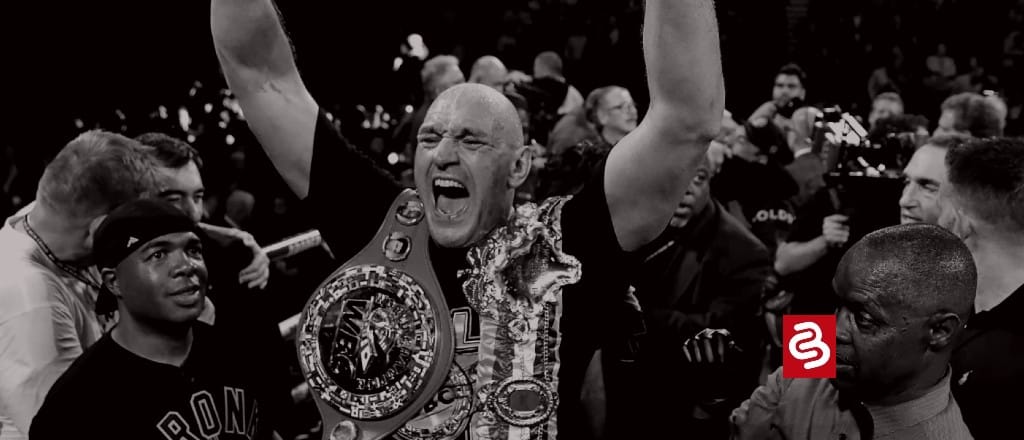 Fight: Tyson Fury vs. Dillian Whyte
On the line: Fury's WBC and The Ring heavyweight titles
Date: April 23, 2022
Venue: Wembley Stadium in London, England
Time: 11:00 a.m. ET
On April 23, Tyson Fury puts his WBC and The Ring heavyweight titles on the line against Dillian Whyte, who is the No. 4 rated heavyweight according to The Ring. The bout takes place at a world-out Wembley Stadium.
Fury kept his unbeaten record intact with an October 9, 2021, knockout win over Deontay Wilder. Fury, who is 31-0-1 in his career, was a runner-up for Fighter of the Year according to The Ring. "The bible of boxing" also named the Fury vs. Wilder fight "Fight of the Year" and selected Round 4 of that matchup as "Round of the Year." Whyte captured the interim WBC heavyweight title in March 2021 with a fourth-round TKO of Alexander Povetkin. Whyte brings a 28-2 record into the event. Povetkin knocked him out in August 2020. His other loss is a 2015 TKO setback to Anthony Joshua. The 90,000 tickets available for the fight sold out in a few hours when they went on sale on March 2.
Before we dive into the breakdown of the Fury vs. Whyte matchup, check out the best Canadian Betting Sites and take a look at the best boxing betting odds as well.
TALE OF THE TAPE: FURY vs. WHYTE
| | | |
| --- | --- | --- |
| Tyson Fury | Category | Dillian Whyte |
| 33 | Age | 33 |
| 31-0-1 | Record | 28-2 |
| 22 | Knockout Wins | 19 |
| 9 | Decision Wins | 9 |
| 0 | DQ | 0 |
| 6'9″ | Height | 6'4″ |
| 85″ | Reach | 78″ |
| Orthodox | Stance | Orthodox |
Tyson Fury vs. Dillian Whyte prediction and pick
This fight could have — and probably should have — happened a while ago. However, Fury's long rivalry with Deontay Wilder and the rematch clauses built into those contracts basically tied up Fury for the past few years.
Fury is by far the better technical boxer in this matchup. His movement and footwork are superb for a man of his size. While he usually fights with precision and skill, Fury can also deliver power. We have also learned that the incredibly versatile Fury can recover quickly when he hits the canvas. Wilder knocked him down four times during their recent outings, and Fury was able to get up and clear his head quickly in those instances. Fury can appear disinterested at times, but I don't see that as being an issue in this fight because of the champion's interest in retiring as an unbeaten heavyweight.
Whyte might not get a lot of notice in casual circles, but he is an elite fighter and although he doesn't have the name recognition of Fury, Wilder, or Joshua, he is a threat in this fight. Whyte is a powerful puncher and he might be able to put Fury on the canvas, but I'm unsure if he can keep him there. The challenger is not the technical fighter that Fury is and he might have to brawl to get close to Fury. With that, Whyte could open himself up to the better technical skills of Fury.
Pick: Fury to beat Whyte
Who has the edge?
Whyte has the edge in power, but that's about the only place where he is superior to Fury. That power is likely to be negated by Fury's physical advantages, he is taller and longer, and the champ's technical skills. Fury also has a better gas tank and the cardio aspect could come into play as Whyte will need to work very hard to overcome his disadvantages. When he begins to tire, Whyte will fall to Fury.
Prediction: Fury to win via knockout
Betting value with Fury
The value in this fight is in the outcome and length. I think Fury has the ability to finish the fight and that the finish will come after the fifth round when Whyte begins to get tired.
If you feel Fury is due for an upset, a bet on Whyte to score the knockout is not out of line. Yes, it's a risk, but the Whyte has power and Fury has hit the mat enough as of late where there is a chance for an upset.
What's on the line:
Quite simply, Whyte has the opportunity to upset one of the biggest names in the history of the heavyweight division. As for Fury, he has intimated that this could be his last fight. The champ said he has made more money than he will ever be able to spend and that he wants to "retire on top, unbeaten heavyweight champion of the world. I want to do a Netflix documentary, a Hollywood movie, and be a good husband, father and son."
Fury is going to take home a reported $29.538 million for the fight while Whyte will earn $7.3845 million.
See below the top sportsbooks where you can wager online and choose the best one for you: