Let's have a look at the Olympic Cycling betting picks.
Cycling Betting Predictions
From the first time, women's cycling was included as part of the Olympic movement at the 1996 Atlanta Summer Games, Canadian women have owned the podium. Canada has won nine medals in women's cycling, missing a podium finish in just two of the past seven Summer Olympic Games. Kelsey Mitchell, in the women's sprint event, is given the best chance of adding to Canada's Olympic cycling medal haul in Tokyo.
Canada's Kelsey Mitchell is given odds of 13.00 to win the gold medal in the Olympic women's sprint cycling event
Canadians have won nine medals over the years in Olympic women's cycling
The final of the Olympic women's sprint cycling event is slated for Sunday, August 8
From the first moment, Canada's Kelsey Mitchell sat in the saddle of her racing bicycle, it all came to her naturally, like . . . well . . . riding a bike. Proving that it isn't necessary for children to be funnelled into a single sport at a young age in order to gain elite status, Mitchell didn't begin riding in competitive cycling until the age of 23.
After graduating from university in 2016, in August 2017 Mitchell attended an RBC Training Ground event where she exceeded the national standard for track cycling on the watt bike. She soon took part in further testing and that fall was officially recruited by Cycling Canada.
Four years later, Mitchell is in Tokyo, competing in her first Summer Olympic Games. She might be a newbie to the Olympic experience but oddsmakers like what they've seen on the track from the inexperienced Canadian. Mitchell is the fifth betting choice to win the women's sprint. She's listed at 13.00 in the Olympic cycling odds.
| Cyclist (Country) | 10Bet | |
| --- | --- | --- |
| Emma Hinze (GER) | 3.00 | 3.25 |
| Wai Sze Lee (HKG) | 5.00 | 5.00 |
| Anastasila Voinova (ROC) | 5.50 | 5.50 |
| Laurine Van Riessen (NED) | 12.00 | 11.00 |
| Kelsey Mitchell (CAN) | 13.00 | 13.00 |
Qualifying and heats for the women's sprint cycling event begin on Friday, August 6. The final is slated for Sunday, August 8.
Canada's Cycling Tradition
The legendary Clara Hughes, who won six Olympic medals across the Summer and Winter Games and is the only Olympian to win multiple medals at both the Summer and Winter Olympiads, launched the tradition of excellence among Canada's women's Olympic cyclists. Hughes won bronze medals in the road race and the time trials at the 1996 Atlanta Summer Games.
After being shut out in Sydney in 2000, Lori-Ann Muenzer put Canada back on the podium in Athens in 2004. Muenzer was golden in the sprint.
Another shutout followed in Beijing in 2008. The team pursuit event put Canada back in the medals at London in 2012. Tara Whitten, Gillian Carleton and Jasmin Glaesser combined to win bronze in the event. In Rio de Janeiro in 2016, Glaesser, Allison Beveridge, Kristi Lay, Georgia Simmerling and Laura Brown combined to bring Canada a second straight bronze medal in the team pursuit.
Already in Tokyo, Canada's Lauriane Genest has won a bronze medal in the women's keirin track cycling event.
Miller's Fast Rising Star
Within two years of her first ride around a velodrome, Mitchell became a world record holder, a Pan American Games champion, and a World Cup medallist in track cycling. Less than a year after being added to the Canadian national team, Mitchell was a triple medallist at the Canadian championship. Her haul included a gold medal in the sprint.
Mitchell attended the 2019 Pan American Games in Lima, Peru, where she won sprint gold and team sprint silver. That September she won three medals at the Pan American Championships, a performance that was highlighted by her breaking the world record in the flying 200-metre sprint.
During the 2019-20 World Cup season, Mitchell won four medals, including two silver and one bronze in the sprint as well as a gold in the team sprint with Lauriane Genest. In her UCI World Championship debut, Mitchell finished an impressive fourth in the sprint against an experienced field.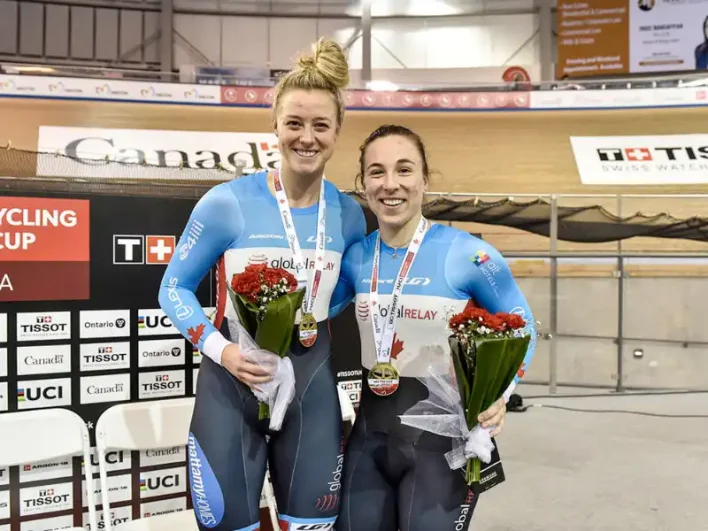 Where to Bet On The Tokyo Summer Olympic Games?
There are a number of leading online betting sites that will provide bettors with the chance to place a wager on the Tokyo Summer Olympics, whether it be a win total wager, a future book bet, a racing wager, or an event or athlete prop wager. The best bet you can make is to shop around in advance and seek out the right deal before joining one of these sportsbooks. Check out Sports Interaction and Bet99 as examples.
The signup bonus offers that are in place at all of these recommended sites will prove advantageous to the bettor. And since you'll get a good deal wherever you go, why not check out several sites and find the ideal fit for your needs?
Do you want a risk-free first bet as a signup bonus? Perhaps you find a no deposit bonus to be enticing. Or maybe you simply like the feel of cold, hard cash in your account and you want to go for a matching first deposit bonus. Whatever option you choose, you're already a winner.
Remember that new players and returning customers are eligible for better bonuses when they deposit using Bitcoin. As well, take advantage of the betting advice offered at these sites to help newcomers acclimatize to sports betting.
Promotion for Canadian Bettors
PowerPlay is giving away a $5 free sports bet + 10 free spins for every medal Canada gets in the Tokyo 2020 Summer Games. If you haven't done so, you should sign-up right now by clicking here.
See below the top sportsbooks where you can wager online and choose the right one for you: