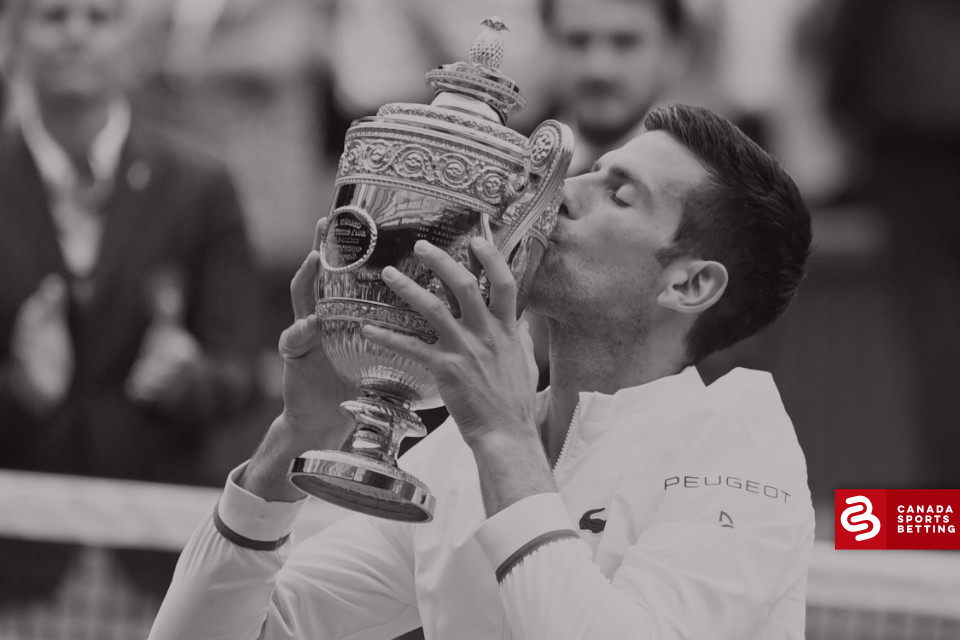 Already, Novak Djokovic has won the Australian Open, French Open and Wimbledon titles. He's proven to be the dominant Grand Slam player on a hard court (Melbourne), clay court (Roland Garros) and grass court (All England Lawn Tennis Club). The Serbian star is a victory in the U.S. Open away from completing the first men's tennis single-season Grand Slam since 1969. Can he go one step further, win the Olympics and complete the Golden Slam?
Golden Slam Betting Guide
Novak Djokovic is the 2.10 favourite to win the 2021 U.S. Open a complete a single-season tennis Grand Slam
Djokovic is also given 10.00 odds of winning the U.S. Open and Tokyo Olympic Games gold medal to complete a Golden Slam
No men's player has ever won the tennis Golden Slam
Novak Djokovic is on the verge of making significant tennis history on multiple levels. Following his 6-7(4-7), 6-4, 6-4, 6-3 over Italy's Matteo Berrettini in Sunday's Wimbledon men's singles final, Djokovic is three-for-three when it comes to winning the 2021 Grand Slam of tennis. He just needs a victory in the U.S. Open to complete the first Grand Slam in men's tennis since 1969.
Oddsmakers are betting on Djokovic completing the journey. He's the 2.10 favourite to win the U.S. Open later this summer in New York City. Djokovic already lists three U.S. Open titles on his resume. He's won the tournament in 2011, 2015 and 2018.
The world's No. 1-ranked tennis player could go even further, however, and become the first men's player to complete the Golden Slam by winning Olympic gold. He's also the 1.90 favourite to win the gold medal in the men's singles competition atthe upcoming Tokyo Summer Olympic Games. After his Wimbledon win, Djokovic was non-committal about his Olympic plans, suggesting that it was 50-50 whether he'd go to Japan for the Olympic games.
A Historic Win
Djokovic's victory over Berrettini at Wimbledon made him the first tennis player to win Grand Slam titles in the same year on three different playing surfaces since Rafael Nadal in 2010.
It was also the 20th career Grand Slam victory for Djokovic. That tied the Joker with Nadal and Roger Federer for the most Grand Slams won by a male player since the Open Era of tennis began in 1969.
Along with his three U.S. Open titles, he's won six times now at Wimbledon (2011, 2014, 2015, 2018, 2019, 2021). The French Open victory this year was the second for Djokovic. He also was victorious there in 2016. Djokovic has won the Australian Open in 2008, 2011, 2012, 2013, 2015, 2016, 2019, 2020 and 2021).
Making Amends At Flushing Meadows
Last year, Djokovic made an embarrassing exit from the U.S. Open. During his fourth-round against Paulo Carreno Busta, Djokovic was defaulted from the tournament after accidentally hitting a line official in the throat with a tennis ball.
What better way to make amends than by becoming the first men's tennis player to win the Grand Slam since Australian Rod Laver in 1969? Laver also won the Grand Slam in 1962. American Don Budge, in 1938, is the only other men's player to complete the Grand Slam in a calendar year.
This is the third time that Djokovic has won three of four Grand Slams in the same year. He won all but the French Open in 2011 and all but Wimbledon in 2016. He did hold all four Grand Slam titles simultaneously over a span covering 2015-16.
Living The Olympic Dream?
If Djokovic does opt to head to Tokyo and play under the five rings of Olympic competition, his path to a gold medal might not be a rigorous as he'd find winning a regular ATP event. Among those who've opted to pass on the Olympic tennis tournament are Nadal, Austrian Dominic Thiem, Canada's Denis Shapovalov, Australia's Nick Kyrgios and American Reilly Opelka.
Djokovic won a bronze medal at the 2008 Olympic Games in Beijing. The favourite to win five years ago in Rio, Djokovic lost in the first round to Spain's Juan Martin Del Potro.
Germany's Steffi Graf, in 1988, is the only tennis player to win a Golden Slam in a calendar year.
Where To Bet On The Olympic Tennis Tournament?
There are a number of leading online betting sites that will provide bettors with the chance to place a wager on the Olympic men's singles tennis odds. The best bet you can make is to shop around in advance and seek out the right deal before joining one of these sportsbooks. Check out ComeOn Sports and 10Bet as examples.
The signup bonus offers that are in place at all of these recommended sites will prove advantageous to the bettor. And since you'll get a good deal wherever you go, why not check out several sites and find the ideal fit for your needs?
Do you want a risk-free first bet as a signup bonus? Perhaps you find a no-deposit bonus to be enticing. Or maybe you simply like the feel of cold, hard cash in your account and you want to go for a matching first deposit bonus. Whatever option you choose, you're already a winner.
Remember that new players and returning customers are eligible for better bonuses when they deposit using Bitcoin. As well, take advantage of the betting advice offered at these sites to help newcomers acclimatize to sports betting.
See below the top sportsbooks where you can wager online and choose the right one for you: