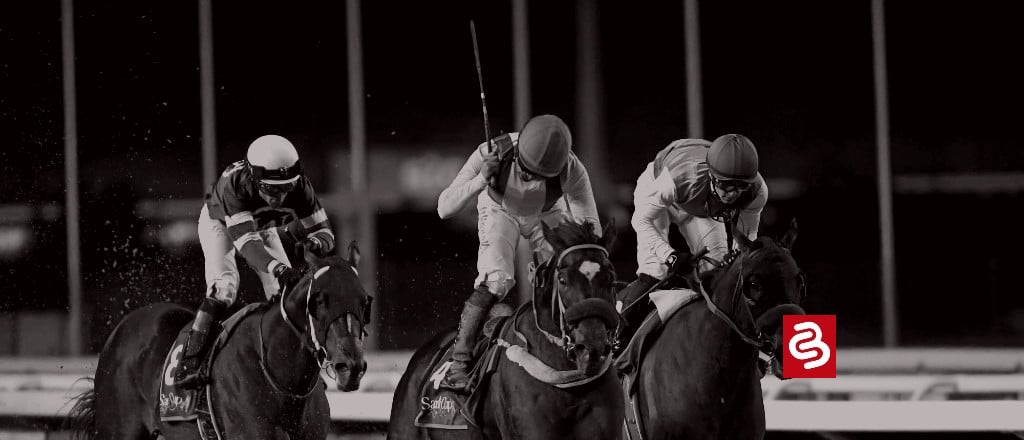 Only one time a year do Thoroughbreds run for a $20 million purse — and that day is Saturday, February 26 for the Saudi Cup (G1)! Fourteen of the best horses in the world will go 1,800 metres (about 1 ⅛ miles) over the dirt at King Abdulaziz Racetrack. Some are already proven over it; others are top-class turf horses who want to prove they are just as good on another footing.
No matter what, the race will be unforgettable.
The Saudi Cup, which was just granted international Group 1 status this year, is one of the newest races on the international calendar. It was run for the first time in 2020, when American runner Maximum Security took the crown. In 2021, top-quality turf horse Mishriff proved his versatility, overhauling the American foes with more dirt experience.
Can Mishriff repeat, or will one of his foes be able to dethrone him?  Read on to find out!
Betting the Saudi Cup Online
Though an escape to the desert may sound good in the middle of a Canadian winter, not everyone can travel to the Saudi Cup. Luckily, you can still be a part of the action! Making your account at a top Canadian sportsbook means you can bet the race from anywhere with an internet connection!
Choosing the right sportsbook is an important decision, since you need to find one with trusted deposits and cash-outs and the best odds. You have come to the right place! Our experts know the options available to Canadian bettors, and their trusted reviews help you understand which sites have the best features and bonuses for the wagers you like to make!
[table of top Canadian sportsbooks]
2022 Saudi Cup Odds And Information
Now that you have an account at the sportsbook that makes the most sense to you, it is time to start handicapping the 2022 Saudi Cup.  Read on, and get ready to pick a winner!
Saudi Cup Horses
This is the official field for the 2022 Saudi Cup in wagering number order, with trainers, jockeys, and post draws.
Aero Trem (Antonio Perera/Vagner Leal) – post 2
Art Collector (Bill Mott/Luis Saez) – post 9
Country Grammer (Bob Baffert/Flavien Prat) – post 1
Emblem Road (Mitab Almulawah/Wiggy Ramos)- post 5
Magny Cours (Andre Fabre/Mickael Barzalona) – post 7
Making Miracles (Mitab Almulawah/Alexis Moreno) – post 10
Mandaloun (Brad Cox/Florent Geroux) – post 6
Midnight Bourbon (Steve Asmussen/Joel Rosario) – post 3
Mishriff (John and Thady Gosden/David Egan) – post 14
Real World (Saeed Bin Suroor/Frankie Dettori) – post 4
Sealiway (Francis Henri Graffard/Ryan Moore) – post 11
Secret Ambition (Satish Seemar/Tadgh O'Shea) – post 12
Marche Lorraine (Yohito Yashagi/Christophe Soumillon) – post 13
T O Keynes (Daisuke Takayanagi/Kohei Matsuyama) – post 8
Great Scot (no rider assigned/Abdulrahman Al Kahtani) – also eligible
Alkhateeb (no rider assigned/M. Aldugish) – also eligible
As the race gets closer, there will be forecasts for odds in the pools at racetracks. However, betting the races there will not allow you to lock in the odds the moment you bet.  You get an advantage by betting at an online sportsbook!  They offer fixed odds, meaning that you can lock in an overlay on your chosen horse the moment you place your bet.
Free Saudi Cup Handicapping
You have your account at one of the best Canadian online betting sites, and you have taken a look at the field and the odds. There is only one thing left to do. It is time to handicap the 2021 Saudi Cup, and find out who you want to bet!
Saudi Cup Top Choices
Mandaloun will likely be favored in the Saudi Cup, and there are great reasons why. He has the tactical speed to work out a great trip, he can run a strong race practically anywhere, and the 1,800 meter distance suits him perfectly. He is also owned by Juddmonte — a Saudi Arabian interest that probably wants to see him in peak form for their biggest home race.
For those looking to play a price in the Saudi Cup, Art Collector appeals strongly. He is a perfect 5-for-5 at a mile and an eighth, making this 1,800 meter distance optimal. He has tactical speed, and a relatively outside gate from which to get a great stalking trip. His rider, Luis Saez has also already won the Saudi Cup, so he has proven he can ride the track.
Mishriff, last year's champion, could also make good on his return effort. Mostly a turf horse, he proved in last year's Saudi Cup that he can be smart on dirt as well. Though he has not raced since October, it is the exact same layoff off of which he won the Saudi Cup last year. And, he has the versatility to work out a nice trip no matter how the early stages unfold.
Saudi Cup Exotic Chances
Though Midnight Bourbon may take some serious money on the win end, it is smarter to relegate him to underneath slots. Though he will probably set the early pace, he tends to be passed by a horse or two even when he gets a cozy front end trip. he is a consistent placegetter at distances like this, and would be no surprise for another piece of the underneath action.
In addition, two longshots merit consideration for the exotics.
Emblem Road brings up reminders of Great Scot last year: a Saudi local who can spoil the exotics at a massive price. Emblem Road isn't great out of the gate, but he reliably closes for a piece late. He has won three straight, including two at King Abdulaziz. And, with strong American dirt pedigree for middle to Classic distances, he should stretch out to 1,800 meters perfectly.
T O Keynes is the better of the two Japanese entrants, last year's Japanese dirt champion and a resounding winner over a field that included Marche Lorraine last year. Japanese globetrotters are having their moment over the last few months, and T O Keynes is a consistent runner with a rock-solid record over a mile and an eighth, including his Champions Cup (G1) win.
Saudi Cup Expert Picks
Now that you know where and how to bet online in Canada, here are the best bets for the 2022 Saudi Cup:
$20 to win – #7 Mandaloun
$10 each way – #2 Art Collector
$1 exacta key – #7 Mandaloun with #2 Art Collector, #8 Midnight Bourbon, #9 Mishriff
$0.50 trifecta key – #7 Mandaloun with #2 Art Collector, #4 Emblem Road, #8 Midnight Bourbon, #9 Mishriff
$0.20 superfecta key – #7 Mandaloun with #2 Art Collector, #4 Emblem Road, #8 Midnight Bourbon, #9 Mishriff, #13 T O Keynes