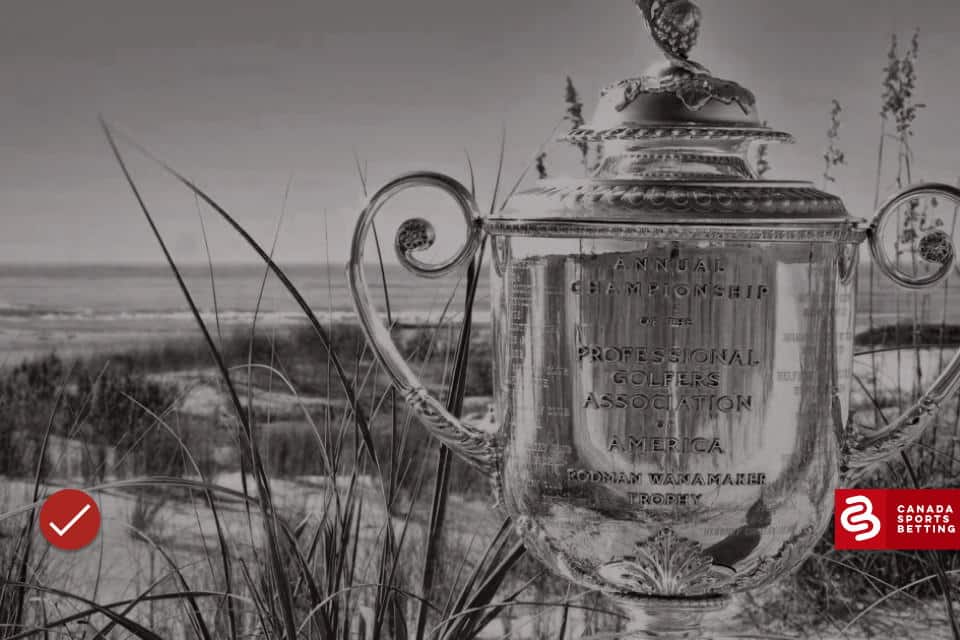 The PGA Championship betting odds for the 2021 PGA Championship have officially been released. 
The event is set to take place at Kiawah Island Golf Resort's Ocean Course in South Carolina from Thursday, May 20th-Sunday May 23rd.
The 2020 PGA Championship was pushed to August due to COVID-19 concerns, and fans were not permitted to attend. This year, however, the tournament has been allowed to take place in its usual month, and a few lucky fans will be able to spectate.
Dustin Johnson and Jon Rahm open as Las Vegas' favourites. DJ's odds come as no surprise, given that he's been the top-ranked golfer in the world since last August. On the other hand, Johnson hasn't been at the top of his game in a while as he hasn't finished higher than 13th in his last six tournaments.
Jordan Spieth had an impressive showing at the US Masters, finishing in a third-place tie with Xander Schauffele. He hadn't faired very well in the tournaments leading up to it, but his performance reminded everyone that he has the talent to win at any time.
Without further ado, let's make some picks and predictions. Remember, the golf betting odds listed below can change at any time so be sure to double-check the numbers before making any wagers. 
The odds were last updated on Friday, May 5th, 2021:
2021 PGA Championship Picks & Predictions
The 2021 PGA Championship should make for some great golf, as the world's best gear up to play in the second major tournament of the season.
The odds seem to favour some interesting names heading into this event—including Bryson DeChambeau.
'Bryson-mania' was at an all-time low last month as DeChambeau, the world's fifth-ranked golfer, had an abysmal showing at Augusta resulting in a tie for 46th place at the Masters.
There is reason for optimism, however, as DeChambeau finished in a tie for fourth place at last year's PGA Championship—his first top-10 finish at any major championship in his career.
Bryson hasn't looked quite like himself since winning the 2020 US Open, and two straight finishes outside of the top 40 could be a reason for concern. On the other hand, he does have two tour wins so far this season, and his power off the tee could be advantageous so long as he can keep his accuracy in check.
All things considered, Bryson DeChambeau is a fairly strong pick to win the PGA Championship.
Value Picks & Predictions
There are many golfers, with higher-than-expected odds, who could be worth wagering on.
Brooks Koepka is certainly one of them. The 31-year-old Florida native has a history of great performances at the PGA Championship, including back-to-back tournament wins in 2018/2019.
There is some cause for concern due to his health, as he missed the cut at the Masters while trying to play through a nagging right-knee injury, following surgery. As a result, Koepka decided to play it safe and did not participate in the recent Valspar Championship.
All of these factors have certainly played a part in determining his current PGA Championship odds, but don't count him out just yet.
If you're looking to bet on more of a longshot golfer, who still has a decent chance of winning, Brooks Koepka is a solid pick.
Another surprising longshot is defending champion Collin Morikawa. Vegas odds do not seem to favour former PGA championship winners, which could be your opportunity to rake in some serious dough.
When Morikawa won the 2020 PGA Championship, it was only his second major championship appearance. He also tied the record for the lowest score ever shot in a final round at a PGA Championship—all before turning 24 years old.
His winning ways didn't end there, either. Morikawa also won the 2021 WGC-Workday Championship by three strokes this past February, edging out three other golfers tied for second place—including the aforementioned Koepka.
Considering his recent success at multiple tournaments, it's quite surprising to see his odds remain so high. On the other hand, that can only mean good things for those willing to wager on him.
When it comes to golfers with high odds for the PGA Championship, Morikawa is likely the safest best you can make.
If you're looking for another longshot golfer with high odds boasting a recent string of success, look no further than the 2021 US Masters champion Hideki Matsuyama.
Matsuyama's confidence is at an all-time high since being the first-ever professional Japanese golfer to win a men's major golf championship.
He did have to quarantine for two weeks since he briefly returned to Japan, and he will not play this week. With that being said, he is expected to play at Byron Nelson so he will get some reps before the PGA Championship begins.
All signs point to Matsuyama having a solid chance at winning the PGA Championship.
Thank you for tuning into our free golf picks for the 2021 PGA Championship. Remember to choose the sportsbook provider that works for you, and best of luck with all of your wagers! Some of the top available sportsbooks are listed below: