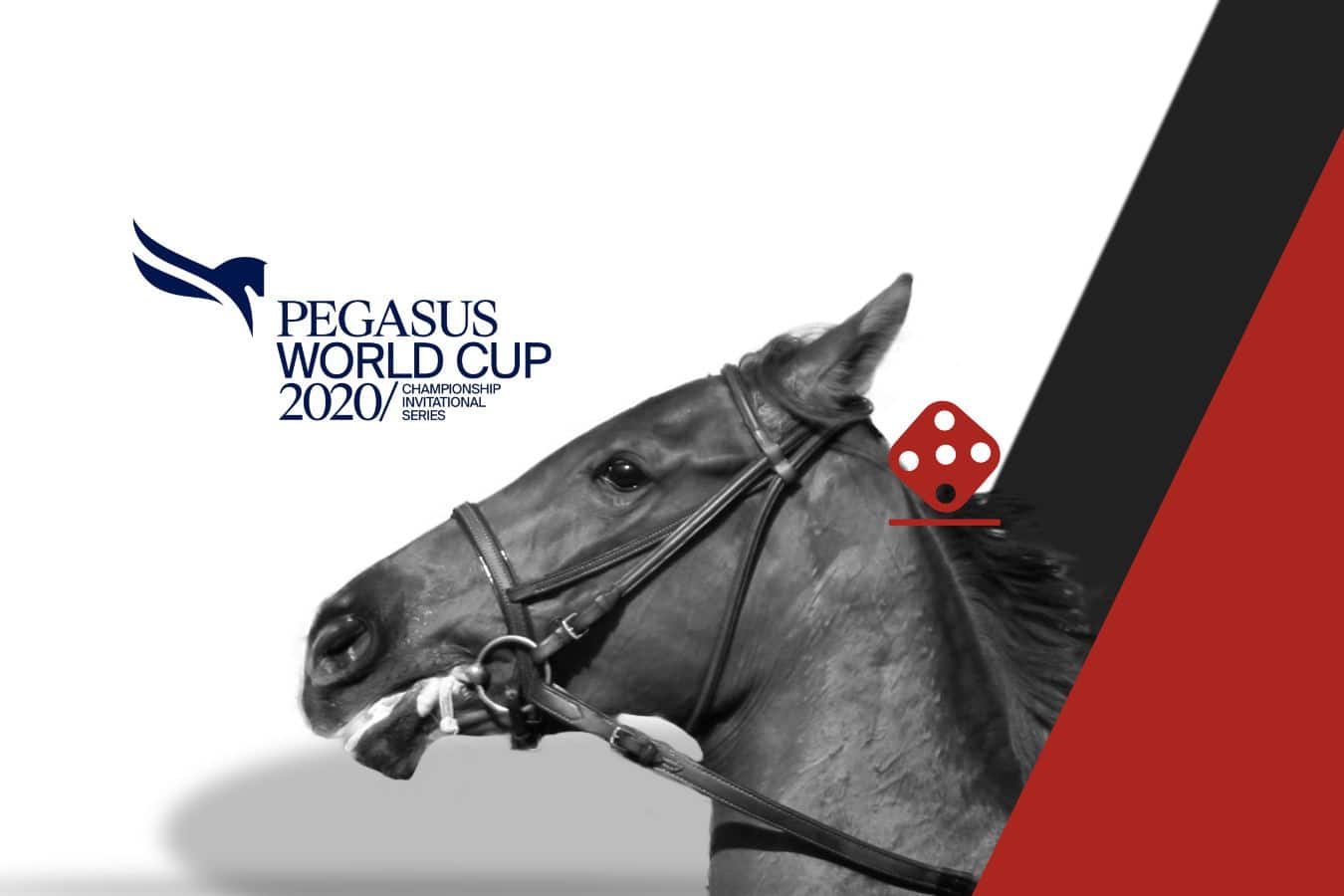 Few horse races are worth $3 million, but the Pegasus World Cup is one of them! The 2021 race will be on January 23 at Gulfstream Park. The top horses are Code of Honor, Tax, Sleepy Eyes Todd, and Knicks Go, the Breeders' Cup winner. This is where you bet the Pegasus online! Check out our free betting picks!
Everyone is looking for Pegasus World Cup 2021 picks, and we have those picks and more here. A major horse race worth $3 million that takes place in Florida each January, the Pegasus World Cup is a Grade 1 race that will have 12 Thoroughbred racehorses competing for a trophy and immortality. These are some of the finest athletes in the world, worth millions of dollars each, and the best Pegasus World Cup jockeys and trainers will be on hand to take care of them!
Picking the Pegasus World Cup Winner 
If you are wanting to handicap the Pegasus World Cup, it is good to be familiar with the Pegasus World Cup contenders.
Kiss Today Goodbye is a longshot in the race, despite coming off two straight wins including the important San Antonio (G2) at Santa Anita. In that event, he defeated 2020 Pegasus World Cup winner Mucho Gusto. Eric Kruljac trains the son of Cairo Prince.
True Timber finished eighth in this race last year, but most recently surprised by winning the Grade 1 Cigar Mile at Aqueduct. He is trained by up and coming to young trainer Jack Sisterson.
Code of Honor was a Grade 2 winner over the Gulfstream Park track in 2019, winning the famous Fountain of Youth Stakes and then going on to run second in the Kentucky Derby before winning the Grade 1 Travers and Grade 1 Jockey Club Gold Cup. Code of HOnor had a rough 2020, running second as the favourite in the Grade 1 Clark and only winning a lone Grade 3 event at Belmont Park. He has been training very well for this for trainer Shug McGaughey.
For trainer Brad Cox is Breeders' Cup Dirt Mile (G1) winner Knicks Go, who has to prove that he can stretch out to a distance of ground. A Grade 1 winning two-year-old who ran second in the Breeders' Cup Juvenile that year, Knicks Go has always been good and is on a three-race win streak now. He is a son of Paynter.
Tax won Gulfstream Park's Harlan's Holiday (G3), very impressively, defeating several nice runners. Mr Freeze was second in this race last year and went on to win the Grade 2 Fayette at prestigious Keeneland in October.
2021 Pegasus World Cup Field
The field for the Grade 1, $3 million Pegasus World Cup at Gulfstream Park:
Code of Honor
Harpers First Ride
Jesus' Team
King Guillermo
Kiss Today Goodbye
Knicks Go
Mr Freeze
Math Wizard
Sleepy Eyes Todd
Tax
True Timber
Idol
Independence Hall
Coastal Defense
Official Pegasus World Cup post positions and morning line odds will be drawn January 20.
Pegasus World Cup Undercard
If you want to bet on Gulfstream Park online, you will have to know about the Pegasus World Cup undercard races. Not only is the sister race, the $1 million Pegasus World Cup Turf, also a major important event, but there are seven graded stakes races on the day that will all draw major betting pools, and some of the best horses in training. The $200,000 Inside Information Stakes (G2) for the best fillies in Florida, and the $150,000 William L. McKnight (G3) is for horses not quite good enough to draw into the Pegasus World Cup Turf field.
How to Bet the Pegasus World Cup Online
If you want to make the most of your betting cash, you need to learn how to bet the Pegasus World Cup online. Not only can you trust our dedicated reviews of the best Canadian sportsbooks, but we also offer regular betting tips. Play the favourite, or bet on a few longshots? These are the considerations when planning your bets for the Pegasus World Cup.
Pegasus World Cup Predictions
$10 Win Kiss Today Goodbye
$2 Win Place Show Tax
$1 Straight Exacta Code of Honor and Kiss Today Goodbye
$2 Exacta Box Code of Honor, Kiss Today Goodbye, Tax
$1 Superfecta Sleepy Eyes Todd, Code of Honor, Tax, and Kiss Today Goodbye
Expert Pegasus World Cup Turf Picks
The field for the $1 million Pegasus World Cup Turf (G1) includes:
Sharp Samurai
Ride a Comet
Anothertwistafate
Next Shares
Breaking the Rules
Storm the Court
Social Paranoia
Field Pass
Analyze It
Say the Word
Pixelate
Colonel Liam
Greyes Creek
Largent
Cross Border
Doswell
North Dakota
Here are your expert Pegasus World Cup Turf picks:
$10 Win Colonel Liam
$5 Win/Place/Show Anothertwistafate
$2 Exacta Box Colonel Liam, Anothertwistafate
$1 Trifecta Box Colonel Liam, Anothertwistafate, and Ride a Comet
$1 Superfecta Box Colonel Liam, Anothertwistafate, Ride a Comet, and North Dakota