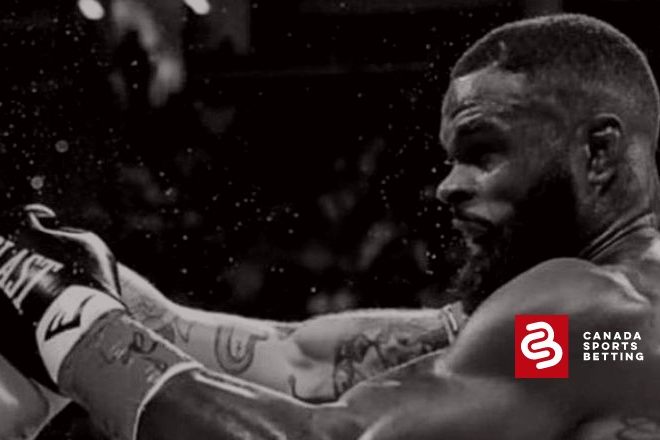 Tommy Fury is out and we now have the rematch nobody asked for Jake Paul versus Tyron Woodley. This is a sequel to their embarrassing bout from August where Paul narrowly defeated Woodley despite coming within one punch of getting knocked out. The YouTube sensation turned heel boxer is giving Woodley, who vows to finish the job, another crack. Is there even any value in betting this oddball fight again?
It was a close call for Jake Paul (4-0-0, 3 KOs) and all his backers when he last fought Tyron Woodley (0-1-0). However, in this rematch, the line has moved towards Paul to a greater degree. The notorious boxer is now being given around a 73% chance of winning this fight.
This is a steep move considering he was nearly finished in the first bout. But this is where the lines are trending per the latest boxing betting odds. We'll break down where the betting value is in a rematch that could be more of the same.
Date/Time: Saturday, Dec. 12, 9:00 PM ET
Venue: Amalie Arena
Location: Tampa, FL, United States
Broadcast: Showtime PPV
Paul vs Woodley II: Main Card Rundown
Before Paul and Woodley square off, they have a five-fight undercard filled with some heavy-hitting fights. In the co-main is the return of Amanda Serrano (41-1-1, 30 KOs), the undisputed lightweight queen and arguably the greatest boxer today. She defends her belts against Spanish challenger, Miriam Gutierrez (14-1-0, 6 KOs).
This and more include a crossover bout between former basketball and football stars Deron Williams (0-0-0) and Frank Gore (0-0-0), respectively. Here is the Paul-Woodley II main card:
Cruiserweight: Jake Paul vs Tyron Woodley
Women's Lightweight Championship: Amanda Serrano (c) vs Miriam Gutierrez
Super Middleweight: Anthony Taylor vs Chris Avila
Heavyweight: Deron Williams vs Frank Gore
Cruiserweight: J'Leon Love vs Marcus Oliveira
Light Welterweight: Liam Paro vs Yomar Alamo
You can find the betting odds for most of these fights from the top online sportsbooks available to Canadians. We reviewed these best sportsbooks of 2021. 
Tyron Woodley: Can He Finish The Job?
For Tyron Woodley, this is all about redemption… and maybe a big bag of cash. The former UFC champion had everyone, bettors or viewers alike, pulling their hair out when he rocked Paul only to stare at him. "Throw a punch, Tyron!" would be the common cry for folks who have been burned by this ever-frustrating fighter. 
Woodley packs a heavy punch and he's gotten so used to finishing or hurting opponents with just one. Even in his UFC career, Woodley hardly strung together combinations. He looks good in workouts hitting mits, but in the ring, he's potshotting in between long staring contests.
If Woodley is to cash as the 3.10 underdog that he is, he will need to be more active. Yes, he's most likely a shot fighter at this point. But "power is the last thing to go" and he does not need to many punches to rattle Paul.
Having already hurt Paul in their first bout may give Woodley the confidence he needs to be more aggressive in the ring. Still, he has a size and reach disadvantage and will need to be careful cutting the distance to get inside on Paul, who can hit hard himself.
Overall, Woodley has more value now thanks to his line is where it's at. But even if he were twice the prize, a losing bet is a losing bet.
Jake Paul: What Doesn't Kill You…
Makes you stronger. And this apt for Paul, who will also enter this event with more confidence having tasted Woodley's power and living to tell the tale. Paul would not have booked this rematch if he knew there was a good chance he would lose the bout.
Overshadowed by his brashness and antics is his actual boxing acumen. Sure, Paul won't be beating the top-level boxers of the world but he's still growing as a boxer. He'll learn from his mistakes against Woodley and be a better boxer. He has looked better in each of his past four fights and we expect this progression to continue here.
Paul was taking too much damage in his last fight against Woodley. But he was still the more active of the two. He'll tighten up on his defences and fight a more technical fight, as hard as it is to believe what we're typing here.
But our money is on Paul, not so much because we are extremely confident in his prowess. Moreso, it is a fade on Woodley, who has not been able to pull the trigger since before Paul was even relevant as a prizefighter.
Paul is nowhere near being an elite boxer. But in this bout, he should be good enough to keep Woodley frazzled as he beats him on the scorecards more convincingly. Bet on Paul but better yet, wait for the round totals and bet the over. 
Bet Boxing And Get Online Betting Bonuses
As we covered in our sportsbook reviews, a perk to signing up for these top online sportsbooks is getting online betting bonus offers. Many books will match up to 200% of your first deposit. Sign up to as many as you want to get the best boxing odds and to get your deposit bonuses.