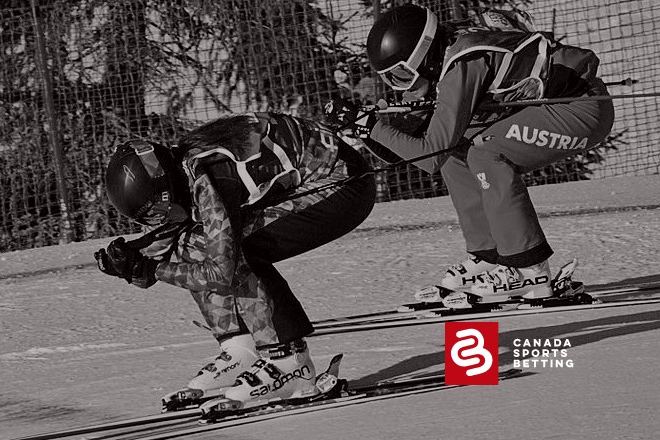 Let's have a look at the free betting picks for the Women Ski Cross.
Team Canada has no less than four women entered into the Freestyle Skiing Ski Cross event. Here we look at the chances of bringing home another gold medal for the Canadian team.
Marielle Thompson, Brittney Phelan, Hannah Schmidt, and Courtney Hoffos are all taking part, and in the case of Thompson, Phelan, and Schmidt, they are definite medal prospects.
It will be difficult for the Canadian girls though. Double world champion Sandra Naeslund is a heavy odds-on favourite to win gold. And Fanny Smith of Switzerland is also one of the skiers expected to leave with a medal.
Women's Freestyle Skiing Ski Cross Odds and How to Bet on it
Sandra Naeslund of Sweden is the clear favourite to win the gold medal. She is just 1.57 with the best online betting sites. In what looks like a two-way fight (to the sportsbooks anyway), Naeslund's biggest threat will be Switzerland's Fanny Smith who is 3.30 to win the gold.
Marielle Thomspon is third in the betting, but there is a huge gap in the odds, with Thompson, priced up at 9.50. After Thompson, it is a pretty open field, and you can get some great odds on the other skiers.
The main market to bet on is the winner market, and the market to win a medal. With two skiers already pencilled in by the bookies for a medal, the chances to pick some good value long shots are attractive.
Check out our betting guide for more help and information. Here you will find out all you need to know about gambling safely and responsibly at the Winter Olympics.
2022 Women's Freestyle Skiing Ski Cross; All you need to know
The seeding is scheduled to take place at 10.30 pm ET on Wednesday, February 16th, with the quarter-finals then starting at 1 am on Thursday. After that, there are the semi-finals, with the final taking place later in the day.
Event: Freestyle Skiing Ski Cross Big Final
Where: Genting Snow Park, P&X Stadium, Beijing
When: Thursday, February 17th, 2022
Time: 1 am
The Women's Ski Cross Small Final takes place at 2.10 am on Thursday, February 17th. The Ski Cross Big Final is listed to start after the conclusion of the Small Cross.
Now let's have a look at the betting favourites in more detail.
Sandra Naeslund
At odds of just 1.57, is the Swede worth betting on? Well, this season Naeslund has already won 9 individual events.
This is by far the best season of her career. In 2017-18, Naeslund had 7 wins. But in no other season has she enjoyed success anything like she currently is.
Last season she also won World Championship gold, beating Fanny Smith into second place.
Four years ago in Pyeongchang, Naeslund finished in the worst position possible, fourth. She will be determined to put the record straight this time around.
It's the obvious pick to back Naeslund, on the form why would you not? I'm just not sure she represents good value at odds of 1.57.
If you are going to bet on her, make sure you use a betting offer like the one found on our Bet99 Sportsbook Review.
Fanny Smith
Next up is Switzerland's Fanny Smith. Four years ago Smith finished in the bronze medal position in Pyeongchang.
Smith is seen as Sandra Naeslund's biggest threat. This will be her fourth Olympic Games, and probably her last, so she will want to make it count.
Smith is one of the most decorated skiers in this event. She has a World Championship gold to her name, won back in 2013, and also has 56 (29 gold) podium finishes in world cup events
At odds of 3.30, in what could be a two-horse race, I think Fanny Smith represents better value and I will be backing her to win.
Marielle Thompson
Now we're getting to the longer odds betting picks. Marielle Thompson is 9.50 and represents real value.
She won the gold in this event in Sochi back in 2014. She finished a disappointing 17th four years later in Pyeongchang, but her whole season in 2018 was blighted by injury.
At 29, she is still in her prime, and I wouldn't be against betting on her to win at those odds and even to bet on her to make the podium.
Brittany Phelan
Phelan took the silver medal in this event back in 2018, finishing runner-up to fellow Canadian, the now-retired Kelsey Serwa.
Can she go one better this year? Well, she has an Olympic pedigree. And at fourth favourite in the betting, and at odds of 14.0, she is well worth taking a risk on with a cover bet.
Hannah Schmidt
Schmidt might be worth a small bet at odds of 23.0. Some sportsbooks have her far shorter than that, so that price might not last long.
Schmidt had an excellent 2021, with a top 10 finish in the world championships the main highlight.
She is a slightly left-field pick, but at those odds and with a small outlay, it's a no-brainer patriotic bet.
See below the top sportsbooks where you can wager online and choose the best one for you: