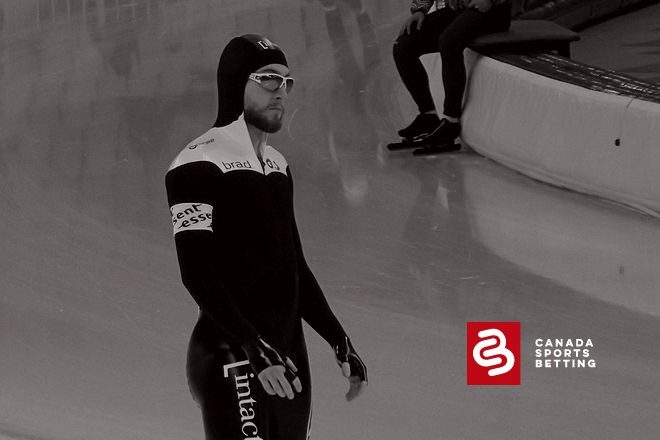 Medal hopeful Laurent Dubreuil is in action on Saturday in the 500m Speed Skating final. Here we look at his chances of victory, and also throw in our latest 2022 Winter Olympics betting picks for the showpiece race. We give you free betting advice for that.
Speed Skating is one of the highlights of any Winter Olympics. Throw the name of Laurent Dubreuil into the mix, and most of Canada suddenly becomes interested, given he has an outstanding chance of bringing home a medal.
The race in question is the men's Speed Skating 500m final, and Dubreuil is one of Canada's golden hopefuls.
The man from Quebec has an Olympic pedigree. His father Robert competed at the Olympics in long track; while his mother, Ariane, was a short track Olympian.
Dubreuil is entered into two events at the Beijing games, Speed Skating 500m and 1000m. But it's the shorter of the two races that he has the genuine medal chance in.
In the 1000m, he is 21.00 in the betting, so he will want to make sure he gets his medal in this event, rather than leaving things to chance in the longer distance event.
So let's now look in more detail at the betting and Dubreuil's medal chances.
2022 Beijing Olympics; Men's Speed Skating 500m Betting Odds
In betting, Dubreuil is the second favorite with the best Canadian online betting sites. The man from Quebec is 4.50. The sportsbook's favorite is China's Gao Tingyu.
The home skater is 3.20. As you can see from the betting odds, it's quite an open race. Viktor Mushtakov of the ROC team isn't far behind on 5.50.
And after him, there is a trio of Japanese skaters all with realistic medal chances.
With such a large betting field taking part, value bets are available on this event. To take advantage of this, please check out our Olympic sports betting page for more great offers and bookmakers' bonuses. These betting bonuses can be used on Speed Skating and across the winter Olympics.
When, where, and what time?
It's either going to be a late-night or an early morning I'm afraid folks. The race is scheduled to start at 4.53 pm in Beijing, which unfortunately is 3.53 am in our time zone.
So either plenty of black coffee is needed to stay up, or you'd better set your alarm for an early start.
Event – Men's 500m Speed Skating Final
Where – National Speed Skating Oval, Beijing
When – Saturday, February 12, 2022 Time – 3.53am ET
In 2018, the event lasted for roughly 45 minutes, so bear that in mind if you are planning an early start.
How to bet on men's 500m Speed Skating
Luckily, our best Canadian sportsbook reviews page has links to all the best betting offers available.
Using these offers you can bet on the men's 500m Speed Skating final, and all the other popular Beijing 2022 Winter Olympic events.
Men's 500m Speed Skating Betting Picks
Now, let's have a look at the main contenders, starting with the sportsbooks' betting favorite.
Gao Tingyu
Tingyu has an Olympic bronze to his name in this event from 4 years ago in Pyeongchang. His bronze medal at the 2018 games was the first-ever won in Speed Skating by a Chinese male.
Tingyu made his case for being the favorite by beating both Tatsuya Shinhama and Dubreuil in the men's 500m at the ISU Speed Skating World Cup last November.
He didn't just win his first World Cup title that day, he made a massive statement. On his way to his debut win, he not only blew away his Olympic opponents, but he also smashed the track record at the Arena Lodowa, in Poland.
Laurent Dubreuil
If reading the above made you think Laurent Dubreuil has no chance, fear not. In the ISU World Cup this season, Dubreuil leads the standings and is ranked #No.1. By contrast, Tingyu is down in 17th place.
After eight events, Dubreuil has 420 points, that's 69 more than Warturu Morishige, who sits in second on 351 points. He's the form man, and has to be the main pick to win gold.
Wataru Morishige
Japan's Wataru Morishige is a danger at this event and is a real medal possibility. He's second behind Dubreuil on the qualifying roster, and I think he has a real chance of getting a medal.
Which colour, I'm not sure, but I'm making him one of my betting picks to go home with a medal.
Our Sports Interaction Review has more details on how to get this great value new customers offer. This deal can be used to bet on the Winter Olympics.
Pavel Kulizhnikov
The Russian racer has no Olympic medals to his name, but he does have a decorated career with three World Sprint Championship golds to his name.
The last of these was in 2019, and with him also not qualifying automatically for this final, the name of Kulizhnikov is not the obvious pick. But I'm happy to take a chance on him at those odds.
See below the top sportsbooks where you can wager online and choose the best one for you: