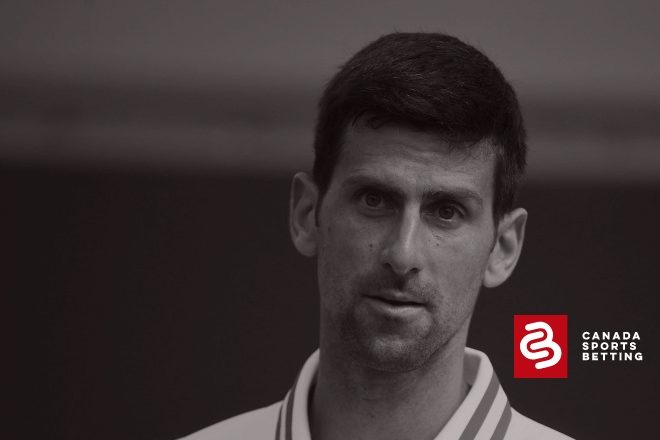 Novak Djokovic remains the favourite to go after another Grand Slam. This time it is the Australian Open from Melbourne. Can he win it yet again?
The Australian Open does not take place for more than a month but already there is considerable intrigue. Novak Djokovic is the obvious favourite. However, there may be a wrinkle that could put a dark cloud on these tennis futures. One of the big issues with Australia and Victoria, in particular, is that it appears no medical exemptions will be granted. If one is not fully vaccinated, then that is no good.
Now, with all this uncertainty, what could this do to the opening grand slam? It honestly could turn the whole thing upside down or down under.
Australian Open Futures: Assuming Novak Djokovic Plays
So, Novak Djokovic is on the general entry list. This just means he has not officially withdrawn yet. Based on the fact, that he is on the list for the Sydney tune-up, we assume that is a yes. Here are the odds for Australian Open futures for the favourite contenders.
The latest tennis odds for the men's tournament are available. Again, it is time to discuss the elephant in the room. It makes sense since this has been a prevalent problem in the United States. Even in the NFL, a few players got suspended for fake vaccination cards and Evander Kane did in the NHL as well.
It is time to talk about yes, Novak Djokovic.
The Novak Djokovic Vaccination Issue
It is hard to believe we have to discuss this but here we are. There is a considerable amount of mystery as to if Novak Djokovic is vaccinated or unvaccinated. Honestly, no one seems to know and few seem to understand the medical exemption rules fully.
Some have said there is zero loopholes. Others suspect that there definitely are. It is a matter up for considerable debate. Again, so much hinges on this whole "cloud" that has been cast over the Australian Open. There is little doubt that Djokovic is the favourite if he plays. The Serbian may not be an overwhelming pick but he tops the odds.
Simply. no matter what ultimately occurs, Djokovic is going to have a considerable target on his back. It is nothing new for the 34-year old.
Again, govermental officials have been adamant for months and months about this. We are all going to find out soon enough about the world number one and probably other players too.
Assessing Novak Djokovic's Australian Open Chances
So, Novak Djokovic is the best player on this hardcourt surface. That is one of the main reasons why he is an Australian Open favourite. Also, it appears that his shoulder issue is a thing of the past. Djokovic is also going for his 21st grand slam which would break the three-way tie between him, Rafael Nadal, and Roger Federer. Federer's knee just will not let him play tennis right now and Nadal is not believe to be a threat in Australia.
The tournament for Djokovic comes down to three things from a tennis perspective. There is the draw, the heat, and naturally his temperment. Everyone knows about that temper (see the Tokyo Olympics). On an ideal day or night, no opponent should be able to defeat Djokovic on this surface. Maybe a Dominic Thiem or a younger Rafael Nadal could. That is about it.
If he does not beat himself, come the end of January, Novak Djokovic will be the men's leader in grand slam titles. Djokovic is our pick to win the 2022 Men's Australian Open.
Can Anyone Challenge Novak Djokovic At The Australian Open?
As the old saying goes, on any day a champion can be defeated. Also, this is no exception at the Australian Open. Upsets happen. Djokovic is going for "The Goat" title as far as grand slams. Could he lose focus? Absolutely. Last year, the Serbian easily went through the semifinals and final.
However, what if a Dominic Thiem regains his 2019-2020 form? Could Daniil Medvedev find that balance that eluded him in last year's Final? Better yet, can he find the extra gas tank? That is the difference between the field and Djokovic in this tournament. The heat is a great equalizer and so is the stamina needed to persevere through it. An extra year may help some of these players and may cause some betting odds to tilt a little more in one's favor.
As good as Stefanos Tsitsipas can be, it just does not appear meant to be for him to win in Australia. Medvedev took him apart and only the third set was close. Medvedev has the all around game to hang around with Djokovic. It just comes to belief and confidence.
Also, he beat Djokovic at the 2020 US Open denying the Serbian the Grand Slam. It was a masterful match played by the Russian. Honestly, that whole torunament was. Yes, Djokovic may not have been in his best form but Medevev is undoubtedly rising now. Medvedev is the most qualified from the field to last the two weeks down under and raise the trophy.
Also, bettors have plenty of free picks for other sports to peruse besides tennis.
Who Is Our Pick To Win The Men's Australian Open?
Right now, our pick to win the Men's Australian Open tournament is Novak Djokovic.
Also, do not forget that the Winter Olympics is coming up almost right after the opening grand slam. One can check out the Best Olympics Sports Betting Odds.