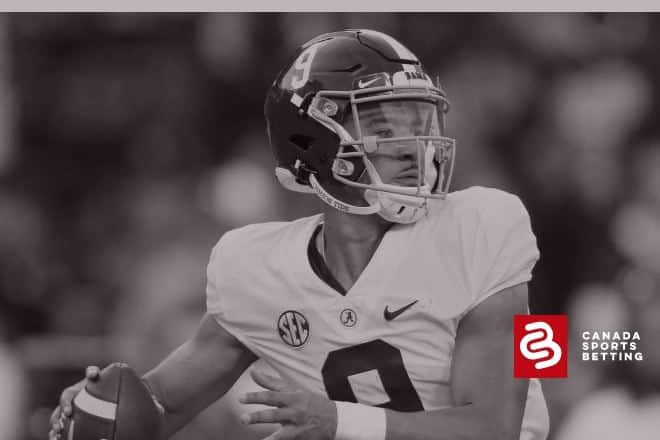 With the games just a couple of weeks away, the NCAA college football playoff begins to come into focus. We have our early picks in and some more tidbits.
It is hard to believe the NCAA College Football Semifinals are almost here but yet they are. With 100+ teams battling for just four spots, there has been a lot of chaos this season. For bettors, it has really been one crazy yet bumpy ride.
The two matchups come from different locations on New Years' Eve. Do not expect weather to play much of a factor. The #1 Alabama Crimson Tide face the #4 Cincinnati Bearcats at the Cotton Bowl in Arlington, TX ("Jerry World" – 3:30 PM ET start). Then, there are the #3 Georgia Bulldogs going up against the #2 Michigan Wolverines from the Orange Bowl in Miami, Florida. That latter game will be played in primetime just after 7:30 PM ET.
At Canada Sports Betting, the moneylines will be our main focus here. It is fun to see many of the other numbers as well. They may find their way into the conversation for our bettors at some point too.
College Football Semifinals Numbers Tabled
It is all about that numerology err numbers as they say. Come the end of the calendar year, four teams will play for the right to be called national champion. Only two can advance. The College Football Semifinals expect to be quite the experience for all involved. Now how to make the best of your wagers is another question entirely.
There has been little movement since the initial numbers came out. Barring anything unforeseen, these may be the best odds one can get with a bit over two weeks out. Let's look at this glorious table.
Again, with these NCAA Football Betting Odds, do not expect any big shifts. COVID protocols are one of the few variables that could truly change things. Other than that, this is how we see the NCAA College Football Semifinals going.
NCAA College Football Semifinal 1: Alabama vs Cincinnati
The top-ranked Alabama Crimson Tide (12-1) come into this matchup with just the one loss to the Georgia Bulldogs earlier in the season. Then, there are the #4 Cincinnati Bearcats (13-0). Both teams have had their share of scares and both have overcome a lot to get to this first NCAA College Football Semifinal matchup.
It does not hurt Alabama that they feature this year's Heisman Trophy winner in Bryce Young. Young overcame a lot to finish the year with 43 touchdowns passing against four interceptions. His worst game of the year was against Texas A&M earlier in the season. He avenged that in the SEC Championship versus Georgia throwing for 421 yards and three touchdowns.
Alabama can hurt you with their wide receivers. Jameson Williams and John Metchie are very fast and talented. Cincinnati will have a difficult time trying to match up with both of them. Add in Brian Robinson Jr. from the backfield and that is a dual threat which will give the Bearcats fits. If the Crimson Tide spread the field well, that is going to cause matchup headaches all game long.
Cincinnati cannot be overlooked. Desmond Ridder possessed a timely knack of leading the Bearcats in crunch time. The Bearcats closed teams out well. Look at how they stymied Notre Dame in what was their season's finest moment. Ridder can also do it with his legs as he had six touchdowns via the ground (30 in the air). Alabama had some trouble with mobile quarterbacks. That could make things interesting in this one.
Our NCAA Football Semifinal 1 Pick
At CSB, we are taking Alabama to pull away in the fourth quarter and win going away. Their depth should wear down Cincinnati late. Alabama at 1.22 is a pretty good number.
Also, remember some of the best NFL betting sites out there for some picks following the college football semifinals.
College Football Semifinal 2: Georgia versus Michigan
The Georgia Bulldogs face the Michigan Wolverines (both teams 12-1) in the second college football semifinal on New Years Eve. That begins just after 7:30 PM ET. Michigan is the team that has finally made it after years of being denied by Ohio State. They beat their arch rivals then hammered Iowa in the Big Ten Championship 42-3. Arguably, they may have the most momentum coming into this playoff.
However, Georgia is a team that has shown the ability to come back from adversity. The only time they did not was against Alabama but that was just a bad quarter stretch that could happen to anyone. This game is going to come down to can Michigan control the clock. They average 223.8 yards a game rushing. Blake Corium and Hassan Haskins are essential to this game. The Wolverines cannot win if the run does not set up the pass.
Georgia just has to forget what happened in the second half against Alabama. Honestly, they probably have already. Their defense must come to play after getting torched by the Crimson Tide. Their season averages against top ten teams before that game were amazing. They held teams under 100 yards rushing. If they can hold Michigan under 150, the Bulldogs should easily win this game.
Georgia's defense should ultimately be the difference. Their offense is very balanced and Brock Bowers could have himself a breakout game. The Bulldogs may be able to open this one up late.
Our College Football Semifinal 2 Pick
Take Georgia to cover the moneyline at 1.34 and toss a smaller wager on the spread which is near a touchdown.
Finally, check out some of the NBA Picks that are free while making your college football bets.