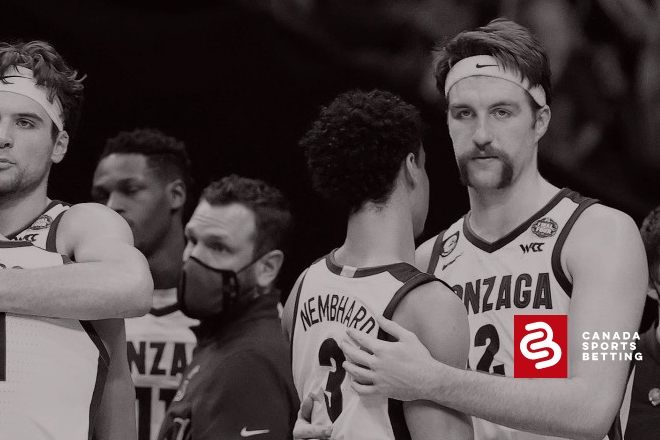 The NCAA Basketball Futures features a few familiar teams as they try to get back to the NCAA Basketball Championship. Can Gonzaga finish the deal?
With several college basketball favourites battling in contention early, the NCAA basketball season is starting to take shape. One of the prime ones is Gonzaga, who advanced to the Final last year before losing to Baylor. Also, there are the Duke Blue Devils and Purdue Boilermakers among some early futures possibilities.
The NCAA Basketball Futures are taking center stage as the Christmas tournaments and conference play beckons. Who may be some contenders early as here at Canada Sports Betting, we make our early pick.
2021-22 NCAA Basketball Futures — Looking At Odds
It is not even the start of 2022 yet and already the college basketball futures are updating. As we examined the odds, we provide a table below with eight potential contenders err favourites. After all, at Canada Sports Betting, it is never too early to place a little action on some of these top teams and see where it takes us.
Several teams could easily win the championship this year. Here are those aforementioned odds.
NCAA Basketball Champion Odds
Gonzaga
Purdue
Duke
Kansas
Villanova
UCLA
Michigan
Memphis
Now, there are some excellent online betting bonuses for college basketball bettors. With most teams about 8-10 games into their season, the odds are starting to shift and take shape. As many have said, the NCAA Basketball season does not begin until conference play gets underway in earnest. So far, three of the top favourites have to be Gonzaga, Purdue, and Duke. Expect that to change a few times over the next several months.
Gonzaga appears to be "the favorite" in the NCAA baskeball futures, for now.
Gonzaga Bulldogs And the 2021-22 NCAA Basketball Futures
The Gonzaga Bulldogs are slight favorites when it comes to winning the NCAA Basketball Championship. After all, they went undefeated last year before losing in the title game to the Baylor Bears. It does not hurt that the Bulldogs feature a ton of depth and a potential John Wooden Award winner in Drew Timme.
Gonzaga is a team that features a decent amount of balance still with four players totaling over double-digits points per game. Chet Holmgren may actually be the player on the Bulldogs that has the most potential. He was the top recruit last season in the NCAA. Holmgren is a bit on the light side at 195 pounts but as the center bulks up, look out!
Coach Mark Few is one of the best in the college game, period. He and the Bulldogs have endured a couple of tough losses in the early going but they still are 7-2. Expect Gonzaga to easily run through their conference schedule with not too much resistance. If they lose maybe a game or two, that may be it. Everything comes down to the NCAA Tournament once more.
The Bulldogs could very well be one of the last teams standing and they could play for the national title again. Their 5.50 odds are rather attractive right now. That could shorten especially if Holmgren and Julien Strawther continue to develop.
Some of the best Canadian Sports Betting Apps around are very enticing this time of year.
The Duke Blue Devils Return To Prominence
Coach Mike Krzyzewski is in his farewell season with the Duke Blue Devils. The coach is in his 47th and final year of coaching and is approaching 1200 wins. It is crazy to think that he has been the head coach at Duke since 1980. Yet, it is true.
Their return to prominence comes with the chance of contending for one more national title. His last title was in 2015. With John Wooden Award favorite Paolo Banchero. Banchero was ranked #2 in the RSCI 100 right behind Chet Holmgren. The 6 foor 7 forward can play the 3 or 4 and is excelling at both. He is averaging almost 18 points and 7.3 rebounds a game.
Another part of that 1-2 punch is junior Forward Wendell Moore. Moore is also averaging 17.8 points per game, 6.5 rebounds, and 5.6 assists per game. Moore can play guard as well as forward. Duke has seven top-40 RSCI players in its arsenal. On paper, they may be the most stacked team. It comes down to execution. They will be one to watch especially come tournament time. Duke carries a nice number in the NCAA Basketball Futures.
Is There Another Contending Team For The NCAA Basketball Futures?
The Purdue Boilermakers are currently ranked #1 in the nation with a record of 8-0 at press time. Their odds are pretty good when it comes to the college basketball futures. Now, the Big-10 schedule is not easy and Purdue does have nice balance with four players in double-digits. They might be a contender come tournament time but with Kansas, Villanova, Baylor, and UCLA in the mix, Purdue may not have enough in the tank at the end.
However, they look like the type of team that will not go down meekly. The Boilermakers fight on a nightly basis, shoot pretty well, and play solid defense. They do not have the athletiicism of a Duke or Gonzaga necessarily, but Purdue is no slouch either.
They do have some intriguing odds but expect these to lengthen as the season goes on. Getting on them in the teens may be a better move come March.
Who Is Our Championship Pick For Canada Sports Betting?
Take the Gonzaga Bulldogs to win it all. They find a way to avenge their only loss last saeson in the process as well.
Do not forget CSB has some of the best free sports picks around.