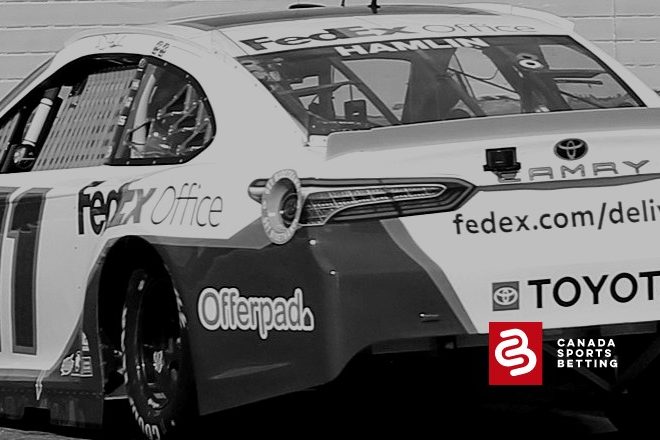 Let's have a look at the betting picks for the 2022 Daytona 500 race.
The 2022 NASCAR Cup Series returns this weekend with the Daytona 500 taking place on Sunday. Going into the event, Denny Hamlin is the favourite at 9.50. Here we check out his chances and tell you who his biggest rivals will be in our Daytona 500 picks.
The Daytona 500 is one of the highlights of the racing calendar. The prestigious event is known worldwide and is also the first points-scoring race of the NASCAR Cup Series season.
Last season's Cup Series champion was Kyle Larson. The Hendrick Motorsports driver isn't the favourite to win the Daytona 500, but he is the favourite to win the Cup Series again.
Larson is 4.50 to repeat the feat. But he will face still competition from the likes of teammate Chase Elliott at 6.00, and Hamlin at 7.50.
Who won Daytona 500 in 2021?
Last season's race had a shock winner as Michael McDowell took the chequered flag. The race was largely dominated by Hamlin though.
The Joe Gibbs Racing driver led for 98 of the 200 laps, and that along with three previous wins in this race are the reasons the 41-year-old goes into the season's opener as the favourite with the best Canadian online sports betting sites.
2022 Daytona 500; What you need to know
This is the First points-scoring race of the season. The course at Daytona Beach is 2.5 miles long, so 200 laps are required to be driven to bring up the 500 miles.
Where: Daytona International Speedway, Daytona Beach, Florida
When: Sunday, February 20th, 2022
Time: 2.30pm ET
Distance: 500 miles
A total of 40 cars will be at the start line. 36 of those cars are already decided, as they have charters and are locked into the field.
The final 4 places will be made up of non-chartered cars – also known as open cars.
2022 Daytona 500 Betting Odds
As we've already mentioned, Denny Hamlin is the betting favourite.
Hamlin is 9.50 to win the race. Other notable names in the betting are Kyle Larson and Chase Elliott, both at 11.00. While the winner of the recent Clash at the Coliseum, Joey Logano, is at 13.00.
How to bet on Daytona 500
There are two main markets you can bet on. The market to win the race is most popular, and that is simply a bet on who you think will win the race.
The main alternative market, and one I like, is betting to finish in the top 3. This can also be known as a bet on a podium finish. The odds on this market are substantially shorter than the odds to win the race, and it also has three possible winners.
Our NASCAR odds and picks page has great information available to help guide you through the whole NASCAR season. There are also some great new customer betting bonuses available there. 
Daytona 500 Betting Picks
With the odds on this race being so long, it's fine to have more than one betting pick. The name of the game is profit, and if that means hedging our bets, then so be it.
Hamlin looks good for a Podium Finish
First up, I'm going for Hamlin. He has all the tools required to be successful at Daytona and also has a great track record here.
I'm going to play safe here though. At 9.50 to win the race, I'm having a small wager on him to win outright. But I'm also going for Hamlin to finish in the top 3.
To finish on the podium, Hamlin is 3.10, and that is my first betting pick.
For more details on their excellent betting bonus, check out our Sports Interaction Review. 
William Byron; Possible Shock Winner?
This might seem like a bit of a left-field pick, but Byron is 15.00 to win, and he has a first and second to his name at this course.
He may well have had a couple of disappointing results here as well, but if he gets it right on the day, a win for the Hendrick Motorsports driver isn't out of the question. I would only be betting a small amount on this pick though.
Kyle Larson; 2021 Cup Series Champ will be desperate to add Daytona 500 Win to his Collection
How can we not take a look at Larson? He might not have the greatest record in this race, but Larson will be desperate to add a showpiece race win to his ever-growing collection.
Larson is 11.00 to win, and 3.40 to finish on the podium. I'm happy to place a small wager on Larson to win. But for my main betting pick, I'm going for Larson to finish in the top 3 at 3.40.
For more great betting bonuses for new customers, check out our best online betting sites page. Here you will find details of stacks of bonus offers and great sports betting advice.